Being the heart of any home cinema setup is no easy task. That's why AV receivers are so sophisticated. Like with any other modern electronic device, regular AV receiver firmware updates are necessary to ensure they perform optimally. I have encountered numerous AV receiver models and gathered significant experience managing them, including updates. In this article, I will discuss why firmware updates are important for AV receivers and how to check for and install updates on your device.
Why are firmware updates important for AV receivers?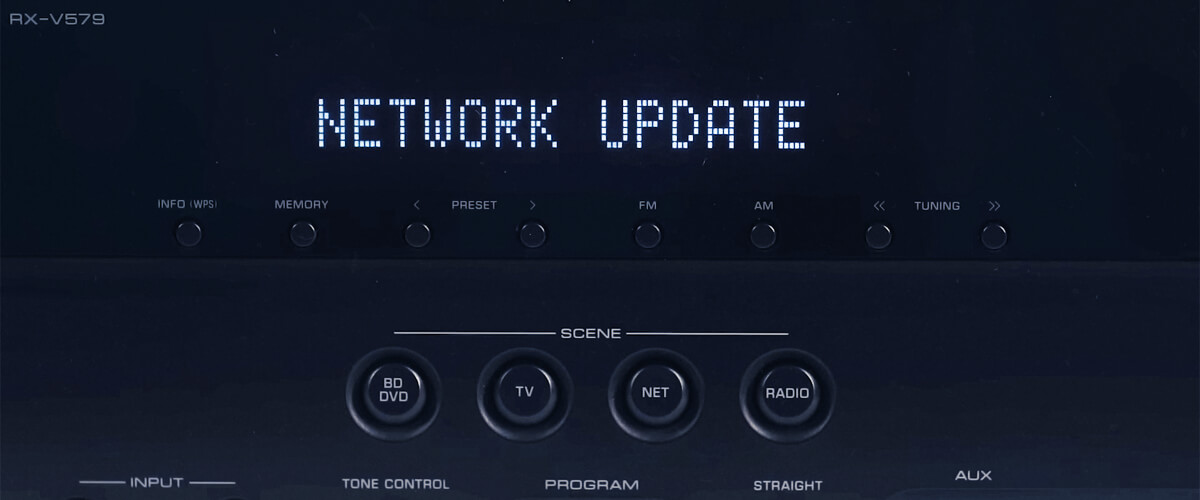 Improved performance
Firmware updates for AV receivers can significantly improve their overall performance. For example, when Yamaha released a firmware update for their RX-V4A and RX-V6A AV receivers, I had the latter on my tests back then. The update significantly improved its HDMI eARC functionality, resulting in better sound quality and compatibility with more devices. Similarly, when Denon released a firmware update for the AVR-X8500H, after updating the unit, I also enjoyed better surround sound processing capabilities which overall boosted the immersive sound of my setup. So, updates are a must.
Enhanced features
Firmware updates can also add new features to your AV receiver. For example, Onkyo updated the TX-RZ50 receiver and added support for the latest HDR formats. Additionally, Pioneer released a firmware update for their VSX-LX304 receiver and added support for Amazon Music HD. Thus, updates can bring the latest technologies to your receiver without requiring you to spend even a penny.
Bug fixes
Talking about bugs, I have already mentioned that AV receivers are very sophisticated units. Sadly, from my experience, sometimes bugs are just inevitable, especially when buying the newest models on their release date. So, firmware updates can also fix bugs and issues that may be present in your receiver's current firmware. I once had a Sony STR-DN1080, and sometimes it just shut itself down for no apparent reason. Imagine how terrible it was. Luckily, back then, Sony managed to quickly launch an update that fixed this.
Compatibility with new devices
As new devices and technologies are introduced, AV receiver manufacturers may release firmware updates to ensure that their devices remain compatible with the latest equipment. For example, Pioneer recently a firmware update for their VSX-LX504 receiver that added support for the latest gaming consoles, including the PlayStation 5 and Xbox Series X/S.
How to check for firmware updates?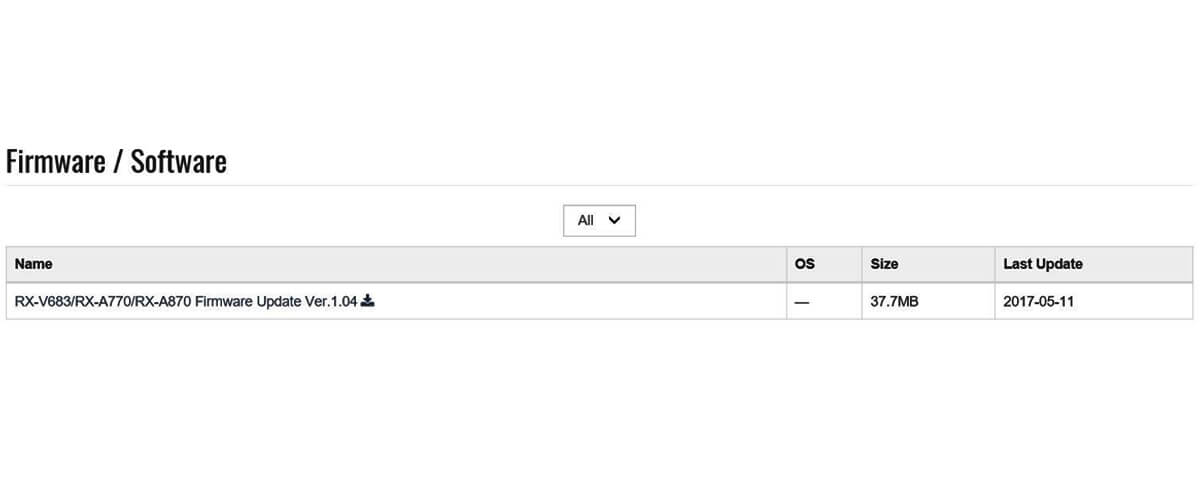 Manufacturer's website
The first place to check for firmware updates for your AV receiver is the manufacturer's website. Most manufacturers will have a support section on their website where you can find information about updates for your specific device. I also often see instructions on installing the updates in the same place.
AV receiver display
Some receivers have a display screen that will notify you of available firmware updates. For example, Denon's AVR-X6700H showed me a notification on its screen that it had an available update. So, check the display regularly to see if any updates are available. That's the most convenient way to install updates.
Mobile app
Many AV receiver manufacturers offer mobile apps that allow you to control and manage your receiver from your smartphone or tablet. These apps may also provide information about available firmware updates. I prefer Yamaha's MusicCast app, as it allows you to conveniently check and install updates. This is even more convenient than the previous case but requires certain levels of tech savviness.
How to install firmware updates: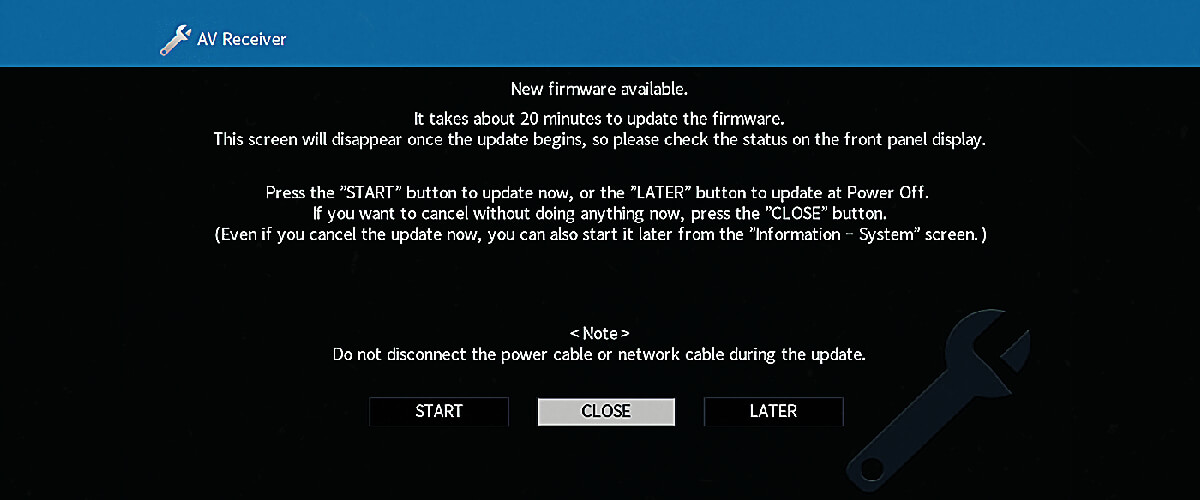 This is generally a pretty straightforward process. Yet, the process can vary from one manufacturer to another. The good news is that they will provide detailed instructions on their website or within the firmware update itself.
Typically, you will need to download the firmware update to a USB drive and then plug the drive into your receiver to install the update according to the instructions. It is important to note that you should never turn off your receiver during the update process, as this could cause permanent damage to your device. So you can learn a separate article about AV receiver standby modes.
With some modern receivers, you may also be able to install firmware updates over your network. For example, the latest Onkyo receivers support over-the-network firmware updates. Thus, you won't need a USB drive and manual interactions with the receiver. Check your manufacturer's website or user manual to see if this option is available for your device.
FAQ
What happens if the firmware is not updated?
Without updates, you may miss key bug fixes, performance improvements, and new features if you skip updates. Additionally, your receiver may become incompatible with the latest devices or technologies as they are released. Sometimes, updates are a must to use the receiver, as was the case with mine STR-DN1080.
Can updating firmware cause problems?
In rare cases, updating firmware can cause issues with your AV receiver. From my experience, the majority of such cases were caused by people's mistakes during the installations. So, I recommend checking the manufacturer's instructions and strictly following them. Don't skip or move steps when installing firmware updates. Also, don't try to install updates incompatible with your exact model.
Even if such a thing happens, there is always a way to resolve the issue. When I experienced an issue with a firmware update that caused my AV receiver to freeze during the update process, I had to do a factory reset. Then, it returned to normal.
How often should I update my firmware?
I personally recommend checking for firmware updates at least once every three months. I also always check for updates when I notice any issues with its performance or compatibility. Generally, regularly updating your firmware is always a good idea. Some manufacturers even have recommendations on how frequently to update their AV receivers.