My Onkyo TX-RZ50 review is dedicated to a very interesting model that can compete with established market leaders. The Onkyo TX-RZ50 stands out as an advanced and versatile device, offering a wide range of options for home theater enthusiasts. With its powerful 250 W/Ch dynamic audio amplification, 11.2-channel processing, and compatibility with multiple streaming services, this receiver is designed to cater to your every audio and video need.
Join me as I analyze various aspects of this sophisticated unit to help you decide whether it's the right choice for your entertainment setup.
Features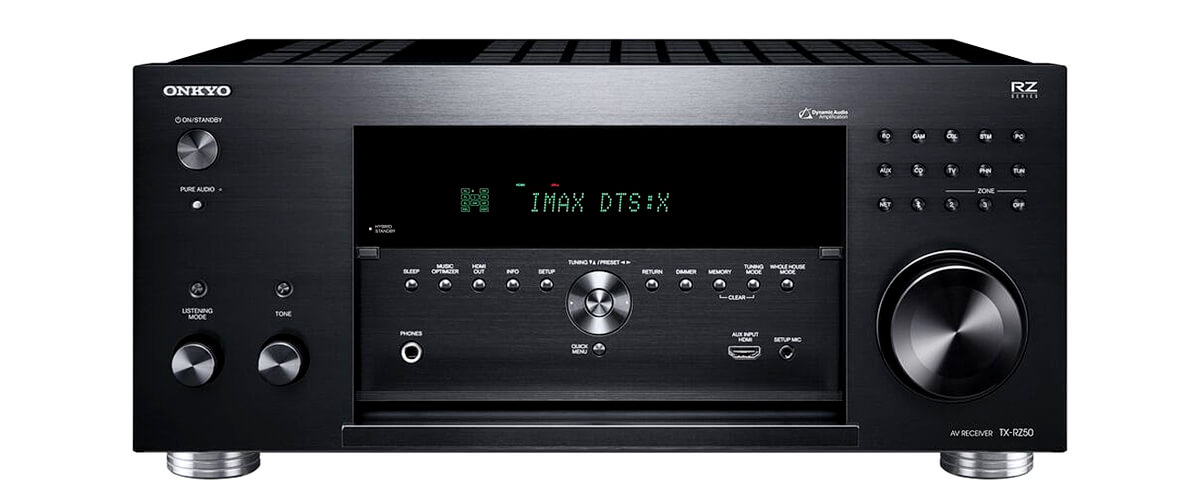 Onkyo TX-RZ50 is designed for ultimate performance with 11.2-channel processing, THX certification, and IMAX Enhanced mode. These features ensure that your audio/video system delivers stunning, true-to-life sound, creating an immersive cinematic experience.
Complementing its audio prowess, the TX-RZ50 also excels in delivering high-quality visuals. With HDMI 2.1 supporting 8K resolution, your movies and games will come to life in breathtaking detail. The Ultimate 4K gaming experience feature further enhances this, ensuring smooth gameplay and vivid colors. Picture yourself in the middle of an intense gaming session, with every detail of the virtual world rendered.
The Onkyo TX-RZ50's discrete Zone 2 HDMI switching lets you connect and control two separate sources simultaneously, providing flexibility in managing your entertainment options.
The built-in multi-zone streaming and voice control capabilities make the TX-RZ50 a perfect fit for modern smart homes. The Works with Sonos certification ensures seamless integration with your Sonos ecosystem while popular streaming services are readily available. Additionally, bi-directional Bluetooth wireless technology, compatibility with DTS Play-Fi, and Klipsch Optimize Mode collectively offer a versatile and customizable audio experience. Imagine controlling your audio system with just a few voice commands, setting the perfect ambiance for a cozy movie night or a lively party.
Sound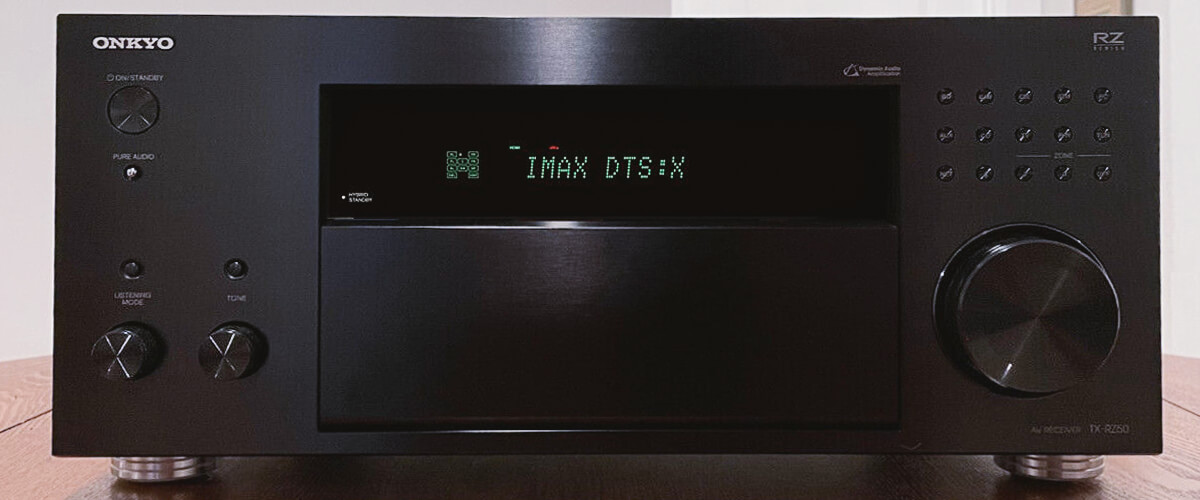 Upon evaluating the Onkyo TX-RZ50 features in a real-world scenario, I was amazed by the remarkable performance enhancement in my speaker system. The first thing I listened to when I began testing this AV receiver was Creedence Clearwater Revival's "I Heard It Through the Grapevine" – the TX-RZ50 definitely elevates the audio quality across various elements. The cymbals displayed a perfect balance between sharpness and smoothness without being harsh. The guitar exhibited an impressive level of depth and spaciousness, revealing previously unnoticed nuances. Furthermore, the drums maintained a clean and pronounced punch, demonstrating the receiver's capacity to deliver an outstanding listening experience for diverse musical genres.
Overall, Onkyo TX-RZ50 is an impressive audio-visual solution, offering a feature-rich and versatile experience for home theater enthusiasts. Furthermore, its specifications cater to various user preferences, making it an appealing option for elevating the entertainment setup.
Specifications of Onkyo TX-RZ50
Channels: 9.2.
Output power: 120W/8 Ohms.
HDMI inputs/outputs: 7/2.
Surround sound

Dolby features: Dolby TrueHD, Dolby Atmos Height Virtualizer, Dolby Atmos, Dolby Surround.
DTS features: DTS HD Master, DTS:X, DTS Neural:X.
IMAX Enhanced.

Video

Video functions: 4K/120Hz, 8K/60Hz pass-through, upscaling to 8K.
Video support: HDMI ARC, HDMI eARC, HDMI CEC, HDCP2.3, HLG, HDR10, HDR10+, Dolby Vision.

Bluetooth/Wi-Fi: yes/yes.
Streaming service: AirPlay2, Spotify, Deezer, Tidal, Pandora, SiriusXM, Napster, SoundCloud, Amazon Music HD, TuneIn.