I have always had a pretty warm relationship with Marantz products, as their receiver was one of the first units I have ever bought myself. It was the SR7005. Since I used their older units, writing a Marantz SR8015 review is a matter of huge personal interest for me.
The Marantz SR8015 is a flagship AV receiver released in 2020 with 11.2 channel processing. When using it with 11 speakers, it offers 140 watts with 8-ohm speakers. During my career, I had my hands on many high-end AV receivers, including Denon AVR-X8500H, Onkyo TX-RZ3400, and Yamaha RX-A3080, and I was very eager to see what the SR8015 has to offer.
Features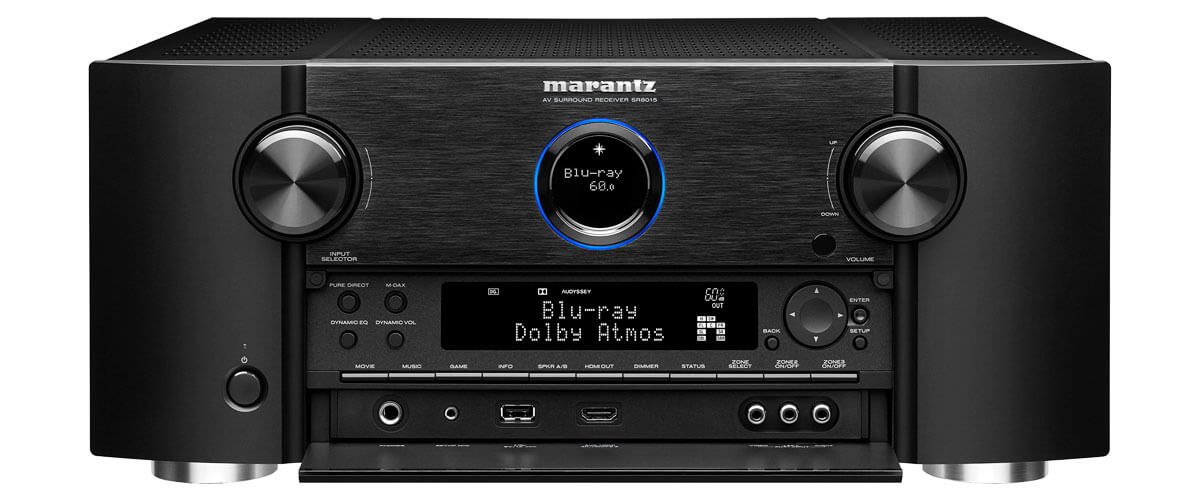 The Marantz SR8015 has 8 HDMI inputs and 3 outputs, all of which are HDMI 2.1 compliant. That made me wonder how efficiently it will work with 4K/120Hz and even 8K/60Hz because the manufacturer mentioned those in SR8015 specifications. So, I put the former to the test in movies and gaming. Sadly, my PC couldn't maintain stable 120 fps at 4K in modern titles, and it was a clear bottleneck. So I had about 80-90 fps (frames per second) in Resident Evil 4, but again, it is all about my PC.
When I launched Planetside 2, stable 120 fps (equal to 120 Hz, 1 Hz = 1 fps) at 4K with HDR, it looked so amazing that my daughter didn't believe the game was launched in 2012. Talking about 8K\60 Hz, I tested it only in movies for apparent reasons and got pure joy from the seamless picture with Dolby Vision and HLG. Returning to other connectors, a receiver in this price range obviously has a rich set of connectors, so I had no problems connecting all my devices.
The SR8015 also supports advanced HDMI features like HDMI ARC and eARC, which allow audio to be sent back from the TV to the receiver over a single HDMI cable. This eliminates the need for a separate audio cable and allows for more advanced audio formats to be transmitted, such as Dolby Atmos and DTS:X. Talking about convenience, typically for this price range, the HDMI CEC (Consumer Electronics Control) is a real game changer that allows me to control all the networks of my devices via a single remote.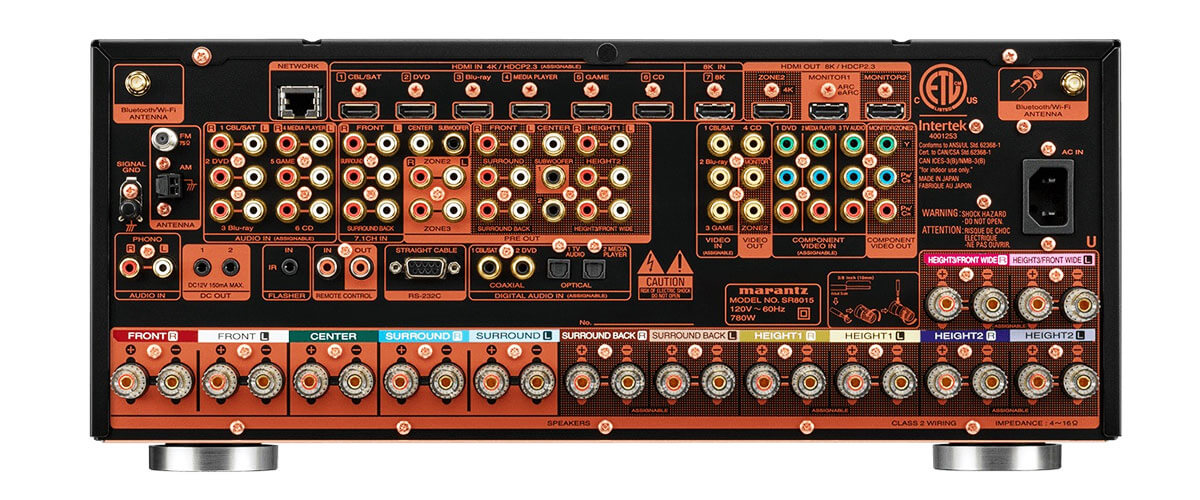 Although the manufacturer didn't claim that the SR8015 is an ultimate multiroom solution, I still wanted to see what it could do. So, I was excited to set up a multi-room audio system in my home with this receiver. The goal was to establish 3 separate rooms, one for me to play on the PC, so I used HDMI input. The second room was aimed at kids to watch cartoons, where I connected my LG 75QNED996PB to the receiver, and finally, the third room was our bedroom, where my wife wanted to watch TV series on our Philips 77 OLED 937.
The unit supports Sonos, HEOS, and Bose, but I still had to do some wiring. At some point, it was pretty tricky, but it's not something special for Marantz because this is what I encountered when using AVRs from other manufacturers too. But what I enjoyed the most was the proprietary Marantz Remote App. In a few words—complete control over the content in all 3 rooms at an incredible convenience. Well done!
Talking about other aspects, Marantz SR8015 features wireless connection options, including Wi-Fi and Bluetooth, with support for AAC, AptX, and LDAC codecs. I also tested it with Apple Music and Spotify – it worked fine with no issues whatsoever, as I had quick access to all the music I love whenever I needed it.
Sound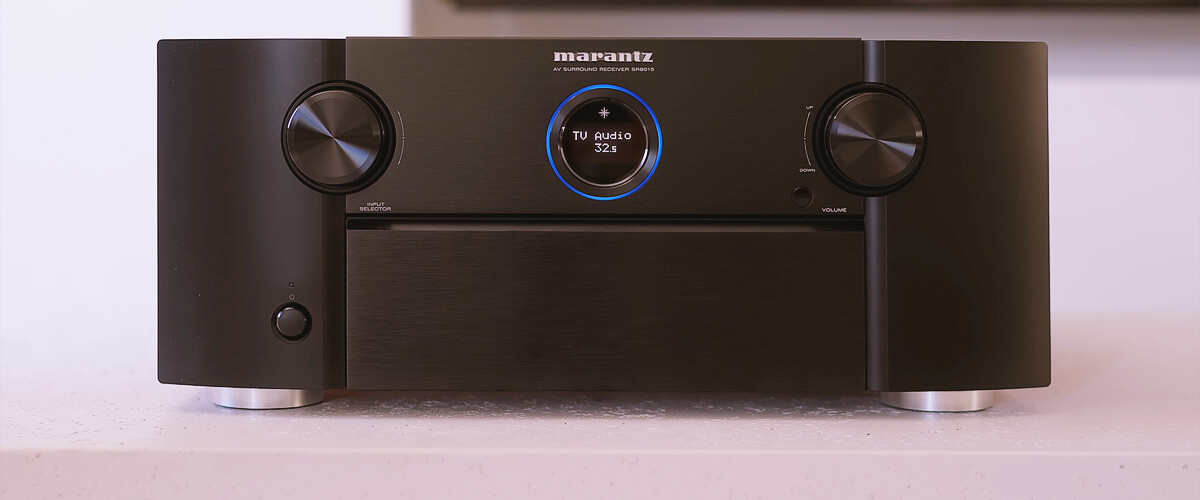 Reaching the final part, I tested the Marantz SR8015 with various movies and songs to comprehensively understand its sound quality. For movies, I tried the receiver with action-packed films like "Mad Max: Fury Road," "Dark Knight," and "Avengers: Endgame" to see how it handled dynamic sound effects, explosions, and dialogue. I was thoroughly impressed with the SR8015's ability to accurately reproduce detailed sound effects and dialogue even in the midst of loud action scenes.
For music, I tested the receiver with a variety of genres, including rock, pop, classical, and jazz. One particular song that stood out to me was Pink Floyd's "Money" from their album "The Dark Side of the Moon." And, of course, I couldn't resist enjoying the complete list of Beethoven's symphonies. The SR8015's soundstage was wide and deep, allowing me to hear individual instruments and sounds that I had never noticed before. The bass was also tight and punchy, adding a satisfying depth to the music.
Specifications of Marantz SR8015
Channels: 11.2.
Output power: 140W/8 Ohm, 175W/6 Ohm.
HDMI inputs/outputs: 8/3.
Surround sound

Dolby features: Dolby TrueHD, Dolby Atmos, Dolby Atmos Height Virtualization, Dolby Surround.
DTS features: DTS HD Master, DTS:X, DTS:X Pro, DTS Neural:X, DTS Virtual:X.
Auro 3D, IMAX Enhanced.

Video

Video functions: 4K/120Hz, 8K/60Hz pass-through, upscaling to 8K.
Video support: HDMI ARC, HDMI eARC, HDMI CEC, HDCP2.3, HLG, HDR10, HDR10+, Dynamic HDR, Dolby Vision.

Bluetooth/Wi-Fi: yes/yes.
Streaming service: AirPlay2, Spotify, Deezer, Tidal, Pandora, SiriusXM, Napster, SoundCloud, Amazon Prime Music.