No matter how quickly the receiver industry develops, no matter what new technologies appear, simplicity often takes center stage. 2-channel receivers are a return to the essence of music – the pure and unadulterated pleasure of sound. In an age of surround sound and immersive home theaters, the 2-channel receiver stands as a testament to the fundamentals of stereo bliss. So, if you share my views, you have come to the right place, and I offer you my selection of the best stereo receivers.
I have prepared for you various options from the most popular brands. The models that I selected belong to the middle price segment and have different additional options but are similar in terms of the main criterion – sound quality. However, before we move on to the review of receivers, I want to tell you what to look for when choosing such a device.
Our pick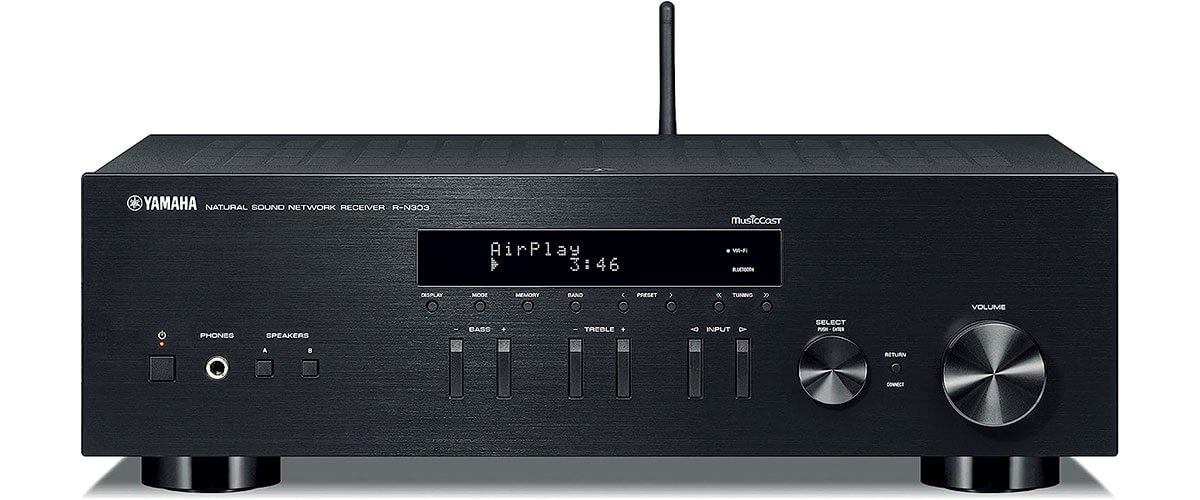 Yamaha R-N303
Best stereo receiver
The R-N303 is the perfect blend of technology and timeless design elegance with modern day wireless connectivity and the nostalgia of vinyl with a phono input terminal.
Read the full review
.
Stereo receivers comparison table
Name
Channels
Power output
HDMI in/out
Bluetooth/Wi-Fi
Review
Yamaha R-N303

best overall

2.0
140W/8 Ohm, 115W/4 Ohm
has not
yes/yes
Review
Sony STR-DH190

budget

2.0
100W/8 Ohm
has not
yes/no
Review
Marantz NR1200
2.0
75W/8 Ohm, 100W/6 Ohm
5/1
yes/yes
Review
Denon DRA-800H
2.2
100W/8 Ohm, 120W/6 Ohm
5/1
yes/yes
Review
Useful tips for choosing a stereo receiver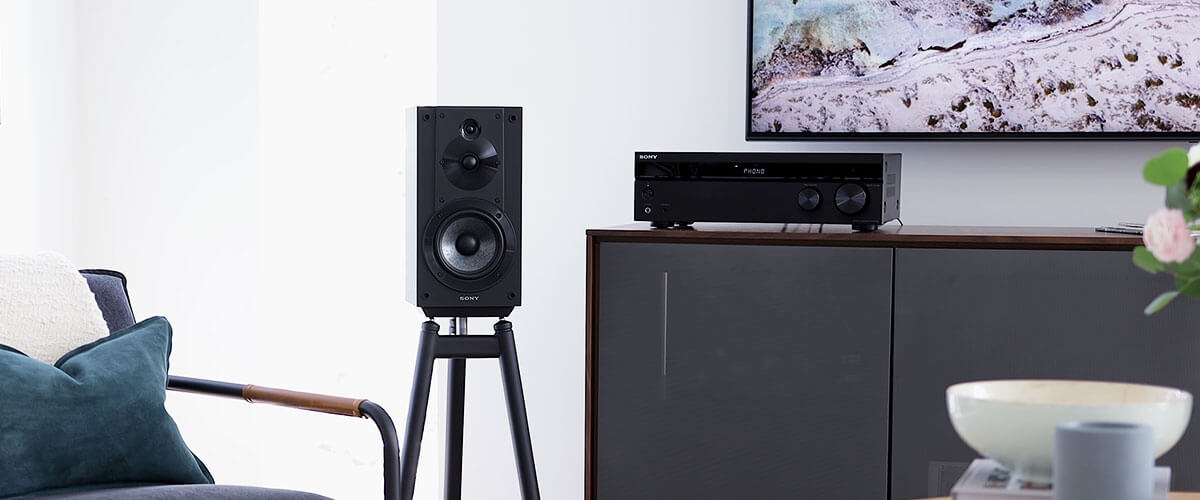 The information I'm going to provide in the next sections is intended to help you with the selection of the best stereo receiver that meets your audio needs and brings enjoyment as much as I experienced during my tests.
Power output
When I was a layman and purchased my first receiver, I was disappointed. That's all because nobody advised me to consider factors like the size of the room, the impedance, and the sensitivity of my speakers. That's why it's important to match the power output of the receiver to your specific setup.
A common power factor for 2-channel receivers is about 70-100W. I'd say those claiming higher power output are not actually true. These values are more than enough for most home audio systems. If you do not plan to listen to music in the huge halls of the Louvre, then focus on these numbers.
Connectivity options: Bluetooth, Wi-Fi, phono input, etc.
Let's start with the main ones, available in both budget and more expensive units. These include RCA inputs, commonly used for connecting sources like CD players, tape recorders, and other analog audio devices. Many modern 2-channel receivers feature digital audio inputs such as optical. Next are the USB inputs for connecting various audio sources for high-quality playback.
What the cheapest options may not have is built-in Bluetooth or Wi-Fi connectivity, allowing you to connect to mobile devices and access streaming services. HDMI inputs are less common in stereo receivers.
Almost always, they include a built-in phono preamplifier to amplify the weak signal produced by turntables. In this case, you can connect the turntable's line-level output to any available line-level input on the 2-channel receiver. Cooperating together, a turntable and amplifier allow you to enjoy the warm and analog sound of vinyl records. The receiver amplifies the weak phono signal, making it audible through your speakers. If you're an audiophile or a vinyl enthusiast, this setup can provide a rich and authentic listening experience.
FM/AM and Internet radio tuners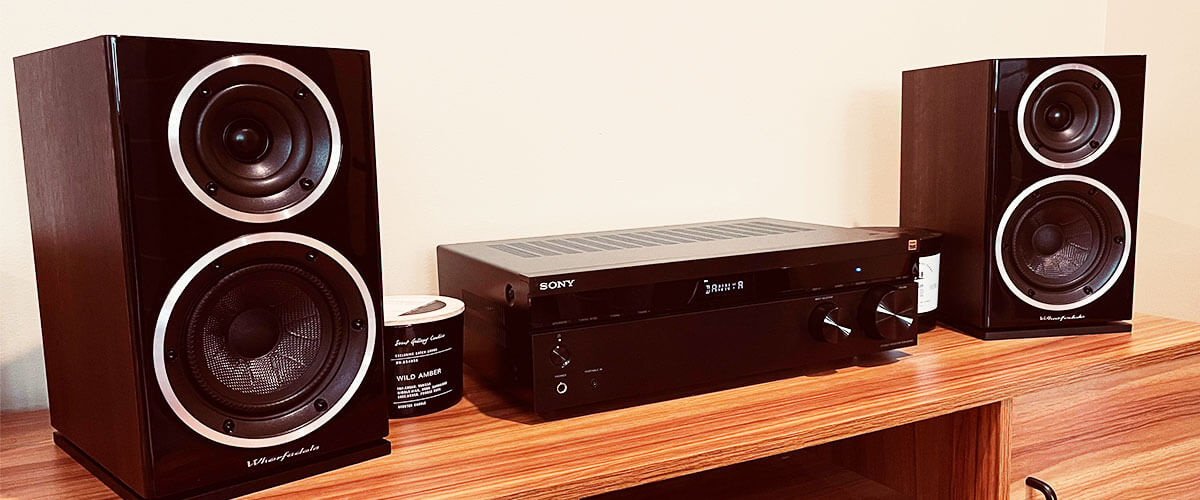 Many traditional stereo receivers come equipped with FM and AM tuners. For example, I love it when I'm busy and don't have time to choose music. Units with FM/AM tuners often include features like preset station memory and automatic tuning.
More advanced 2-channel devices offer internet radio capabilities. These can connect to your home network and access internet radio stations and streaming services. This is also very tempting to me as it provides access to a wide range of online music content from around the world and more.
Built-in DAC
Top-rated stereo receivers tend to feature higher-quality DACs that can handle a wider range of audio formats, offer better signal-to-noise ratios, and produce cleaner and more accurate analog audio signals. Because this is exactly what we need, to enjoy the sound, nothing else.
DACs in stereo receivers often support a range of audio resolutions and formats, including standard CD quality (16-bit/44.1 kHz), high-resolution audio (24-bit/96 kHz or higher), and a variety of audio file formats such as FLAC, WAV, and more.
User interface and remote control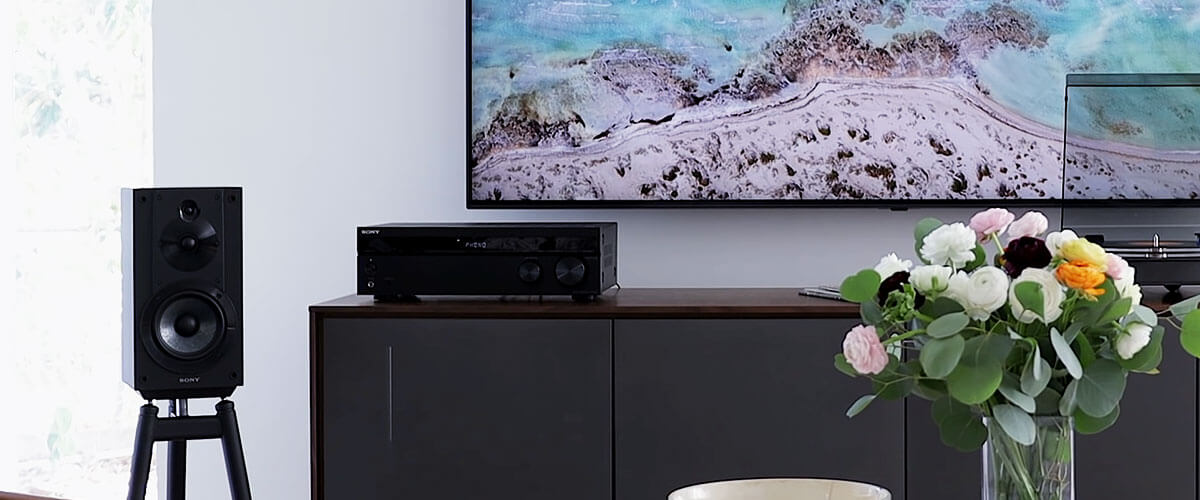 Imagine that you have the perfect candidate to enjoy your favorite music with, but instead, a lot of time is spent on setup and other hiccups in the listening process. I doubt you would want to use such equipment too often. So, in order to enhance your overall user experience and convenience, look for models with on-screen displays that can be accessed through your TV or display. These menus make it easy to configure settings, control playback, and adjust audio settings.
Since none of us can't imagine a day without smart devices, it's great there would be smartphone apps for remote control and customization. You will be able to adjust settings, switch sources, and stream content from your mobile device to the receiver. Also, it's quite cool if the unit is compatible with voice control systems like Amazon Alexa or Google Assistant to control it with voice commands.
Best Stereo Receiver Reviews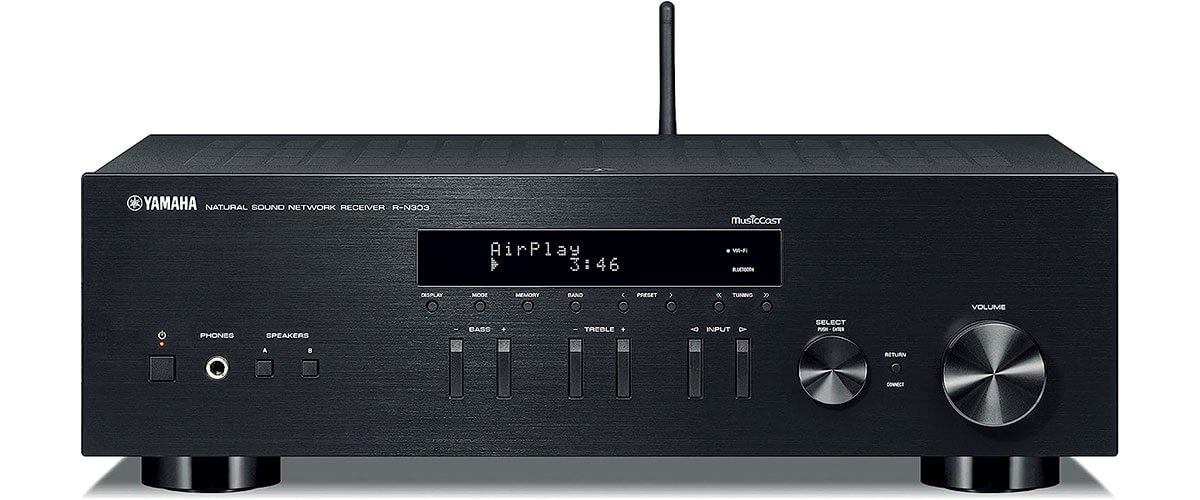 This stereo receiver was released in 2017, but don't rush to blame me for the "old model". Indeed, during this time, R-N303 won the hearts of thousands worldwide. This is a well-known model among many experts, and therefore, I simply had no right not to include it in my list.
The Yamaha R-N303 features a classic, recognizable retro design. The power supply (100W at 8 Ohms, 40 Hz-20 kHz, 0.2% THD) is sufficient for simple listening and for some barbecue party in the backyard of your house. I like such a universal unit since it can be used as a network player, outputting the sound to an amplifier of a higher class. It supports all the standard audio formats, and this is the only one on my list supporting AIFF.
If we talk about its connection capabilities briefly, then it has everything you need that a 2-channel receiver could have. Here are optical and coaxial audio inputs for TV and phono input for turntables.
Even though this receiver is exclusively about sound and no additional unit features should be expected, I would be very upset if there was no Wi-Fi here. Luckily, it's onboard and even with Wireless Direct. So you can easily access your music library with the streaming services, which are plenty out here, except for Amazon Music. Bluetooth is another option that you can use, supporting SBC / AAC codecs. Moreover, you can use Alexa and Google Assistant voice control for smooth operation.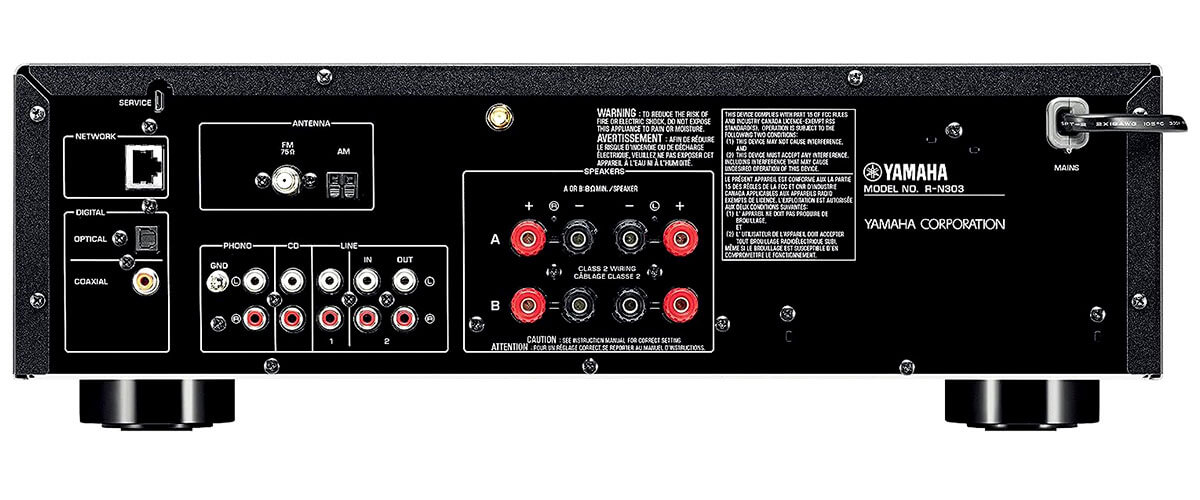 As for testing, the first thing I did was try out Bluetooth. It turned out to be surprisingly stable, without interruptions in sound. There was no walking between the signal source and the receiver. I was also pleased with the quality – quite decent. But it's still Bluetooth, and over the network, the sound quality should be higher.
What's very nice is that even if the device is turned off, when you send music to it, it easily wakes up and starts playing. The next thing I connected the TV via a Toslink cable. The sound quality is good, but the level is much quieter than from other inputs. Overall, I can ensure that R-N303 has a pleasant sound but is slightly harsh at highs. I listened to everything – from classics to hard rock. Music with Deezer is something! The audio is precise, and detailed, compared to the music center. In addition, I would like to note that stereo balance control is not provided from the front panel of the equipment.
The unit features the MusicCast free app, which has been criticized by many for its lack of track rewinding. I join this criticism. However, the remaining features of the application allow you to fully control the receiver. It's very convenient to use MusicCast, and after using it, you just want to throw away the remote control!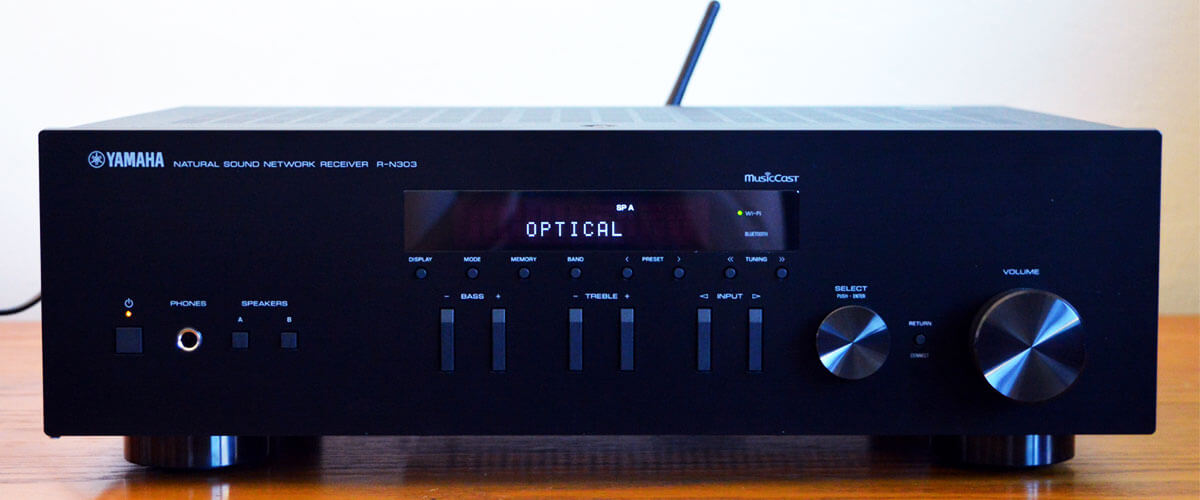 In my opinion, this is the best 2-channel receiver on my list. It has stood the test of time, received positive feedback from many owners, and performed well during my tests.
Key specs
Channels: 2.0.
Power output: 140W/8 Ohm, 115W/4 Ohm.
HDMI inputs/outputs: has not.
Video functions: has not.
Bluetooth/Wi-Fi: yes/yes.
Streaming services: Spotify, TIDAL, Deezer, Napster.
Surround sound: has not.
Pros
It can output the sound to an amplifier of a higher class.
Wi-Fi with Wireless Direct option.
Bluetooth transmission without interruptions.
The sound is clear and detailed.
Cons
Fans of Amazon Music can't enjoy streaming.
No track rewinding on the MusicCast app.
Sony STR-DH190 – budget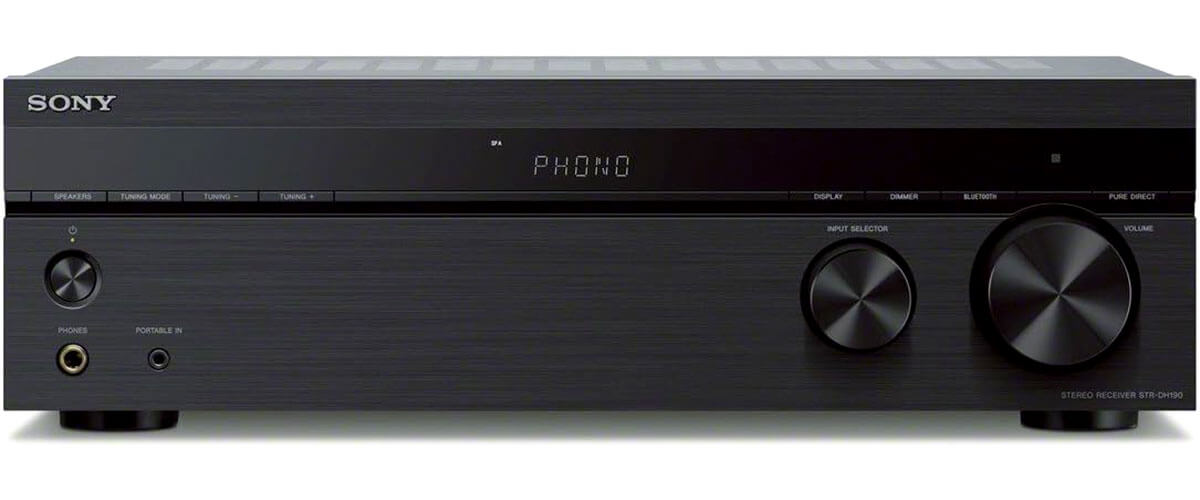 The next model is very different from the Yamaha R-N303, and indeed from the rest of the participants of this review. Sony STR-DH190 is a device that has basic connections and capabilities. It is perfect for non-professional people who do not need to connect a ton of elaborate music enhancement equipment. The unit is also the lightest among other competitors – 14.7 lbs. The power is 90W at 8 Ohms, 20-20.000 Hz, 0.09% THD, which is actually normal, without distortion, even at loud volume.
First of all, you should understand that this is a fairly simple budget-level device. So you won't find here HDMI inputs/outputs, Wi-Fi and Ethernet, voice assistants, preamp, or subwoofer outs. Now you're probably thinking, wow, why is it needed at all? But still like for the home stereo receiver for music, you get plenty of great features. STR-DH190 includes phono inputs, the ability to connect two sets of speakers. There are 4 RCA inputs to connect the CD player, wireless streamer, and more. I wish Sony provided a digital input, like coaxial, but again, not for this cost. Just note that digital inputs are not available on this unit. Plus, unfortunately, you're dealing with everything the receiver comes with, with no way to update the firmware.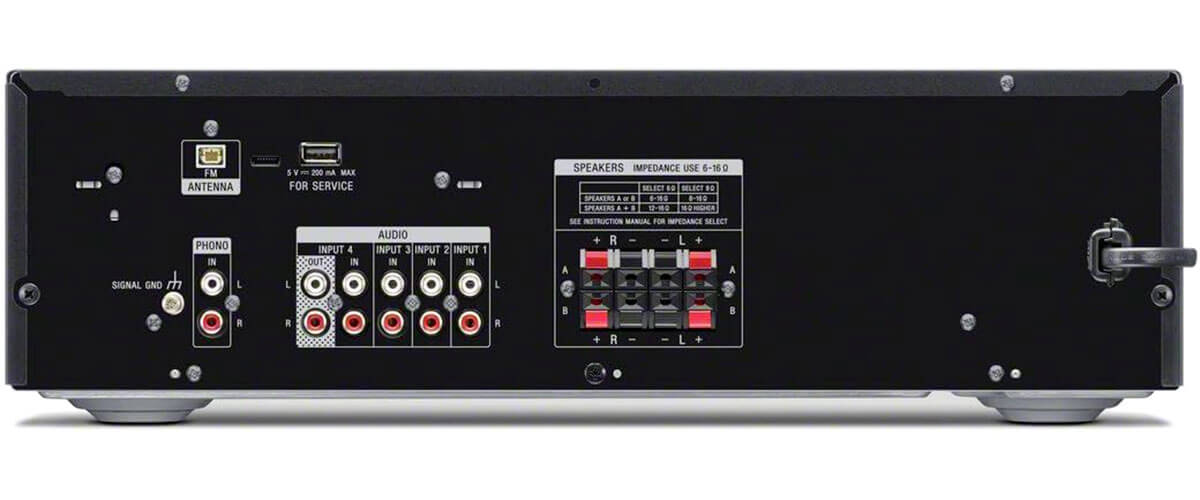 A cherry on top is the Bluetooth option, so I listened to my playlist streaming from my iPad. I rarely listen to FM radio, but the device offers it, too, including an antenna to tune in to your favorite FM station. This is more than enough for its price.
As for the music, the Sony STR-DH190 provided adequate sound staging, and after adjusting the treble and bass tone controls, I enjoyed a long listening session without fatigue while doing household chores.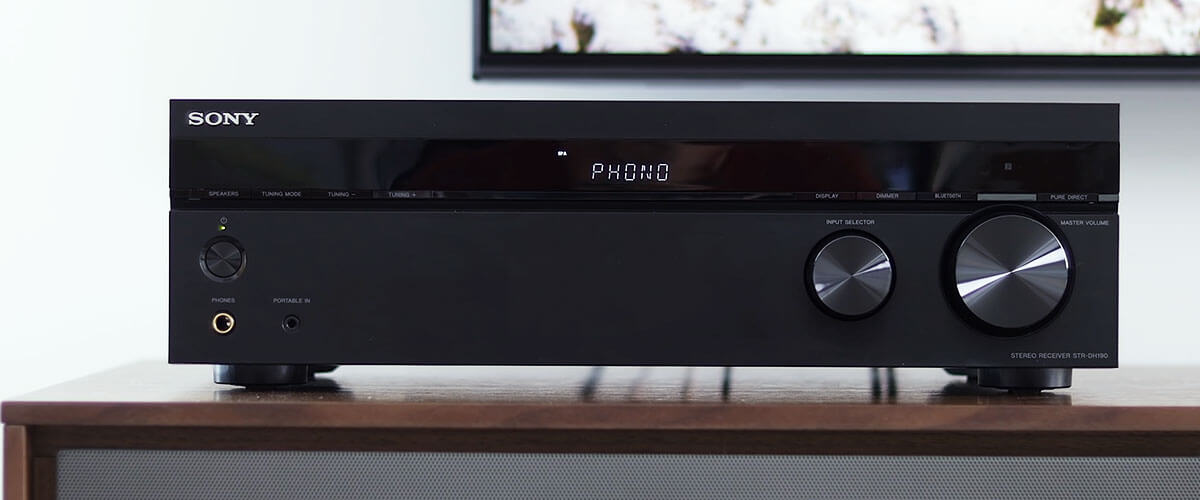 STR-DH190 is the best budget stereo receiver on my list. Yes, it is not without the disadvantages inherent in all budget-level options, but at the same time, it has a number of undeniable advantages. Moreover, it is extremely easy to use and boasts quite a decent sound.
Key specs
Channels: 2.0.
Power output: 100W/8 Ohm.
HDMI inputs/outputs: has not.
Video functions: has not.
Bluetooth/Wi-Fi: yes/no.
Streaming services: has not.
Surround sound: has not.
Pros
No distortion at high volumes.
Supports Bluetooth.
Provides worthy sound quality.
Cons
No Wi-Fi.
No digital inputs.
There is no option to update the firmware.
Marantz NR1200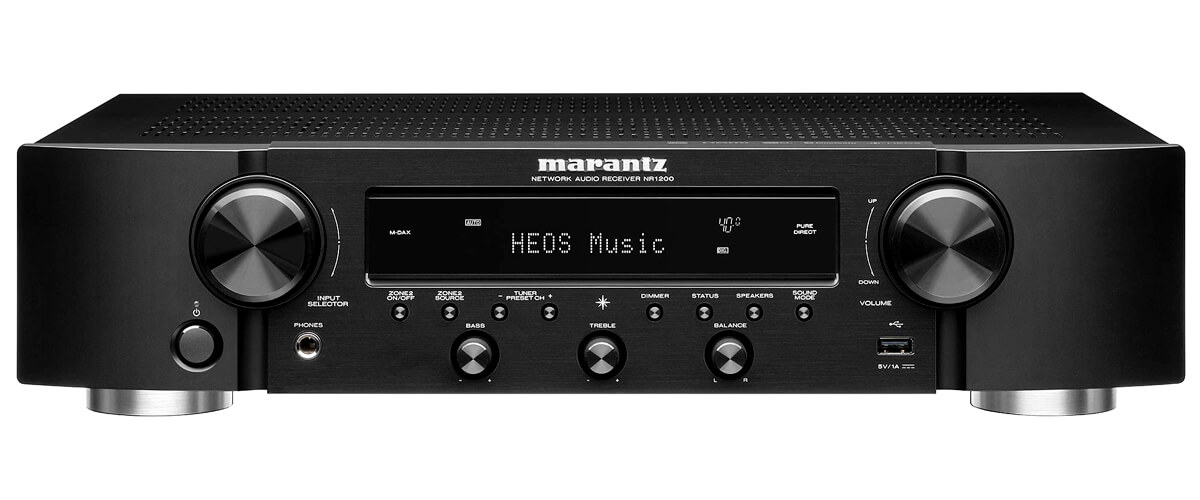 Budget models may disappoint some demanding users, so now I'll tell you about a device that will definitely cheer you up. Marantz NR1200 is powered with 75W (8 Ohms, 20 Hz— 20 kHz, 0,08% THD) and has an ultra-thin body, which is two times lower than conventional receivers. You can connect two pairs of acoustics to the device, for example, one for the living room and the other for the kitchen, but I connected one using the bi-waring system. Another nice feature is the ability to match the Ohm rating of speakers to the receiver.
The receiver surpasses Yamaha R-N303 and Sony STR-DH190 in terms of connectivity options, having 5 HDMI inputs that support modern video formats – HDCP 2.3, 4K Ultra HD/ 60 Hz video, HLG, etc. There is another 6th HDMI port, which is made to completely replace the TV's sound system. As you can see, this is no longer just a stereo receiver.
For audio, coaxial and optical inputs are provided, and there is also a wired network connection and wireless capabilities – Bluetooth and WI-FI, which is dual-band – 2.4 GHz/5 GHz. There are also classic RCA inputs, a built-in phono preamplifier, which is quite good, and outputs to the second room. This is also a stereo receiver with a pair of subwoofer outputs. For such a device, these are simply impressive specifications!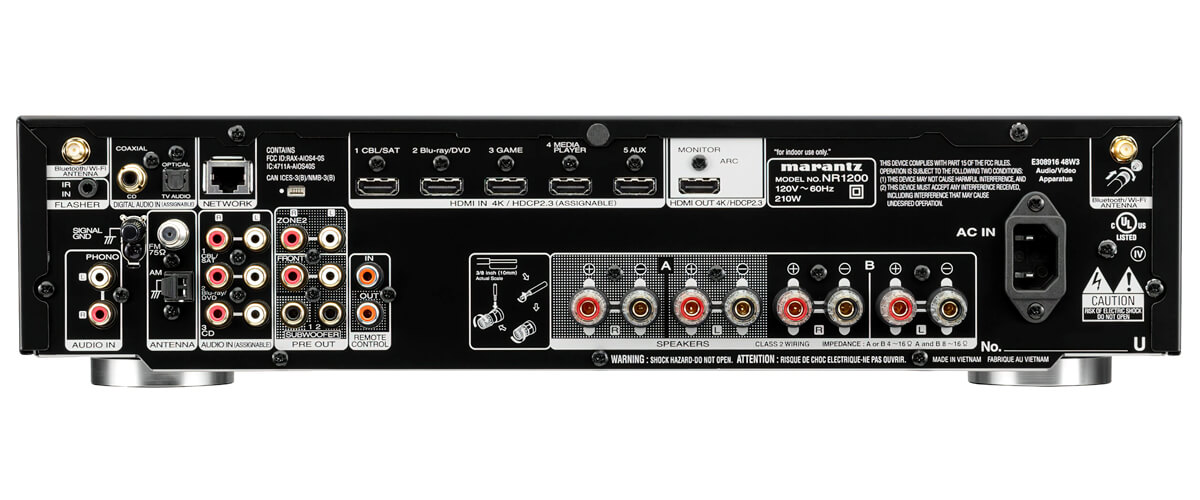 The owner's manual is condensed and not very helpful. You must download the complete manual; otherwise, setting up without a TV is not easy. I prefer to control the receiver using the Marantz AVR Remote app, which is easier. The front panel has all the necessary controls, but they will most likely remain unclaimed. The device carries out commands with a slight thoughtfulness, but you quickly get used to it.
Of course, I can't leave you without a few words about the sound it gives. The stereo receiver delivers signature sound with precise and balanced lows, clear and transparent highs with lively vocals. The sound is, at the same time, very emotional and detailed. By the way, even compared to the Yamaha R-N303, the sound is a bit warmer. While listening to the old recordings, I could even hear some previously unnoticed nuances. By the way, I didn't miss a chance to enjoy a night music session due to the function of transmitting a signal via Bluetooth to wireless headphones. Agree, it's rather convenient that you don't disturb anyone at all.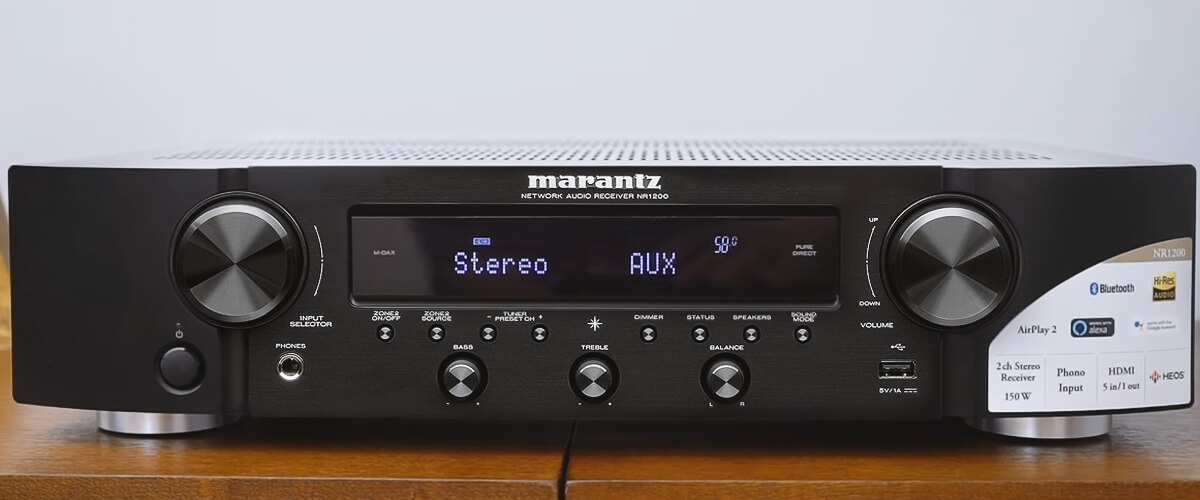 In essence, this is a really high-quality stereo receiver to which all modern functions have been added. Easy to set up and low profile design takes less space on the shelf.
Key specs
Channels: 2.0.
Power output: 75W/8 Ohm, 100W/6 Ohm.
HDMI inputs/outputs: 5/1.
Video functions: 4K/60Hz.
Bluetooth/Wi-Fi: yes/yes.
Streaming services: AirPlay 2, Pandora, Spotify, Napster, SiriusXM, TIDAL, Deezer, Qobuz, Amazon Music.
Suppots: HDMI eARC, HDR 10.
Surround sound: has not.
Pros
Has a compact size to fit in small spaces.
Ability to match the Ohm rating of speakers to the receiver.
Includes 5 HDMI inputs.
Provides a warm sound with pretty much of detail.
Cons
No good user manual.
A bit slow command's performance.
Denon DRA-800H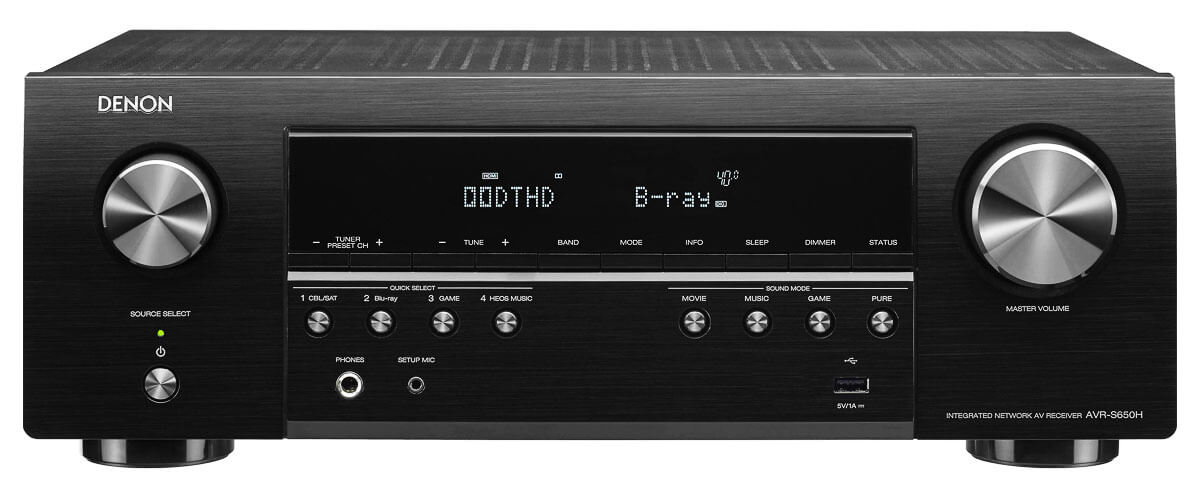 The next stereo receiver can compete with the previous Marantz NR1200, featuring almost the same functionality. Since a true audiophile does not need surround sound decoders and extra amplification channels, except to listen to their favorite songs from all available sources, Denon DRA-800H will come in handy. On the other hand, even I won't deny that the pleasure of watching and listening to the favorite artist's live performance on TV in maximum quality would be a great plus. This 2-channel receiver successfully copes with it running 100W at 8 Ohms, 20 Hz – 20 kHz, 0.08% THD. However, I wouldn't say it indeed performs at the declared power rate. However, Denon has a great DAC and I don't recommend bypassing it with an external one.
What makes it stand out from other standard stereo receivers is a diverse set of analog and digital inputs, including 1 USB, 5 HDMI, 2 RCA, and an MM phono input for connecting a vinyl player, coaxial, and 2 Tos-Link optical digital inputs. Wait, that's not even the end; there are also frequency-controlled outputs for two subwoofers.
Well, to finally endear you to this equipment, you have built-in LAN, Wi-Fi, Bluetooth, and AirPlay2 adapters, the ability to play music files from network storage, and the memory of wireless devices. Perhaps there is no need to wish for more.
What DRA-800H can definitely boast about is having Zone 2. However, it does not allow tone (treble, bass, and balance). In the case of Zone 2, the remote and the HEOS app only control volume and source selection on it. Finally, the maximum volume for Zone 2 is limited to 70 and cannot be adjusted. Sometimes, you don't even know whether it's better than nothing?!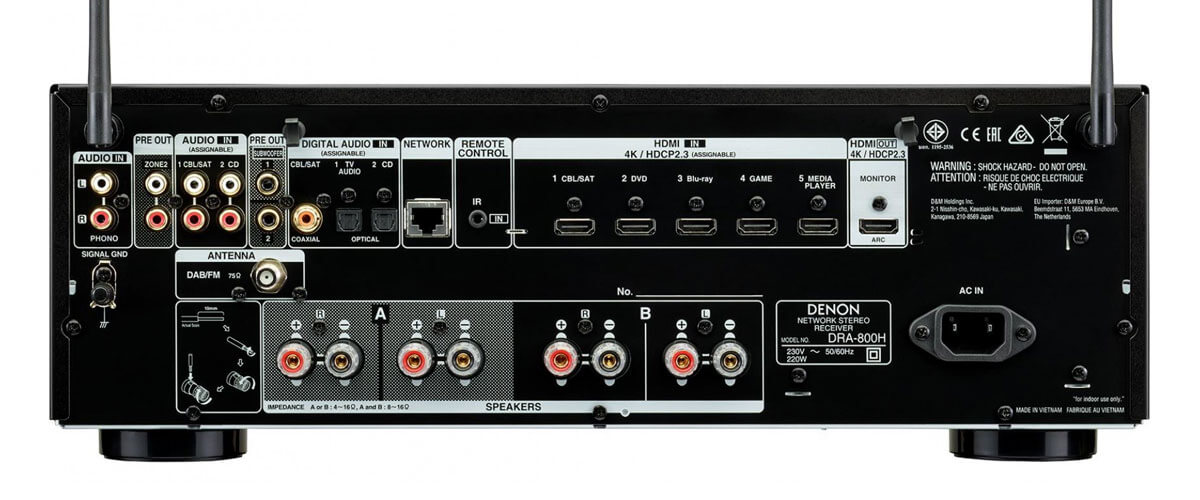 Before you get completely bored with the specifications description, I'll move on to what you expect to hear most: the performance. The frequency response, I'd say, is too flat. It does not roll off at either the high or low end. If you have cool speakers, this amp will let them be bright. Luckily, there are tone controls, so all the parameters can be set correctly.
DRA-800H is absolutely faithful to the sound, smooth, and brings out inner detail. It has the ability to knock you down within its capabilities if that's your idea of listening. Certainly handles loud crescendos in an orchestra and anything else.
Besides that, I liked the super easy setup. I operated the unit either by the remote control or by the HEOS app, both of which provided all the necessary parameters in an intuitive format. By the way, setting up the playlist on HEOS is much better than playlists on each individual streaming service.
What really got me pissed off is other instructions from manufacturers that are worse than useless because they give incorrect instructions for users, which you would have to figure out on your own.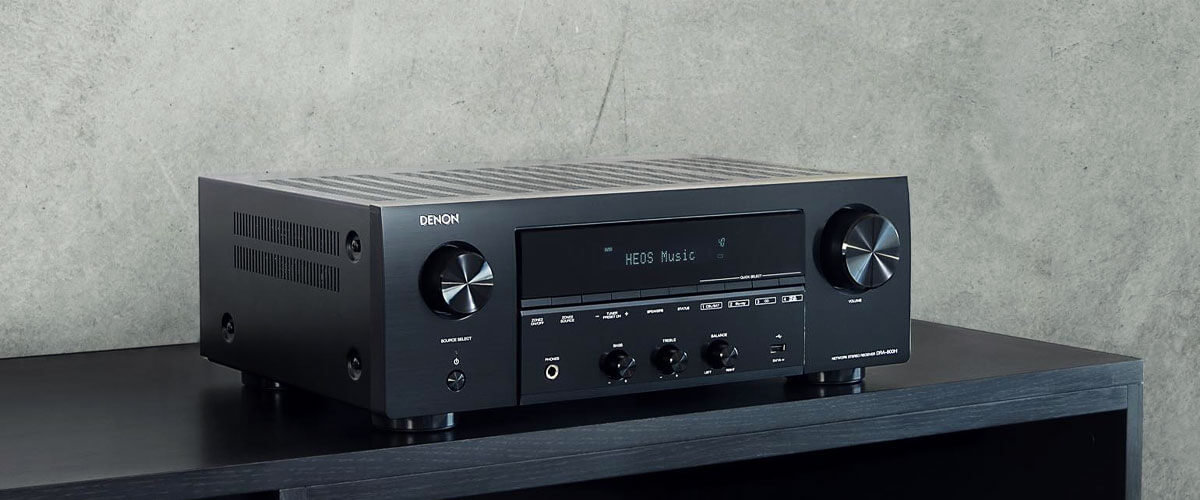 Those looking for a feature audiophile stereo receiver should consider the Denon DRA-800H. It doesn't have a ton of power, but it sounds good and is very versatile with other gear because of the HDMI inputs.
Key specs
Channels: 2.2.
Power output: 100W/8 Ohm, 120W/6 Ohm.
HDMI inputs/outputs: 5/1.
Video functions: 4K/60Hz.
Bluetooth/Wi-Fi: yes/yes.
Streaming services: Airplay 2, Pandora, Spotify, Napster, SiriusXM, TIDAL, Deezer, Qobuz, Amazon Music.
Supports: HDR, HLG.
Surround sound: has not.
Pros
Includes frequency-controlled outputs for two subwoofers.
Offers wide network options.
Has Zone 2.
Provides a stable audio signal, along with smooth sound performance.
Cons
The power rate is lower than declared.
The maximum volume for Zone 2 is limited to 70.
Comes with absolutely useless instructions.
FAQ
What is the difference between a stereo receiver and an AV receiver?
A stereo receiver is a 2-channel audio device focusing on high-quality music playback. An AV receiver, on the other hand, is a multi-channel device (5, 7, 9, or more channels) that is designed to connect both audio and video components, making it ideal for home theaters and those seeking immersive multi-channel sound.
Can I connect my stereo receiver to my TV or home theater system?
Yes, you can connect a stereo receiver to your TV or home theater system. There are special ports for this purpose, both on the stereo receiver and other devices.
Is there a noticeable difference in sound quality with high-resolution audio formats?
The difference depends on the audio system's quality, speakers, listening environment, and source material. In ideal conditions, high-resolution audio can offer superior sound quality, with greater clarity and detail, but the difference may not be significant in all situations.