4K has become the crown jewel, offering a level of visual brilliance that leaves you spellbound. But here's the thing: to fully immerse yourself in the breathtaking world of 4K, you need the right companion, and that's where the best 4K receivers step into the spotlight. Yes, not everyone chooses AVR solely for their sound qualities. Imagine how cinematic landscapes of your favorite movie come to life, gaming adventures burst with intensity, and every detail in your beloved show is so crisp. This is the magic that 4K-ready receivers bring to your home theater.
Today, I will help you understand how this feature can elevate your home entertainment experience, and, of course, I have collected top models that may interest you if you are looking for the best 4K receiver.
Our pick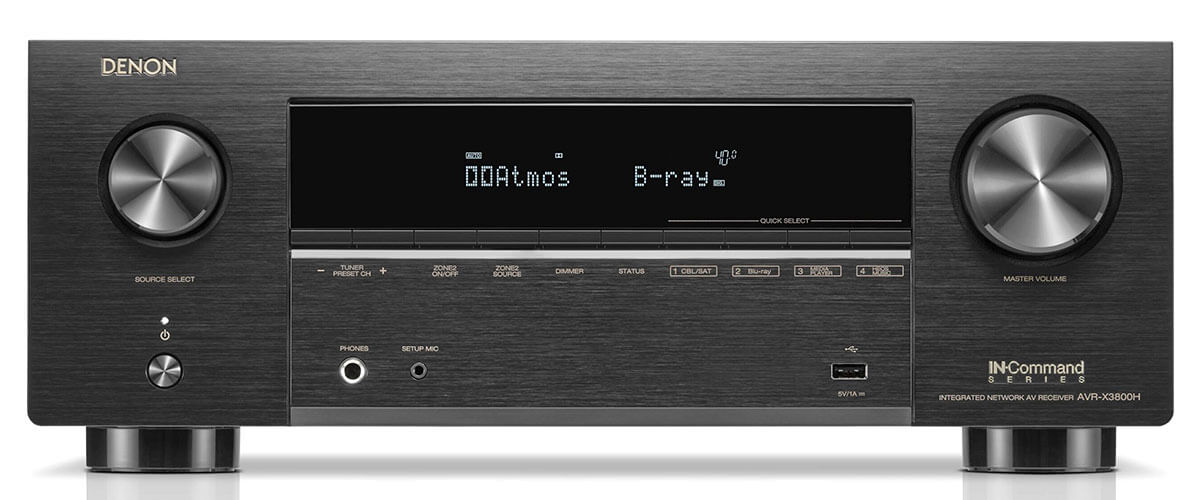 Denon AVR-X3800H
Best 4K receiver
AVR-X3800H with nine channels of amplification envelops larger living spaces in theater-quality sound and amazing 8K video quality and wirelessly stream and share online music between rooms.
Read the full review
.
4K AV receivers comparison table
Name
Channels
Power output
HDMI in/out
Bluetooth/Wi-Fi
Review
Denon AVR-X3800H

best overall

9.4
105W/8 Ohm, 135W/6 Ohm
6/3
yes/yes
Review
Yamaha RX-V4A

budget

5.2
80W/6 Ohm
4/1
yes/yes
Review
Marantz Cinema 60

also great

7.2
100W/8 Ohm, 140W/6 Ohm
6/2
yes/yes
Review
Denon AVR-X8500HA

premium

13.2
150/8 Ohm, 190/6 Ohm
7/2
yes/yes
Review
Key features to look for in a 4K AV receiver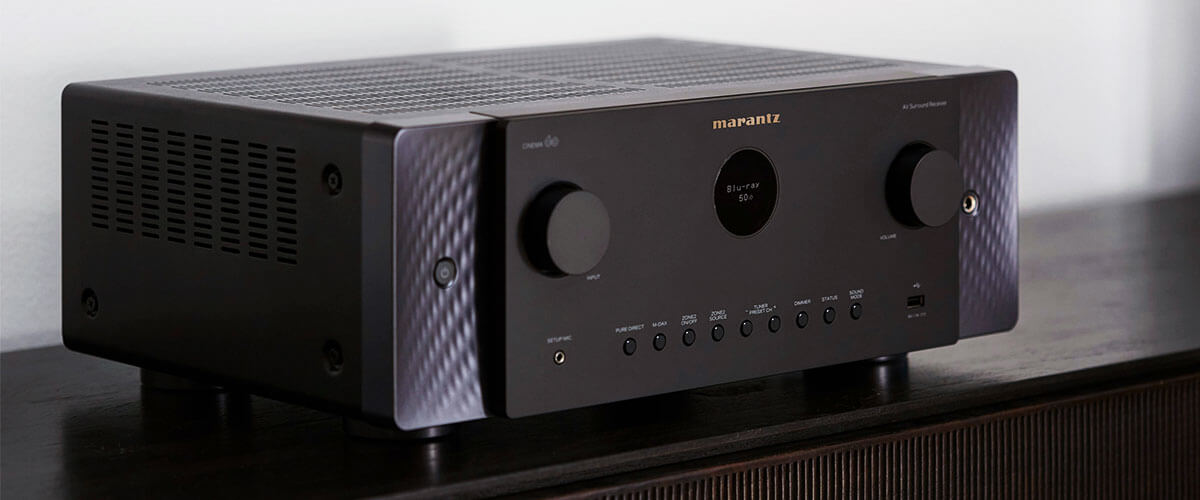 HDMI ports and HDCP 2.2 compliance
The number of HDMI ports a receiver should have largely depends on your specific home entertainment setup and the devices you intend to connect. As technology advances, having a sufficient number of HDMI ports is essential for a seamless and flexible experience.
The most common source devices include gaming consoles and Blu-ray players. You'll need an HDMI output to connect your receiver to a 4K TV. For streaming devices like Apple TV, Roku, or Amazon Fire TV, having a dedicated HDMI input ensures easy access to your favorite streaming services. Considering the evolving nature of technology, having a few extra HDMI inputs can be beneficial for future devices you may add to your setup.
High-bandwidth Digital Content Protection (HDCP) 2.2 is a copy protection technology designed to prevent unauthorized copying of 4K Ultra HD content. To ensure compatibility with 4K content and devices, your receiver must have HDCP 2.2 support. This is especially important if you plan to watch 4K movies or stream 4K content from sources like Ultra HD Blu-ray players, streaming devices, and gaming consoles. Without HDCP 2.2 compatibility, your equipment may not be able to display 4K content properly.
HDR support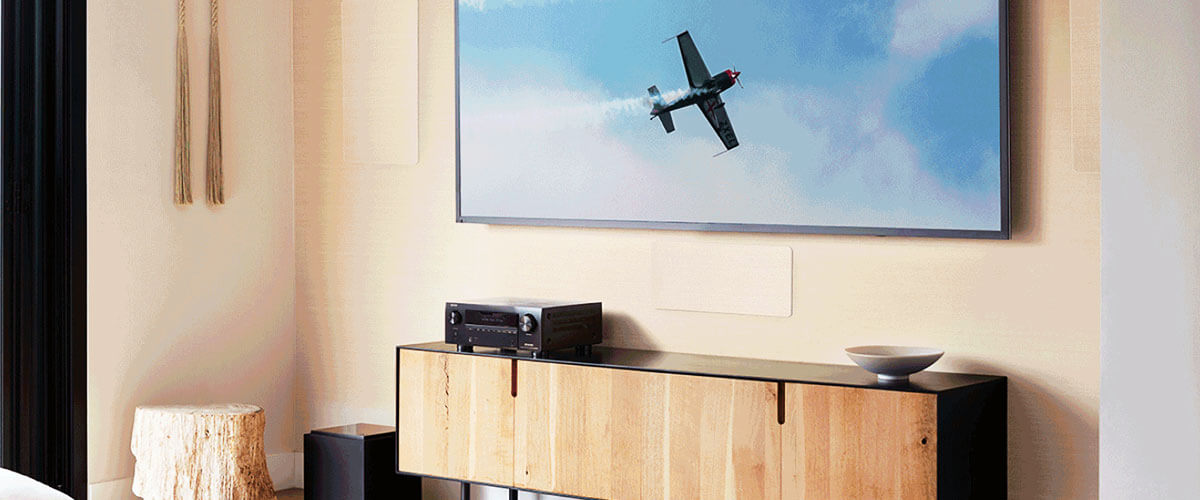 High Dynamic Range is a technological advancement in video display that significantly enhances the quality of visuals in home entertainment. It's a game-changer for displays, and I'm going to explain to you why. HDR10 is the most widely supported HDR format and is found in most 4K Ultra HD content. It adjusts brightness and color on a scene-by-scene or frame-by-frame basis, allowing for improved picture quality.
Considered one of the most advanced HDR formats, Dolby Vision takes HDR10 a step further. It uses dynamic metadata to optimize visuals, even shot by shot, providing the highest quality images. If you want to enjoy watching live TV, then pay attention to the availability of HLG, which combines SDR and HDR content into a single signal. HDR10+ is similar to HDR10, but with dynamic metadata like Dolby Vision, it fine-tunes visuals for each scene or frame.
Overall, HDR brings content to life with brighter highlights, deeper blacks, and a wider color spectrum. It reveals more details in both well-lit and shadowed areas, making the image look more realistic. Also, I'd like to note that different streaming services, Blu-ray players, and gaming consoles may use various HDR formats. Having a 4K HDR receiver that supports multiple formats ensures compatibility with a wide range of source devices, guaranteeing you can make the most of the HDR content available to you.
Video upscaling and 4K pass-through
Upscaling involves taking an image or video with a lower resolution, typically standard definition (SD) or high definition (HD), and increasing its resolution to a higher level, most commonly 4K Ultra High Definition (UHD). The importance of upscaling lies in its ability to make lower-resolution content look sharper, more detailed, and visually pleasing on higher-resolution displays, such as 4K TVs. A receiver with a 4K upscaling feature ensures that all your content is compatible with your 4K TV.
As 4K content becomes more prevalent, having a device that can upscale content to 4K ensures that your home theater receiver remains relevant and adaptable to the changing landscape of content delivery. It's a form of future-proofing your setup. Look for a receiver that features a 4K resolution pass-through. It allows a 4K video signal to pass through the receiver without any alteration. The unit simply allows the content to flow through to your 4K TV in its native 4K resolution.
Best 4K receiver reviews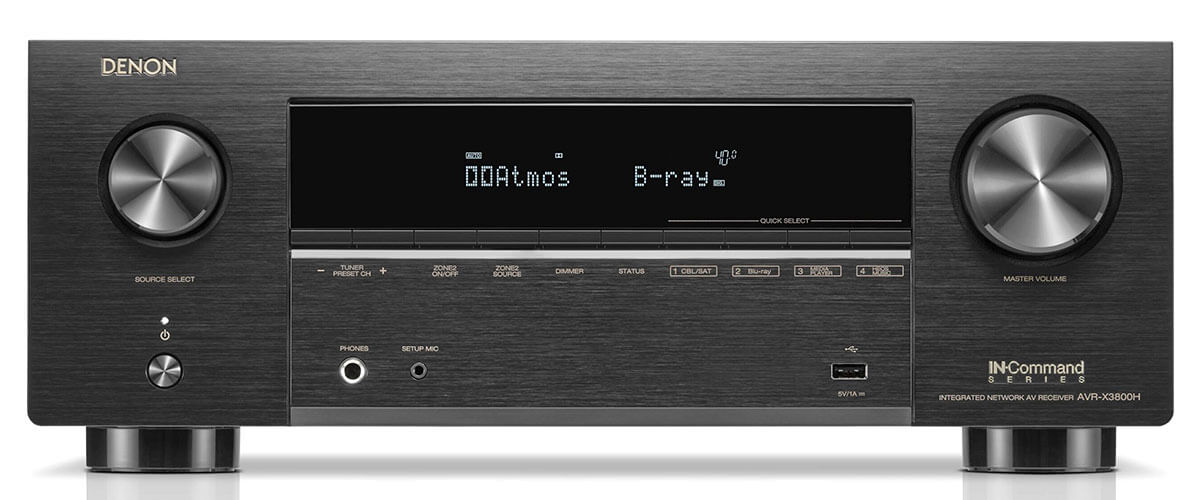 The layout of AVR-X3800H, like a lot of other products, is unlikely to be an impressive aspect. Actually, it may seem that you purchased vintage equipment owing to the connections it consists of. The receiver offers 105W (8 Ohms, 20 Hz – 20 kHz, 0.08%), being equipped with 9.4 channels. For anyone with high-powered speakers or who needs to add external amplification, you will find a comprehensive range of pre-outs in this model.
In today's review, I'm not going to talk much about audio specifications but rather just mention what you can expect from a specific unit in case you want it to have onboard. So, X3800H is fully equipped with immersive sound formats, including Dolby Atmos and DTS:X, as well as their upmixing decoders. This is definitely 5 out of 5 since watching movies without good sound is clearly a no-brainer.
This is the right model for those who want to update to the latest HDMI 2.1 capability. It features 6 inputs and 2 outputs supporting 4K Ultra HD video at up to 120Hz and HDR formats, including Dolby Vision and HLG. Among the key advantages of the AVR-X3800H is that it supports 8K resolution, which is apparently not as useful owing to the shortage of video content in that format. To play protected content, it has HDCP 2.3. Colors are improved as well and become more vibrant thanks to HDR10+. Dolby Vision does a decent job of displaying the contrast and brightness with greater clarity, albeit to see these improvements, the content must be appropriate, and if not, the resolution is not enhanced significantly. It might not seem so, but it will be a nice device to play because it offers VRR with a changeable refresh rate. It additionally functions with QFT, which adapts pixels quickly to produce dynamic visuals. Keep in mind that it incorporates ALLM to ensure an accurate game session with minimal delays, which is excellent for the upcoming console generations.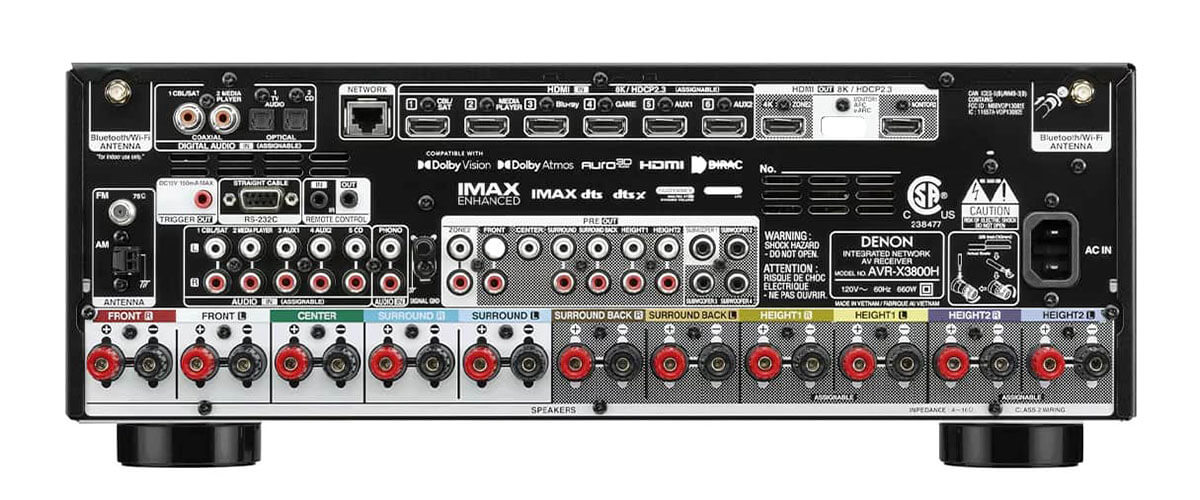 To test this model, I chose Gran Turismo, a very dynamic racing film with impressive racing scenes. As the movie started, the quality of the video was immediately striking. The 4K Ultra HD resolution, paired with HDR, brings the scenes to life with incredible clarity and vivid colors. In a dark room, the blacks are really deep, and the highlights are luminous, making every detail pop. It was especially noticeable when showing car parts in slow motion. I also gave a test to my favorite Friends series, and the upscaling capabilities make even older content look better than ever.
Denon's big GUI improvement from 480p to 1080p is an additional useful change for this particular unit. Some manufacturers don't provide a full-screen video output for navigating controls in any way. I think it's a pleasant addition to assist consumers in comprehending the choices they have, particularly if their AVR hasn't been professionally set up.
There's also the possibility to choose from a plethora of streaming options, either free or paid. Similarly, you can tune in to whatever music you like in any area of the house. In fact, it is possible to listen to the same music across all rooms.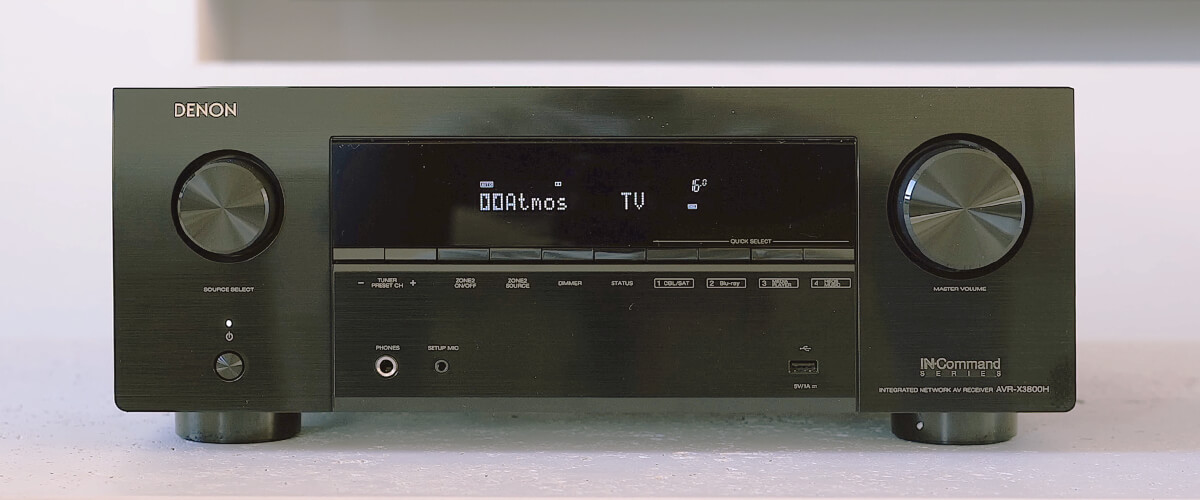 It's very handy to use Audyssey MultEQ XT32 for a quick calibration. My only complaint is that if you are running the Audyssey profile, you lose the capability to adjust bass and treble. You must switch to manual calibration, which then alters the room calculations and corrections that were applied.
Denon AVR-X3800H has all the current bells and whistles needed for a modern home theater experience. This 4K AVR has an easy setup process that will guide you through setting up and tuning your speakers and external devices. The video is great, and the sound is just as good. So what are you waiting for? If this is what you came for, then the choice is obvious!
Key specs
Channels: 9.4.
Power output: 105W/8 Ohm, 135W/6 Ohm.
HDMI inputs/outputs:6/3.
Video functions: 8K/60Hz, 4K/120Hz, 4K/60Hz.
Bluetooth/Wi-Fi: yes/yes.
Streaming services: Airplay 2, Pandora, Spotify, Napster, SiriusXM, TIDAL, Deezer, Qobuz, Amazon Music.
Supports: HDR, HLG, Dolby Vision, HDR10+, Dynamic HDR, HDMI Upscaling up to 8k, Dolby Vision.
Surround sound: Dolby TrueHD, Dolby Digital Plus, DTS-HD Master Audio, Dolby Surround, DTS:X.
Pros
Offers a comprehensive range of pre-outs.
Equipped with a lot of immersive sound formats.
Suitable for gaming purposes.
Great brightness and detail in the video.
Improved GUI to 1080p.
Cons
Has a bit of an old design.
There is no ability to adjust bass and treble when running the Audyssey profile.
Yamaha RX-V4A – budget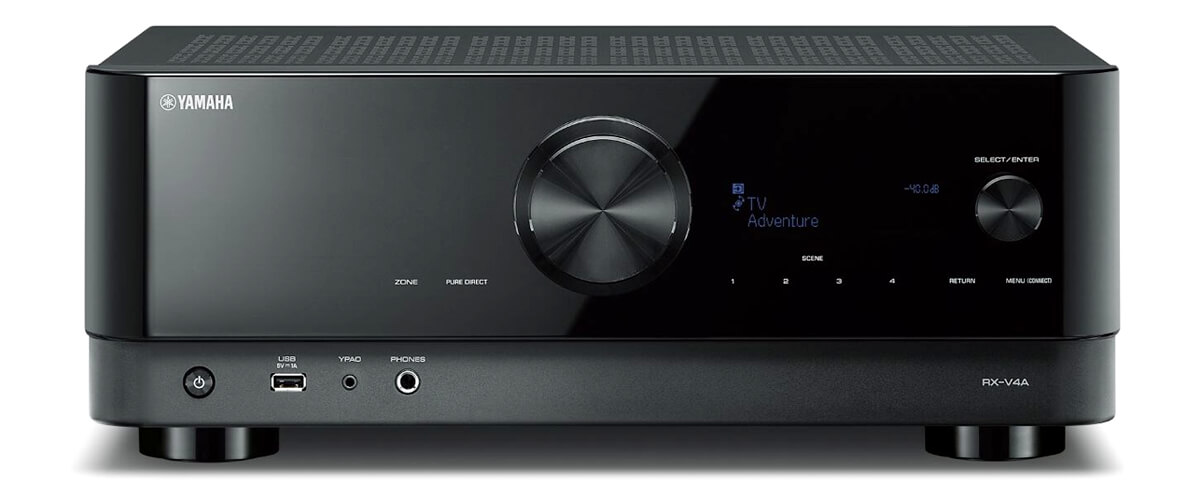 If I had to choose an inexpensive home theater option, I would select the Yamaha RX-V4A. It is equipped with a 5.2-channel amplifier with 80W (6 Ohms, 0.06% THD). My review is not about sound, but I must say right away that there is no Dolby Atmos and DTS: X. But it does have Dolby TrueHD.
This unit has fewer HDMI inputs than all other reviewed models, but for the great majority, 4 should be enough for many users. Version 2.1 circuits offer 4K/120Hz, VRR, QFT, and ALLM for an outstanding gaming and movie-watching experience. It also features an 8K pass-through and upscaling to 4K, making it ready for the future of video. You can have an HDR-rich experience with support for HDR10, Dolby Vision, and HLG formats, ensuring vibrant and lifelike visuals. Isn't that great for a low-price AVR?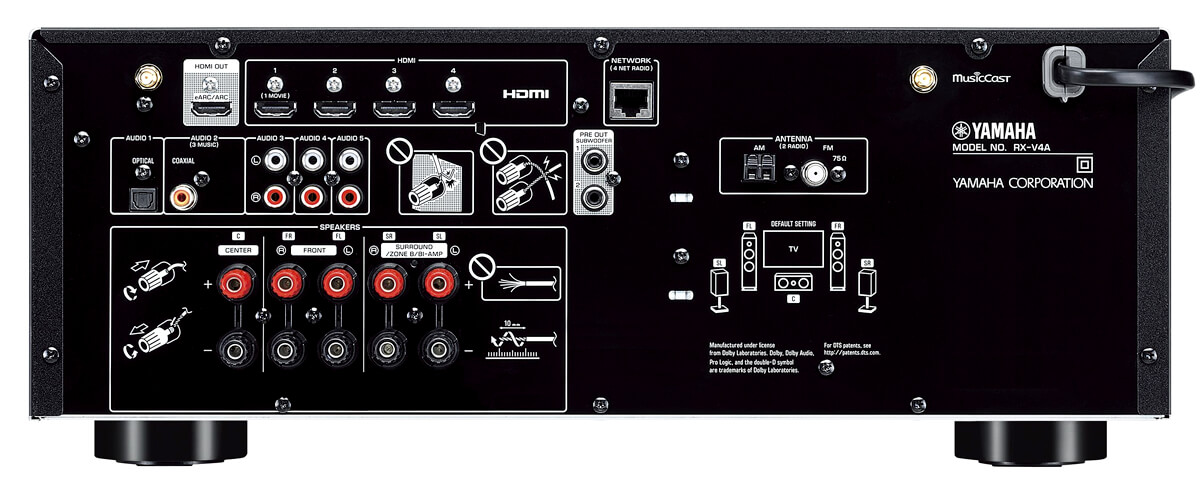 However, when eARC was enabled on my TV when I turned it on, it caused the receiver to turn on PS4, which was not usually what I wanted. Disabling eARC on the TV turned on the receiver, and the TV doesn't play audio for its built-in apps through the receiver. The result was that I had to manually turn on both the receiver and TV, which may seem to you now confusing and exhausting. In general, while watching Murder Mystery 2, I admitted fine details were distinguishable, and the visuals had a sense of crispness. In terms of contrast, it holds a good balance. In close-up shots, the colors were true to life.
If you're a fan of Yamaha and used to on-screen interfaces with exquisite visuals and a nice overview, you can quickly identify what features you require for settings. The graphic user interface of the RX-V4A has been modified with white letters in list format on a black screen. This makes setup hard and time-consuming to understand. There are two menus: for settings and for operations. It is sometimes impossible to tell what is what; thus, you may find yourself in a faulty option. However, for a small price, I'm sure you can live with this.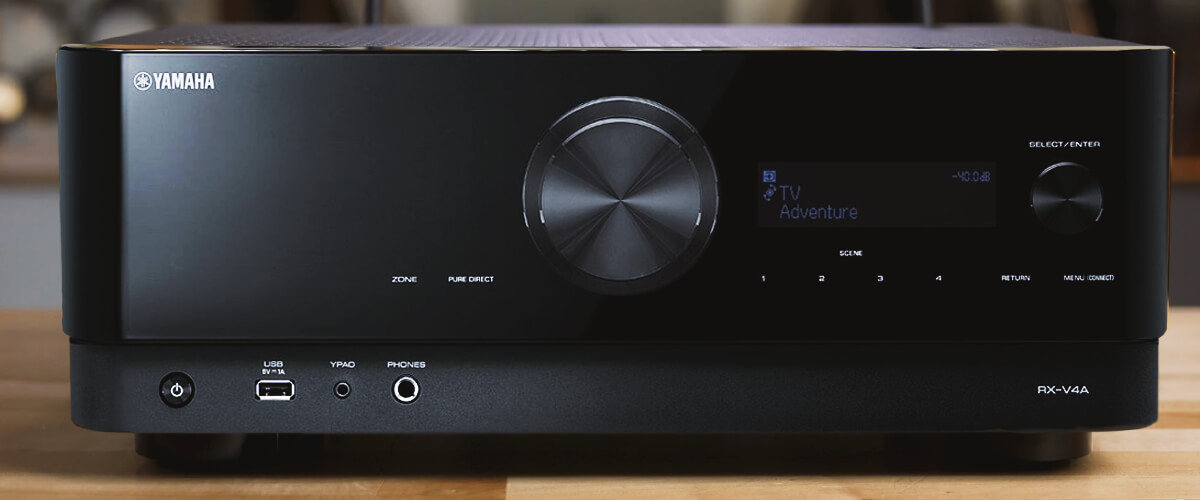 The remote is the absolute worst, with so tiny buttons that you definitely should check for the MusicCast app that gives you complete control of the receiver and other compatible items. With a smartphone, you can easily operate it and alter its configuration, thereby transforming your mobile device into a remote control. The app also includes multi-room audio settings to listen to music around your home.
The Yamaha RX-V4A deserves the best budget 4K receiver title in my review. Overall, the functionality is top for its price, and transitioning from watching TV/movies to gaming and even casting music from the phone is seamless.
Key specs
Channels: 5.2.
Power output: 80W/6 Ohm.
HDMI inputs/outputs: 4/1.
Video functions: 4K/60Hz, 4K/120Hz, 8K/60Hz pass-through, upscales HD video signals to 4K Ultra HD.
Bluetooth/Wi-Fi: yes/yes.
Streaming services: AirPlay 2, Pandora, Spotify, Napster, SiriusXM, TIDAL, Deezer, Qobuz, Amazon Music, MusicCast.
Suppots: HDMI ARC, HDMI eARC, HDMI CEC, HDCP2.3, HDR10, HDR10+, Dolby Vision.
Surround sound: DTS HD Master, Dolby TrueHD, Dolby Digital Plus, Cinema DSP.
Pros
Supports all HDR formats.
Includes 4K upscaling and 8K pass-through (a great plus for a budget model).
Offers sharp images with true-to-life colors without compression artifacts.
Cons
Has one type of surround sound format.
Doesn't have as many HDMI inputs (4) as other receivers on the list.
I had some issues with eArc switching between devices connected to AVR.
The graphic user interface is frustrating.
Marantz Cinema 60 – also great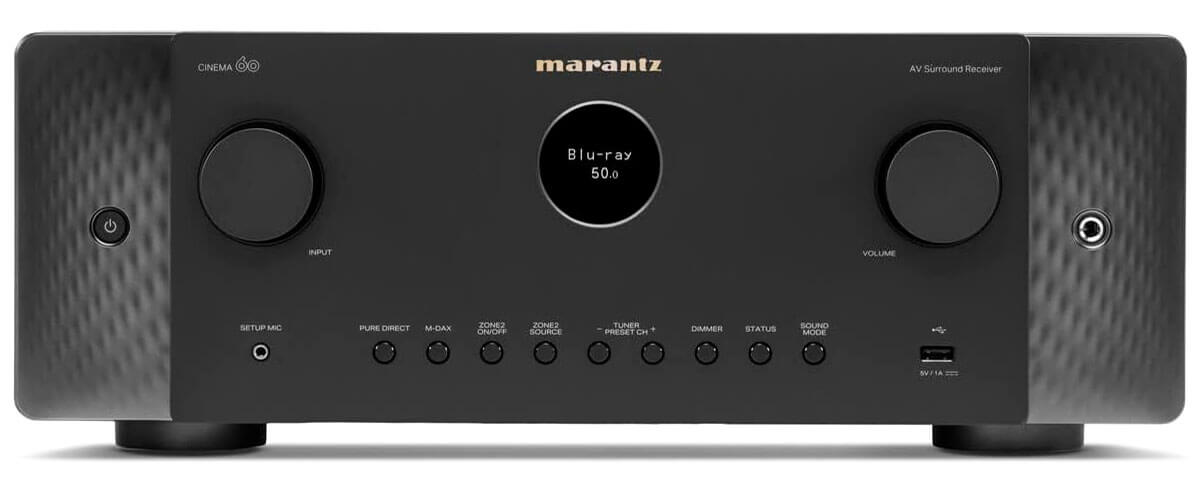 The CINEMA 60 has 7.1 processing channels and is equipped with enough functions to serve as a trustworthy "manager" of a home theater system. It can handle the most recent surround sound formats, such as Dolby Atmos with Height Virtualization and DTS:X with its Virtual:X with the power of 100W (8 Ohms, 20 Hz – 20 kHz, 0.08% THD).
Marantz removes the composite and component video inputs entirely. As a result, it does not support the transmission of video signals from older equipment that exclusively produces video signals via excluded connections. 6 HDMI ports enable HDCP 2.3 and up to 8K 60Hz video formats, as well as a pass-through option in sleep mode. It can upscale video from HD to Ultra HD (up to 8K), offer HDR10+ and Dolby Vision, and work with eARC. Gamers will definitely like the fact that it allows 3 video players or game consoles to be connected at the same time.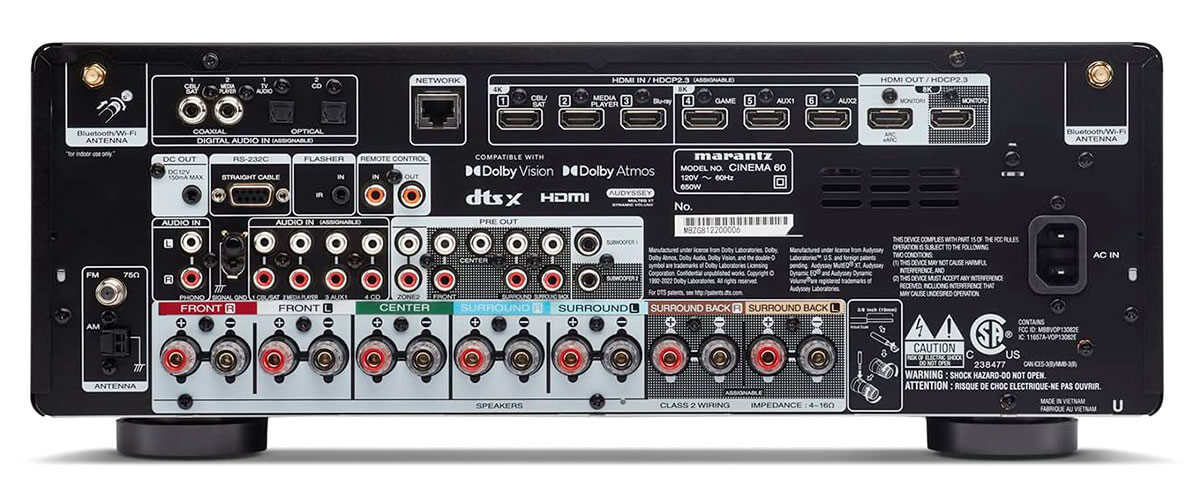 I didn't have a way to test the 8K video capabilities, but the CINEMA 60's additional video processing capabilities functioned as claimed. I would utilize the CINEMA 60 as the primary visual switching center because I saw no noticeable changes between video signals routed via the receiver and those sent straight to my TV. Its video upscaling function performed properly. I used it to upscale 1080p video data to 4K Ultra HD quality with pleasant outcomes and no visible distortions or oddities.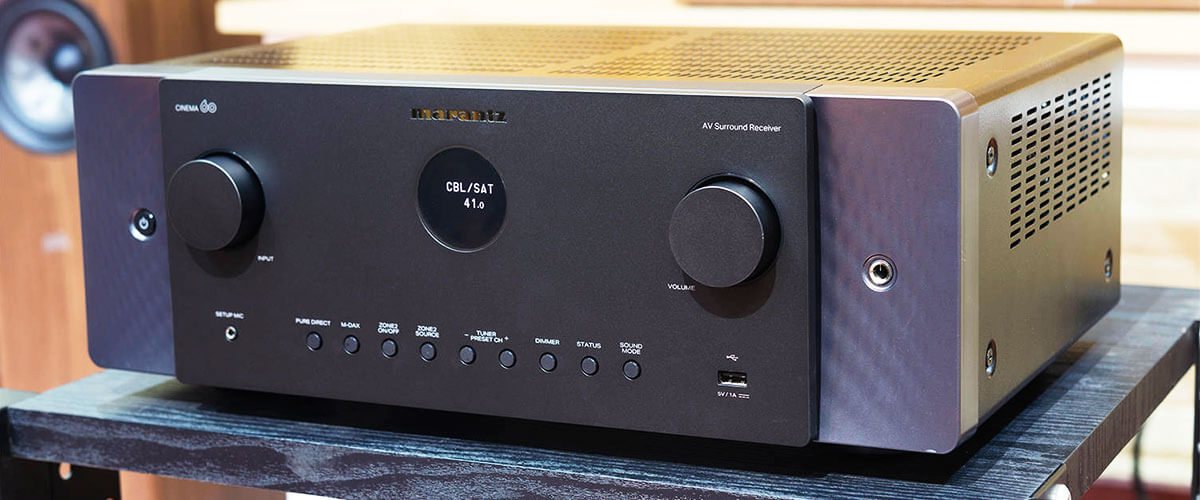 The Marantz CINEMA 60 is a capable AV receiver that performs effectively in all areas. Considering its shortage of video backward compatibility, it features comprehensive input/output connections to meet the latest AV requirements and functions as the hub of the home theater system.
Key specs
Channels: 7.2.
Power output: 100W/8 Ohm, 140W/6 Ohm.
HDMI inputs/outputs: 6/2.
Video functions: 4K/120Hz, 8K/60Hz pass-through, upscales HD video signals to 8K.
Bluetooth/Wi-Fi: yes/yes.
Streaming services: AirPlay 2, Pandora, Spotify, SiriusXM, Amazon Music HD, Amazon Music, TIDAL, Deezer, iHeart Radio, Napster, SoundCloud, Mood Mix.
Suppots: HDMI ARC, HDMI eARC, HDMI CEC, HDCP2.3, HDR, HLG, HDR10+, Dynamic HDR, Dolby Vision.
Surround sound: DTS HD Master, DTS:X, DTS Neural:X, DTS Virtual:X, Dolby TrueHD, Dolby Atmos, Dolby Atmos Height Virtualization, Dolby Atmos Music, Dolby Surround.
Pros
Allows 3 video players or game consoles to be connected at the same time.
Great video upscaling features.
Video processing works seamlessly.
Built for watching movies (picture and audio are top-notch).
Cons
No composite and component video inputs.
Denon AVR-X8500HA – premium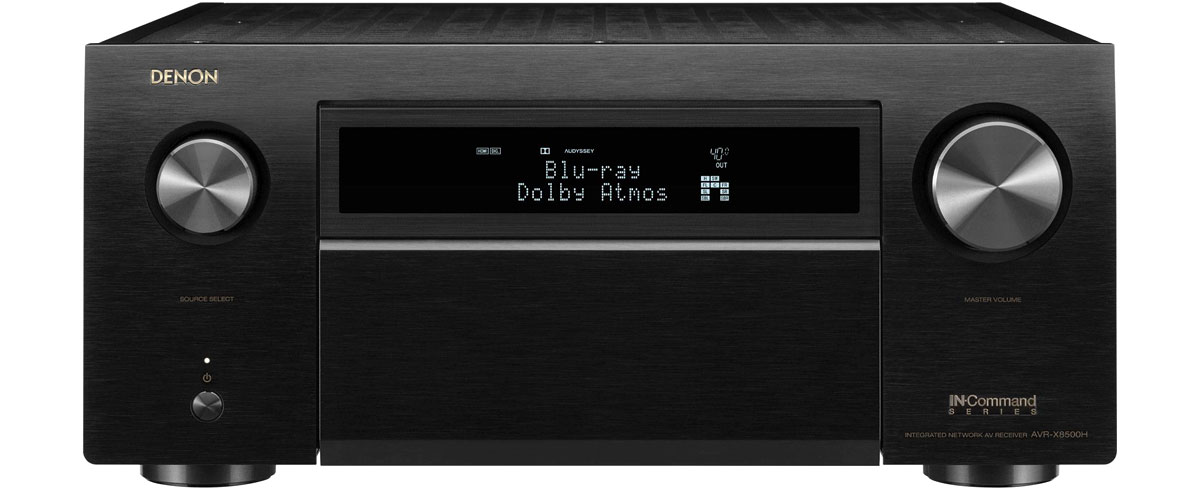 One more model from Denon on my rating, and this time from the premium segment. The HA version has many improvements over the original 8500H model. The Denon AVR-X8500HA supports Dolby Atmos and DTS:X in configurations up to 7.1.6 and 9.1.4, delivering 150W per channel into 8 Ohms in dual-channel mode. Providing 13.2 channels, note that it's pretty big, so make sure you have enough space.
Denon has left no stone unturned in providing a comprehensive set of features and connectivity options. The X8500HA is equipped with the widest range of HDMI inputs (8) and outputs (3), all supporting the latest HDMI 2.1 specifications. Gaming enthusiasts will appreciate features like VRR, QFT, and ALLM, ensuring a responsive and immersive gaming experience. Regarding the video, the receiver excels with its support for 8K Ultra HD at 60Hz and 4K at 120Hz, ensuring you're prepared for the latest visual technology. HDR formats, including Dolby Vision, HDR10, and HLG, are handled flawlessly. The receiver's 8K upscaling capabilities breathe new life into lower-resolution content, making your favorite movies and shows look better than ever.
While the unit does 8K upscaling, I think that my 4K upscaling projector has benefited greatly from the quality and color of the Denon's processor. I was quite astounded by the color, contrast, and sharpness improvements I saw after just installing this AVR. If all of your HDMI cables aren't 8K compliant, you may have to upgrade them.
The receiver's multi-room and multi-source capabilities are also great, allowing you to enjoy your favorite music in any room, thanks to HEOS technology. Additionally, voice control support via Amazon Alexa, Google Assistant, and Apple Siri makes it easy to manage your entertainment system with simple voice commands. Even though it comes with no owner's manual (you have to download it), the receiver's setup was exceptionally easy.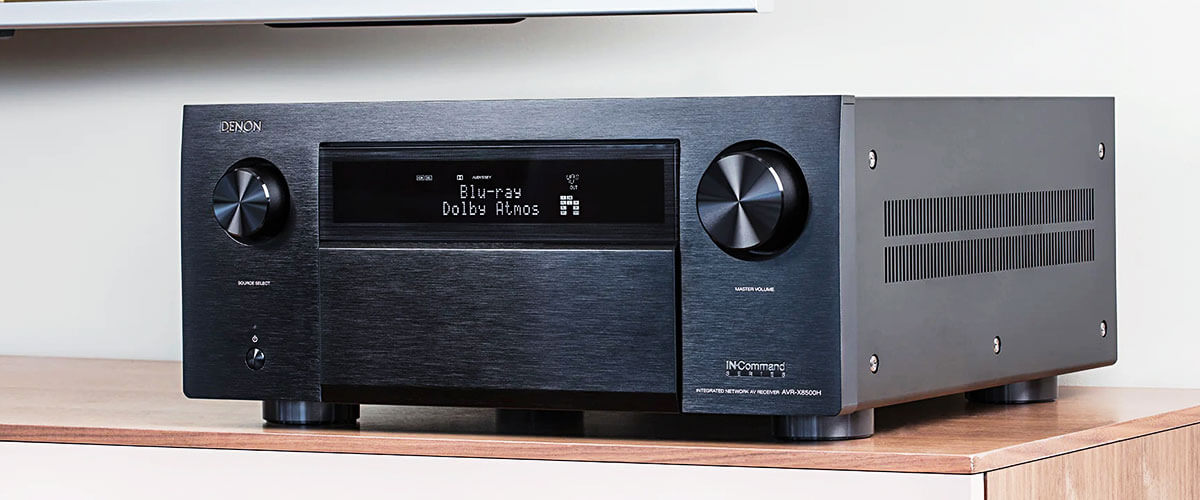 The Denon AVR-X8500HA is a flagship AV receiver that lives up to its reputation. It offers uncompromising audio and video quality, a wealth of features, and future-proofing to keep pace with evolving technologies. It's definitely the best 4K AV receiver, offering an unbelievable 13.2 surround sound.
Key specs
Channels: 13.2.
Power output: 150W/8 Ohm, 190W/6 Ohm.
HDMI inputs/outputs: 7/2.
Video functions: 4K/120Hz, 8K/60Hz pass-through, video conversion analog to HDMI, upscales video signals to HD and Ultra HD (up to 8K).
Bluetooth/Wi-Fi: yes/yes.
Streaming services: AirPlay 2, Pandora, Spotify, Napster, SiriusXM, TIDAL, Deezer, Qobuz, Amazon Music.
Supports: HDMI ARC, HDMI eARC, HDCP2.3, HDR10, HLG, HDR10+, Dynamic HDR, Dolby Vision.
Surround sound: Dolby TrueHD, Dolby Atmos, Dolby Atmos Height Virtualization, Dolby Surround, DTS HD Master, DTS:X, DTS Neural:X, DTS Virtual:X, IMAX Enhanced, Auro 3D.
Pros
Offers the greatest immersive surround sound experience with 13.2 channels.
Has the biggest number of HDMI inputs – 8.
The color, contrast, and sharpness of the image are incredible.
Cons
No hard copy manual.
Pretty big in size.