The slim receivers are a popular choice not only because of their compact size but also because they try to "keep up" with full-size models. From understanding the technological aspects behind their slender profiles to exploring how they fit seamlessly into contemporary living spaces, I am going to present you with the best slim AV receivers. If you want to optimize your home theater setup, embrace the minimalist lifestyle, or simply save space without sacrificing audio excellence, continue reading to find out which slim AVR suits your needs the most.
Our pick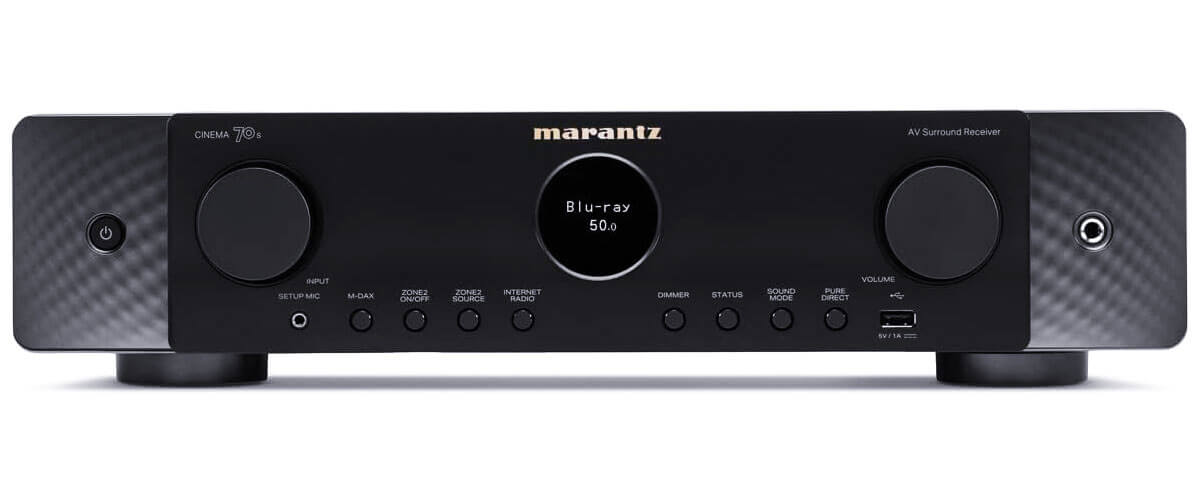 Marantz Cinema 70s
Best slim AV receiver
Slimline 7.2 channel CINEMA 70s 50-watts-per-channel amplification, Dolby Atmos, DTS:X and 8K Ultra HD, and HEOS streaming built-in appears discreet yet remains a highly capable AV receiver.
Read the full review
.
Slim AV receivers comparison table
Name
Channels
Power output
HDMI in/out
Bluetooth/Wi-Fi
Review
Marantz Cinema 70s

best overall

7.2
50W/8 Ohm, 70W/6 Ohm
6/1
yes/yes
Review
Sony STR-DH790

also great

7.2
145W/6 Ohms
4/1
yes/no
Review
Marantz NR1510
5.2
50W/8 Ohm, 60W/6 Ohm
6/1
yes/yes
Review
Cambridge Audio AXR100

stereo

2.1
100W/8 Ohm
0/0
yes/no
Review
What are the slim receivers?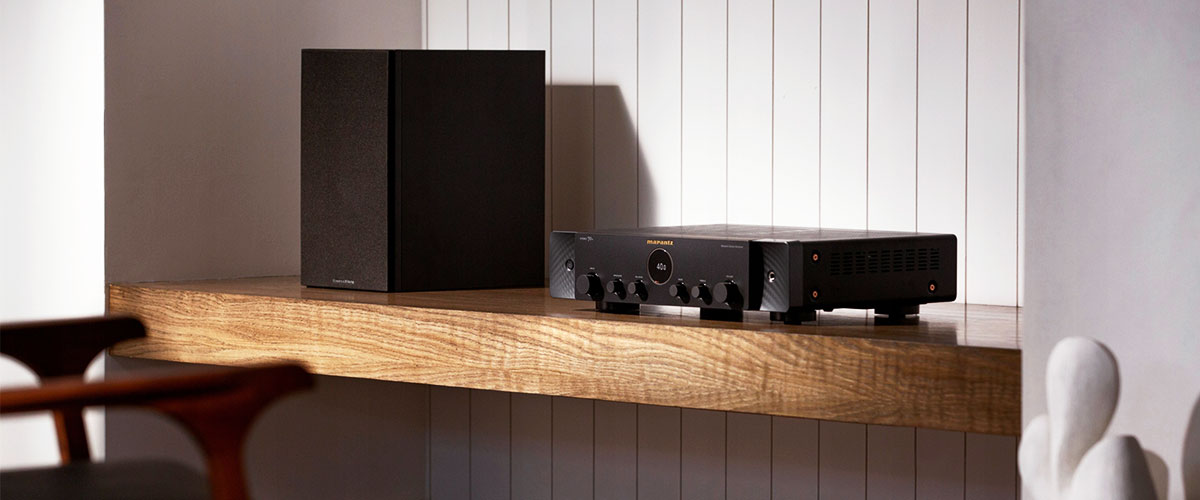 Slim receivers, often referred to as "slimline" devices, are designed with a focus on space-saving and aesthetics. They are distinct from regular AV receivers in several ways, including physical dimensions, performance considerations, and price differences.
They are notably thinner and lighter than regular AVRs. A compact stereo receiver is typically around 2 to 4 inches in height (compared to regular receivers that can be 6 inches or more) and is designed to fit in smaller cabinets or tight spaces. The reduced height and streamlined build of such devices make them a popular choice for those with limited space or a preference for a sleek and minimalist home theater setup.
The thin AV receiver offers really not bad performance comparable to regular ones. They can deliver good audio and video quality, support multiple audio formats, and provide a satisfying home theater experience, of course, if this is not a simple amplifier. Some slimline AV receivers may have slightly reduced power and amplifier capabilities compared to their normal counterparts, but this difference is often negligible for most users.
Compact home theater receivers are generally more budget-friendly compared to other standard AVRs with similar feature sets. While they offer good performance and essential features, the reduced size and form factor can result in cost savings, making them an attractive choice for those looking for a balance between performance and affordability.
Best slim AV receiver reviews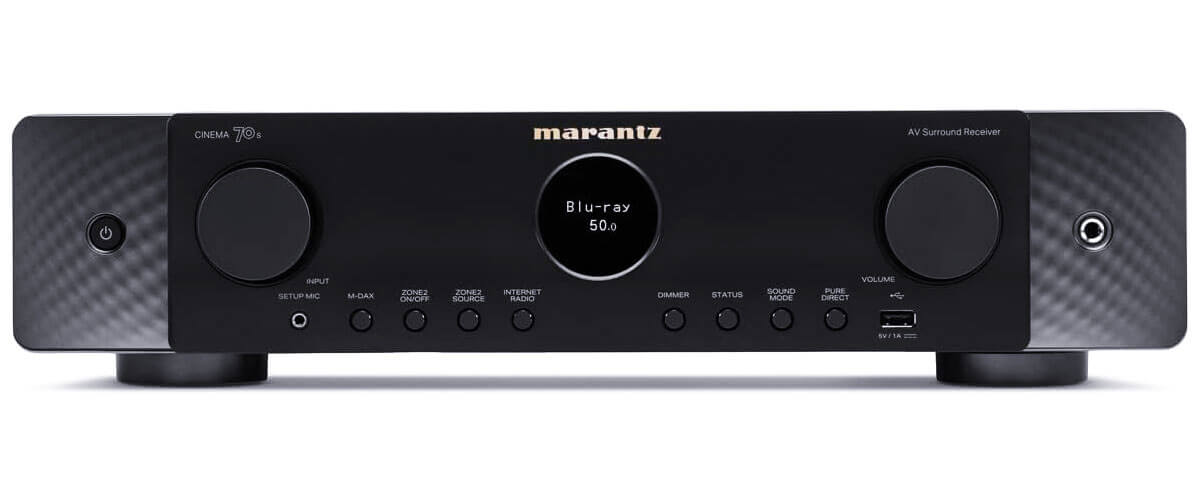 The winner of my rating is Marantz Cinema 70s, which amazed me due to how much can be accommodated in such a compact design. It is a 7.2-channel receiver with a power of 50W per channel (8 Ohms, 20 Hz – 20 kHz, THD 0.08%). The total size of it is 17.4 x 15.1 x 7.0, but you can further reduce it if you rotate the antenna horizontally. The device weighs a little more – 19.2 lbs but overall maintains the compact dimensions as all thin Marantz AV receivers. By the way, as you've probably realized by now, the Cinema 70s has an option to be connected with 2 subwoofers. Even without the power of the Hulk, this "baby" is quite capable of pleasing you with good sound in small and medium-sized rooms.
This model supports Dolby Atmos and DTS:X. There are also Dolby Surround and DTS Neural:X mixing technologies, which can mix simple stereo soundtracks into full-fledged surround sound. Dolby Atmos Height Virtualization and DTS Virtual:X virtualizers will help to create the sounds of ceiling speakers in your room.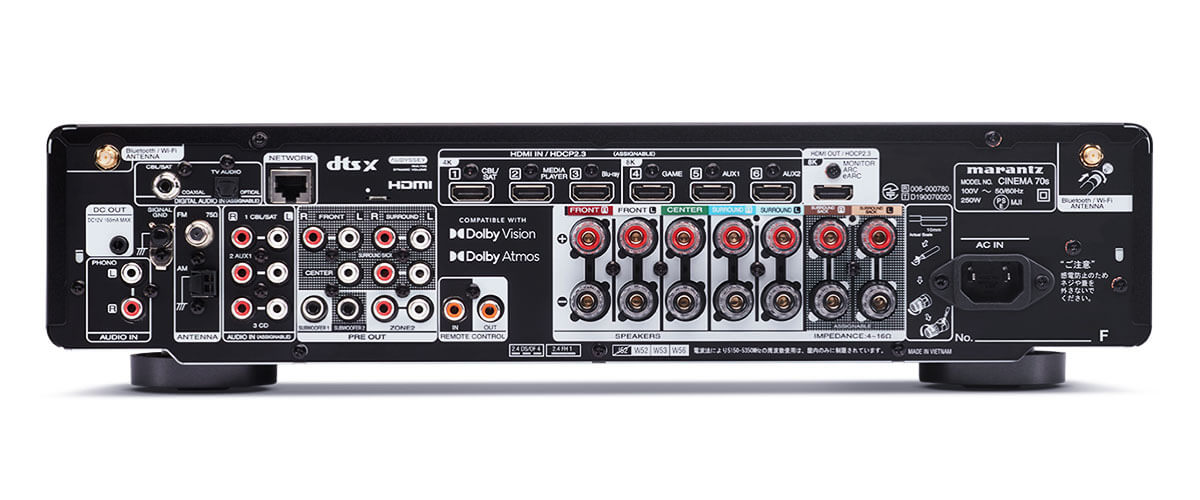 As for connectivity, 3 of the 6 HDMI ports are HDMI 2.1 with a full 40 Gbps bandwidth, with the support of 8K/60Hz and 4K/120Hz. Besides that, there's Dolby Vision and HDR10+, along with upscaling feature 1080P/4K to 8K. Unfortunately, with Cinema 70s, you get a complete lack of composite or component ports, which is typical of all the Cinema series.
In terms of wireless capabilities, you have built-in Wi-Fi that supports up to IEEE 802.11a/b/g/n/ac. It also includes Bluetooth 4.2 with streaming. The HEOS and Airplay 2 apps can be downloaded to use via mobile devices. But if you prefer a wired connection, the Cinema 70s also supports Zone 2 via the analog pre-outs located on the back of the unit.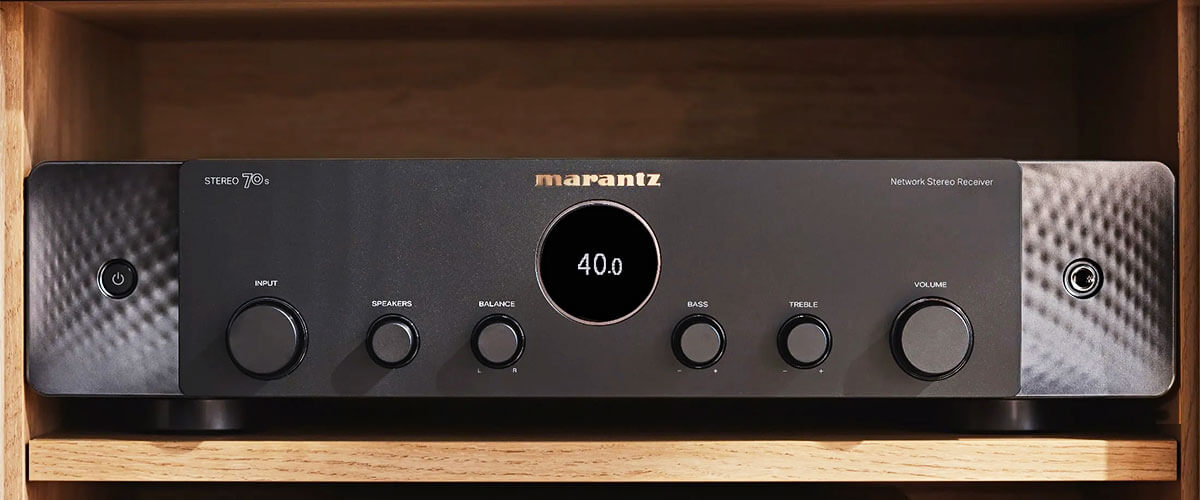 Regarding sound clarity, the Cinema 70s does not lag behind its big brothers. For testing, I chose a few tracks in FLAC format, which I listened to through the front USB port. The Cinema 70s certainly exhibits some of the traits found in Marantz receivers but on a smaller scale. The unit will be careful to reproduce more delicate tracks but will never shy away from low frequencies when the moment calls for it. The soundstage had good vibrancy, and no detail was lost.
If you are not very demanding about the output power, then this best slim receiver of my review will definitely suit you. I consider this release very interesting, as Marantz tried to fit all the functionality of its larger model into a smaller construction. Yes, it may not be as big and powerful as Azog from the Lord of the Rings movie saga, but it can definitely be called Thorin Oakenshield among receivers!
Key specs
Channels: 7.2.
Power output: 50W/8 Ohm, 70W/6 Ohm.
HDMI inputs/outputs: 6/1.
Video functions: 8K/60Hz, 4K/120Hz, upscaling to 8K.
Bluetooth/Wi-Fi: yes/yes.
Streaming services: AirPlay 2, Pandora, Spotify, SiriusXM, Amazon Music HD, Amazon Music, TIDAL, Deezer, iHeart Radio, Napster, SoundCloud, Mood Mix.
Suppots: HDMI eARC, HDMI ARC, HDMI CEC, HDR, HLG, Dolby Vision, HDR10+, Dynamic HDR, Dolby Vision.
Surround sound: DTS HD Master, DTS:X, DTS Neural:X, DTS Virtual:X, Dolby TrueHD, Dolby Atmos, Dolby Atmos Height Virtualization, Dolby Atmos Music, Dolby Surround, Multichannel Stereo.
Pros
Ability to flexibly configure channels.
Excellent performance in terms of sound clarity and soundstage detail.
Upscaling feature 1080P/4K to 8K.
Supports Zone 2.
Cons
Compression appears when using it at the maximum volume.
Lacks composite ports.
Sony STR-DH790 – also great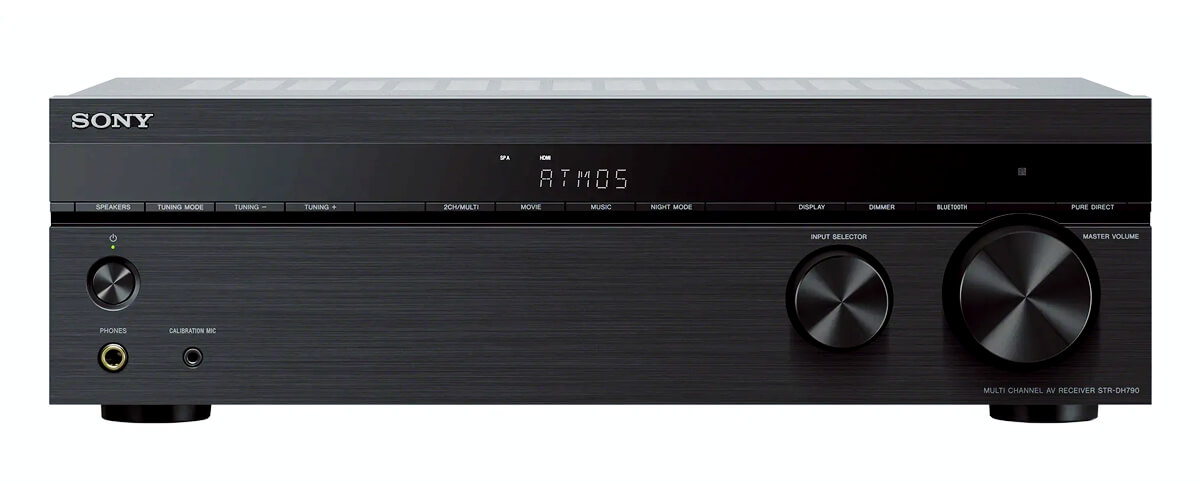 The Sony STR-DH790 is not only reasonably well "armed" with various functions, but it also has a sleek and classic look that will mix in with any home theater setting. Its size is 17x 5-1/4x 11-¾ inches, weighing 16 lbs, which is lighter than Marantz Cinema 70s. This is what impacts its lower price since the manufacturer uses not-so-expensive components as Marantz does. The receiver can work with an impedance that covers 6 to 16 Ohms, providing you with an extensive selection of speaker choices. It's quite powerful at 90W (6 Ohms, 20Hz – 20kHz, THD 0.9%), but given its THD, I don't recommend using it at maximum power.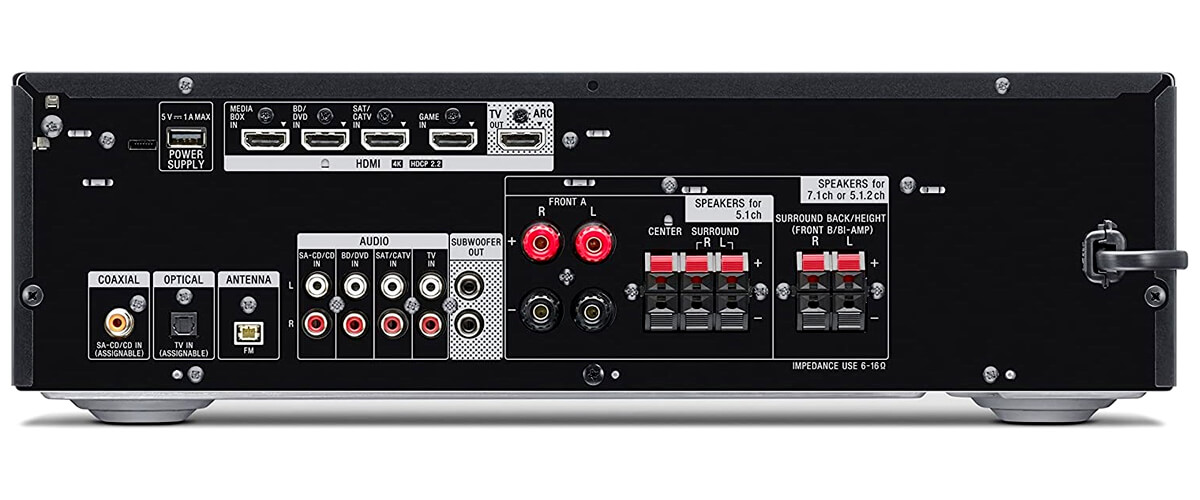 The Sony STR-DH790 supports Dolby Atmos and DTS:X. However, it lacks processing for Dolby Atmos Height Virtualization in order to simulate the result of ceiling-mounted speakers. The S Force Pro front surround system is a distinctive characteristic of this unit. This allows you to simulate three-dimensional sound with just 2 front speakers.
DH790 offers 4 HDMI inputs and 1 output. All of the inputs are 4K. Unfortunately, you won't find Wi-Fi and the support for streaming services here. Bluetooth is your only option to stream wirelessly. However, being the cheapest model in the review, it's quite acceptable.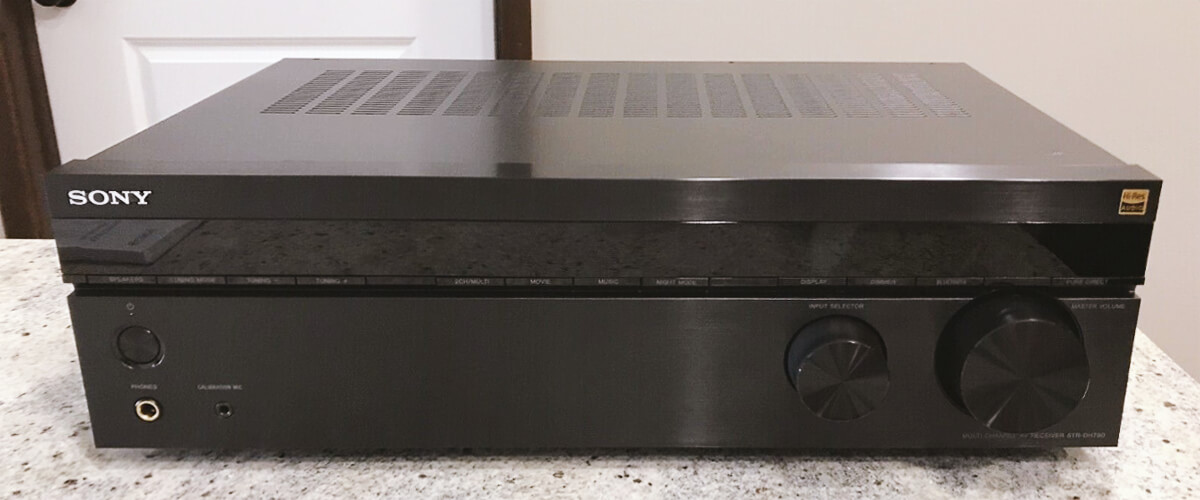 If you are building an ergonomic home theater and don't want to spend too much, definitely give the Sony-DH790 consideration. You may enjoy an immersive sound, not to the fullest, but for such a price, it's definitely a wow.
Key specs
Channels: 7.2.
Output power: 145W/6 Ohms.
HDMI inputs/outputs: 4/1.
Video functions: 4K/60Hz pass-through.
Bluetooth/Wi-Fi: yes/no.
Streaming services: has not.
Supports: HDMI ARC, HDMI eARC, HDMI CEC, HDCP2.2, HLG, HDR10, Dolby Vision.
Surround sound: DTS HD Master, DTS:X, DTS-ES, DSD, Dolby Digital, Dolby Atmos, Dolby Dual Mono.
Pros
Works with speaker impedance from 6 to 16 Ohms.
Includes S Force Pro front surround system.
The cheapest option with a slim design in this review.
Cons
Lacks processing for Dolby Atmos Height Virtualization.
Extraneous noise may occur at maximum volume.
No Wi-Fi.
Marantz NR1510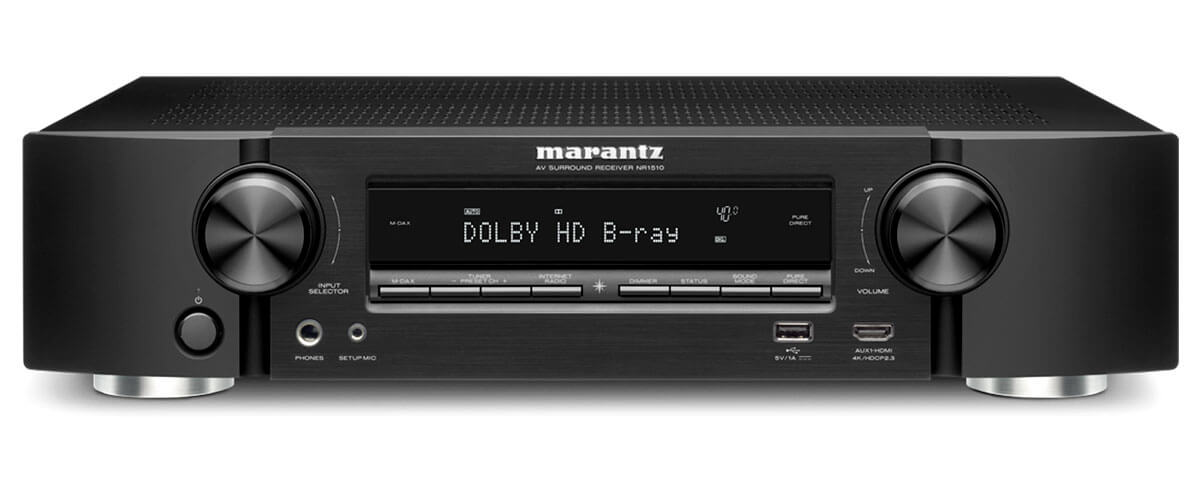 The third place goes to another Marantz model. Basically, its maximum dimensions are the same as the Marantz Cinema 70s – 17.3 x 14.9 x 6.9 inches but it's slightly lighter – 18.1 lbs. This low-profile AV receiver fits perfectly into the tiny space. NR1510 is not the most powerful 5.2 receiver (50W at 8 Ohms, 20 Hz – 20 kHz, 0.08% THD), but it's ideal for a small apartment.
The unit includes 6 HDMI inputs supporting 4K, HDR10, Dolby Vision, and HLG. Unlike the previous model from Sony, it has standard Wi-Fi with 2.4GHz/5GHz dual-band support and Bluetooth. The equipment features HEOS and AirPlay 2 as well. Also, with this receiver, you can stream from your favorite services using a voice control.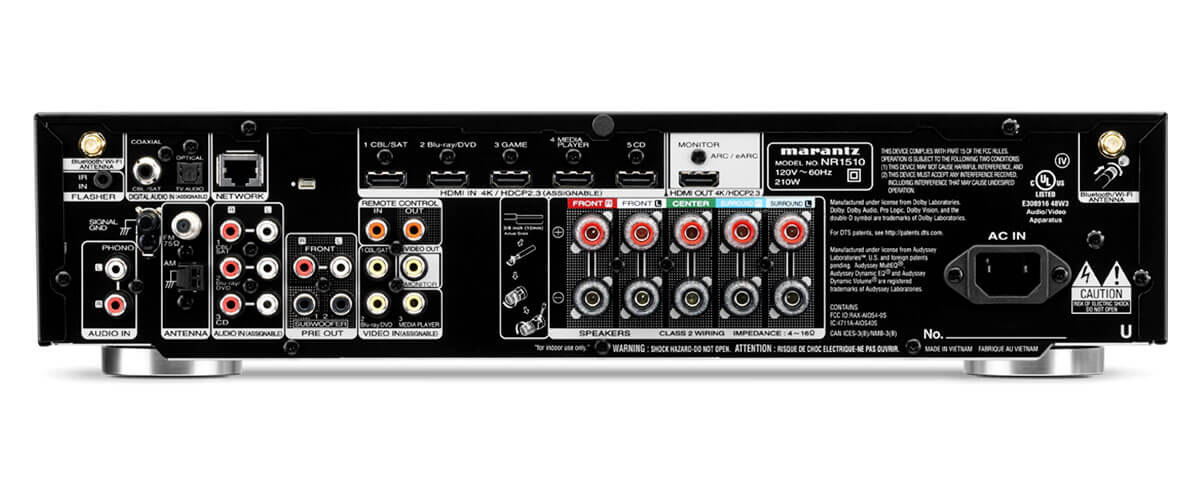 Taking into account the receiver configuration, only one surround sound format is available here – DTS HD Master. Well, what else can we expect from a 5-channel receiver?
Setting up NR1510, you may easily initiate using the Audyssey MultEQ room calibration system. There are two options to operate the receiver via the remote control or the Marantz Remote App, which is really convenient for controlling playback.
The NR1510 may seem a bit dated to you, but nevertheless, the overall sound it provided during my tests did not disappoint me at all.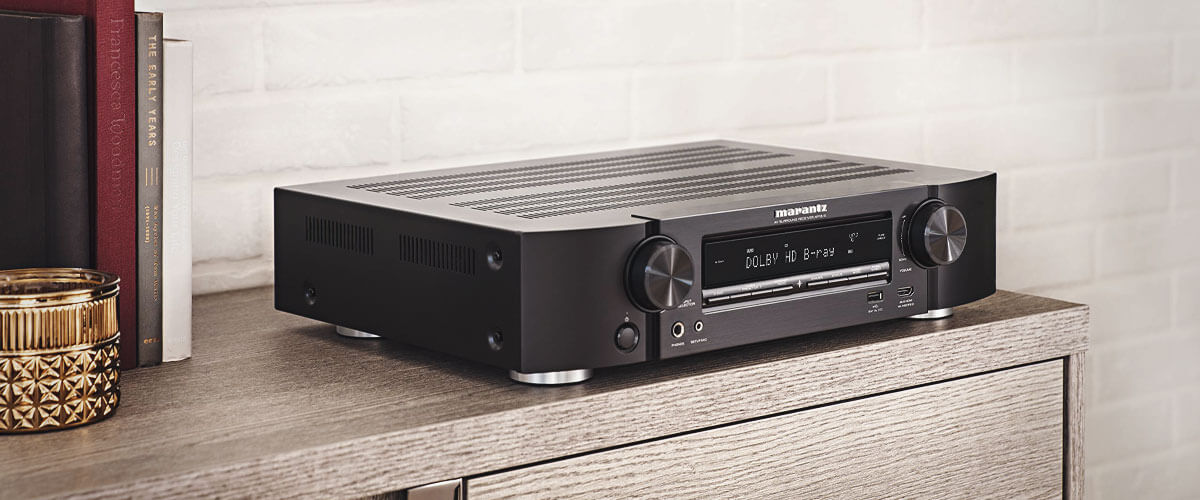 If you're looking for an entry-level device, the Marantz NR1510 is an excellent choice for a narrow AV receiver. Of course, I will not call this model the best small AV receiver. That wouldn't be true, but for a small living room or bedroom of an unpretentious user, it would be a great option.
Key specs
Channels: 5.2.
Power output: 50W/8 Ohm, 60W/6 Ohm.
HDMI inputs/outputs: 6/1.
Video functions: 4K/60Hz.
Bluetooth/Wi-Fi: yes/yes.
Streaming services: AirPlay 2, Pandora, Spotify, Napster, SiriusXM, TIDAL, Deezer, Qobuz, Amazon Music.
Suppots: HDMI eARC, Dolby Vision, HDR 10.
Surround sound: Dolby Atmos, Dolby Atmos Height Virtualization, Dolby TrueHD, Dolby Surround, Multichannel Stereo.
Pros
Easy setup with Audyssey MultEQ.
Branded Marantz sound quality.
Wi-Fi.
Cons
Limited support for advanced audio and video features.
Cambridge Audio AXR100 – stereo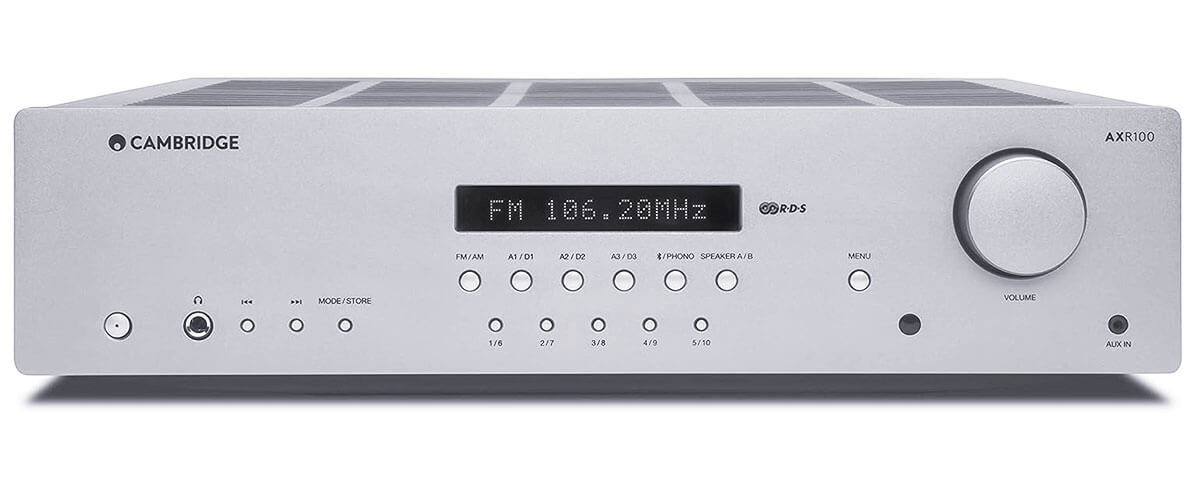 Now it's time for the one and only stereo amplifier on the list. It would be ridiculous to compare Cambridge Audio AXR100 to the above receivers according to its features, except for the construction. The dimensions of the unit are 4.3×16.9×13.4 inches, weighing 17.8 lbs. All the budget, in its case, was spent on the power and a more advanced analog part. The power output is 100W (8 Ohms, 20-20,000 Hz, 0.15% THD). So this is absolutely great for bookshelf speakers and a sub in a larger room.
There are 5 analog ports. One of them is connected to the built-in MM phono preamplifier, and one in the format of a 3.5 mm jack is output to the front panel. There are a couple of optical connections and a simple Bluetooth without aptX support. The only thing the AXR100 lacks in terms of connectors is USB.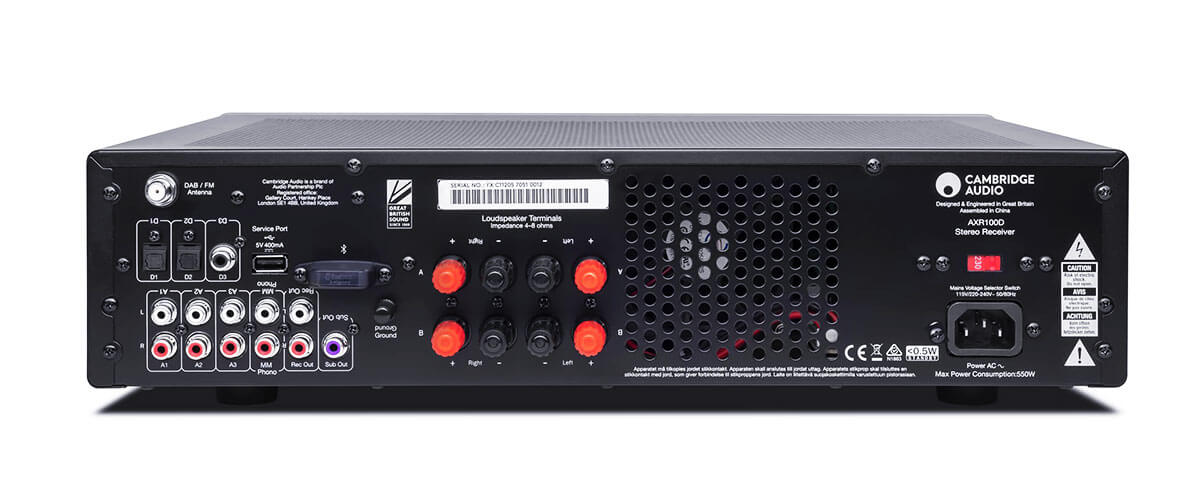 The unit provides a rather catchy and cheerful audio reproduction that makes you continue to listen without interruption. While transmission via the receiver's tuner is solid, satisfying sound can only be accomplished if the transmitted signal is of good quality, which is uncommon nowadays. I'll also add that the subtlest details couldn't be heard, but the most striking ones were entirely in their correct position and did not pop out of the scene.
I would like to talk a little about the shortcomings of AXR100. The remote is not that great; you need to point it directly at the receiver and often repeat button pushes to get it to respond. There are also complaints about the noise from the fan, but that's a problem for me at all. I bet you won't hear the fan unless you're playing it at extremely high levels. But consider it a compromise for the price you can get it.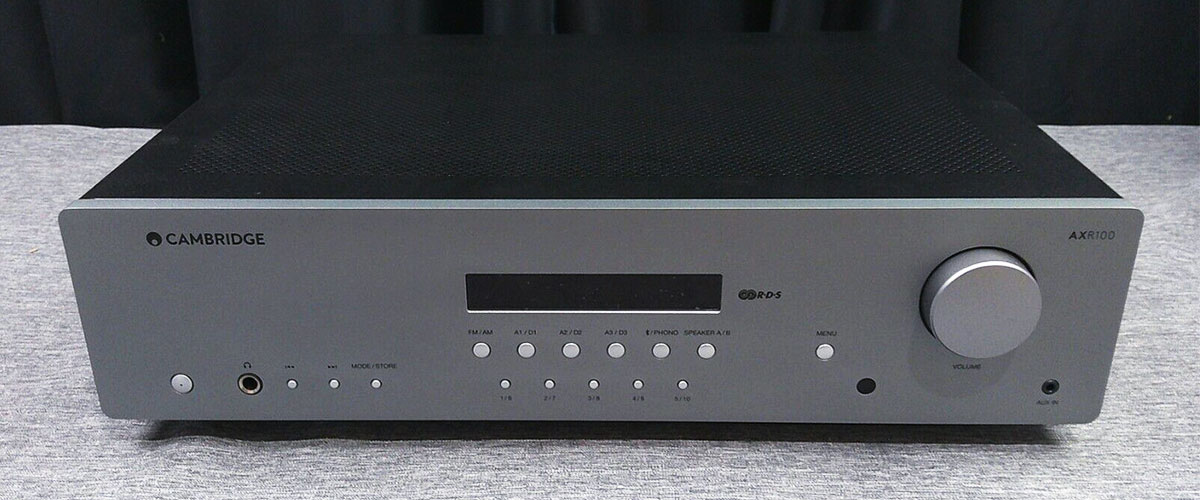 Cambridge Audio AXR100 has the proper power amount for most speakers of any size, its design is minimalistic, and it has enough features to satisfy even discerning music lovers. So it's a fairly powerful, versatile, yet small-sized "musical friend".
Key specs
Channels: 2.1.
Power output: 100W/8 Ohm.
HDMI inputs/outputs: 0/0.
Video functions: has not.
Bluetooth/Wi-Fi: yes/no.
Streaming services: has not.
Surround sound: has not.
Pros
Provides enough power at 100W per channel.
Solid tuner's transmission.
Cons
The fan is noisy.
Doesn't have USB connections.
FAQ
Are slim receivers more prone to overheating due to their compact size?
Slim receivers are not necessarily more prone to overheating due to their compact size. Manufacturers design them with heat management in mind. However, it's essential to ensure that there's
proper airflow around the receiver
and that it's not enclosed in a tightly packed cabinet.
Can I use a slim receiver in a multi-room audio setup?
Yes, many slimline receivers support
multi-room audio functionality
, allowing you to route audio to different zones or rooms within your home. The size of the unit doesn't always affect the features that it includes.
How energy efficient are slim receivers compared to their standard counterparts?
The reduced physical size of slim receivers generally means they consume less power, which can translate into lower energy costs over time. Additionally, most receivers, not only slim, include energy-saving features, such as automatic standby modes or eco mode, to further enhance their
energy efficiency
. However, the actual energy efficiency of a receiver depends on usage patterns and power output.