Selecting the right 5.1 receiver is a thing that harmonizes the components of your home theater setup and lays the foundation for your further experience. But with a multitude of options and features to consider, the task may seem challenging. That's where my guide comes into play, offering useful insights and tips to help you in your quest for the best 5 channel receivers.
From power output and connectivity options to future-proofing considerations, my guide covers all aspects to ensure you choose a receiver for your preference. Moreover, I've selected some models that can definitely revive your living room, and your movie nights become more immersive than before. So, let's go through the main points you should pay attention to and move on to reviewing the receivers you may be looking for.
Our pick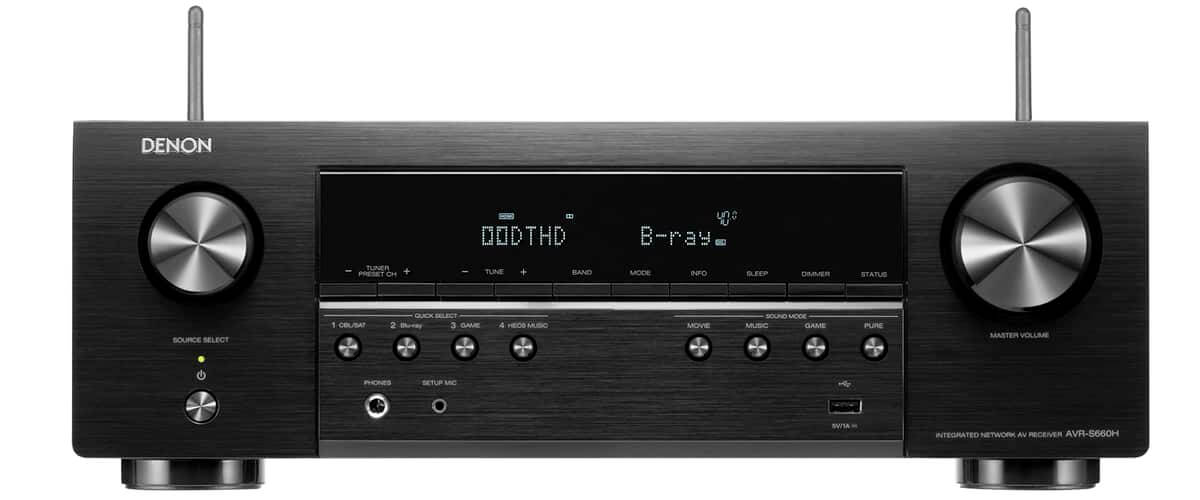 Denon AVR-S660H
Best 5.1 AV receiver
Designed for 4K or 8K setups, the AVR-S660H delivers superior 3D audio home theater/gaming experiences and supports the latest HDMI specifications.
Read the full review
.
5-channel AV receivers comparison table
Name
Channels
Power output
HDMI in/out
Bluetooth/Wi-Fi
Review
Denon AVR-S660H

best overall

5.2
75W/8 Ohm, 100W/6 Ohm
6/1
yes/yes
Review
Marantz NR1510

also great

5.2
50W/8 Ohm, 60W/6 Ohm
6/1
yes/yes
Review
Sony STR-DH590

budget

5.2
145W/6 Ohm
4/1
yes/no
Review
Useful tips for choosing a 5.1 receivers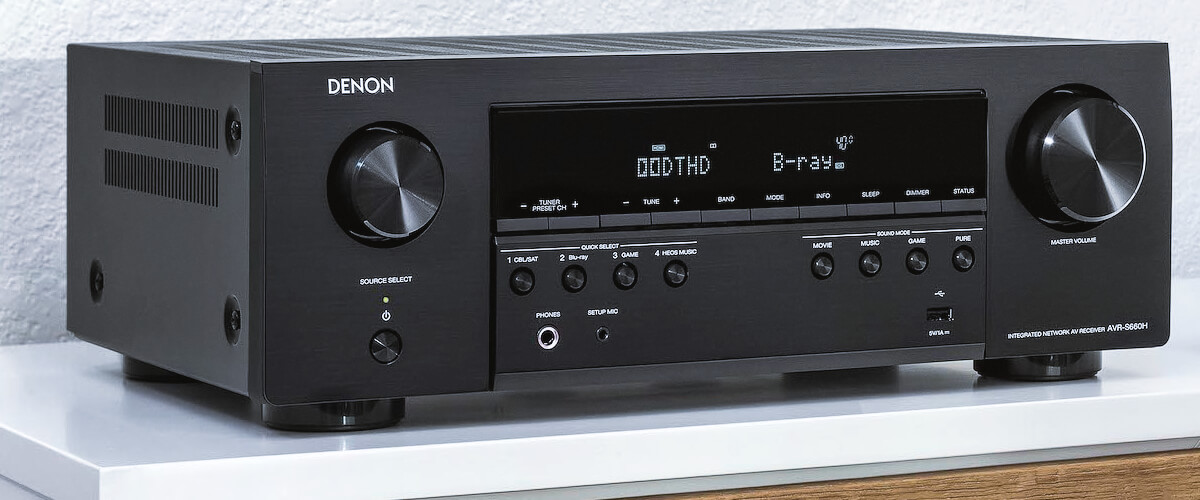 When choosing a 5.1 receiver for your home theater or audio system, several important parameters must be considered. The key instructions I will give you further will help ensure that the receiver meets your audio and video needs while providing a seamless and enjoyable entertainment experience.
How much power do I need?
The ideal power for your best 5.1 AVR should match your room size, speaker sensitivity, listening preferences, and speaker impedance. The guideline of 50 – 80W has not changed; for the average user, it is quite enough. You will not encounter problems like the lack of loudness in the models I offer.
Required inputs and outputs
HDMI is the most versatile and widely used audio and video connection. Look for a receiver with multiple HDMI inputs, preferably with support for the latest HDMI standards (e.g., HDMI 2.1 for 4K/8K video, HDR, and gaming features). If you have a turntable, you'll need a dedicated phono input for connecting the turntables. In addition to speaker outputs, check for extra pre-outs for connecting low-frequency speakers. Remember that even the best 5.1 receiver is an entry-level device, so you especially need to pay attention to these connections since they may have some restrictions on the number of required connection ports.
Built-in Wi-Fi and Bluetooth
Wi-Fi connectivity is not a standard feature in the 5.1 amplifier. Entry-level or budget 5-channel AVRs may lack built-in Wi-Fi but can still connect to your home network using an Ethernet cable. You can also use external Wi-Fi adapters or bridges to add Wi-Fi capabilities to these receivers. Bluetooth connectivity is relatively common in 5.1 devices. If these features are essential for your setup, be sure to select a receiver that offers them.
Should I buy an 8K receiver?
Specifications are constantly changing, but the basic requirement currently in place includes the presence of HDR and Dolby Vision, as well as HDMI 2.0 or higher. All 5-channel units feature a variety of formats, including 4K and HDR video, but also 8K. However, 8K content is not widely available and is primarily limited to certain streaming platforms and promotional materials.
User interface and controls
These aspects determine how easy it is to set up and operate the receiver, access various features, and adjust settings. The surround sound receiver should include a remote control. It is your primary tool for interacting with the unit. Look for a remote that is intuitive, ergonomic, and well laid out. Many modern receivers offer mobile apps that allow you to control them from your smartphone or tablet. Physical buttons and controls on the front panel are handy for quick adjustments, especially if you misplace the remote. Some devices come with setup wizards and room calibration systems, such as Audyssey, YPAO, or MCACC, that guide you through the initial setup. Ensure that the 5.1 home theater receiver can receive firmware updates over the network or via USB. Regular updates can add new features, enhance performance, and address potential issues.
Best 5.1 AV receivers review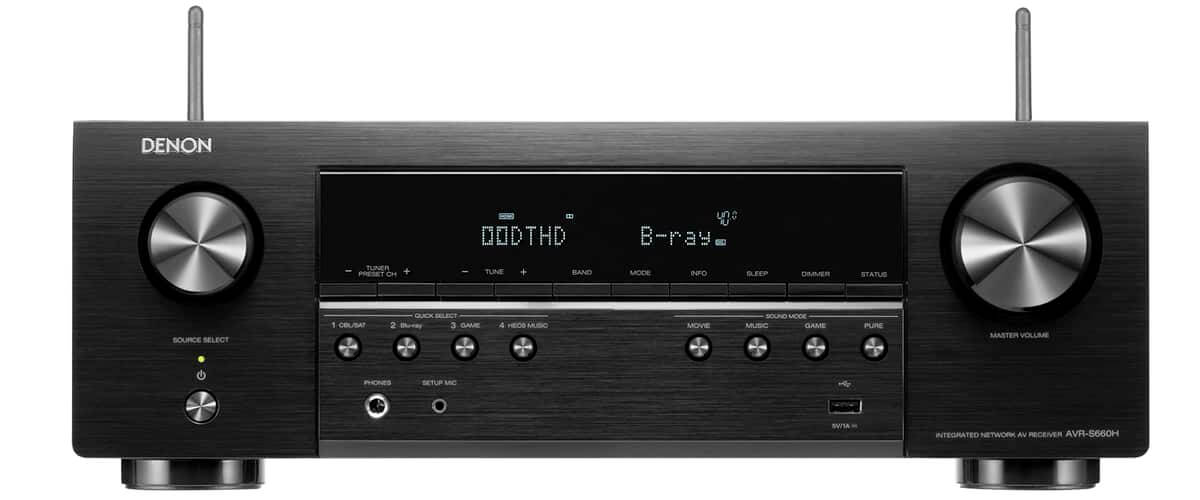 I would like to introduce you to the winner of today's rating, the Denon AV receiver from the S series. Having a power output of 75W (8 Ohms, 20 Hz – 20 kHz, 0.08% THD, 2ch), AVR-S660H features a premium 32-bit D/A converter for high-resolution audio playback. The Dialog Enhancer function in the device improves the sound of dialogue when you watch movies and TV shows.
This unit doesn't support Dolby Atmos or DTS:X. Still, it includes older formats, Dolby TrueHD and DTS-HD Master Audio, as well as virtual mixing technologies, such as Dolby Pro Logic ll, DTS Neo:X, and Virtual Sound mode. This is also the only receiver on the list that supports Dolby Surround. All in, now it's obvious why I've put the S660H on top.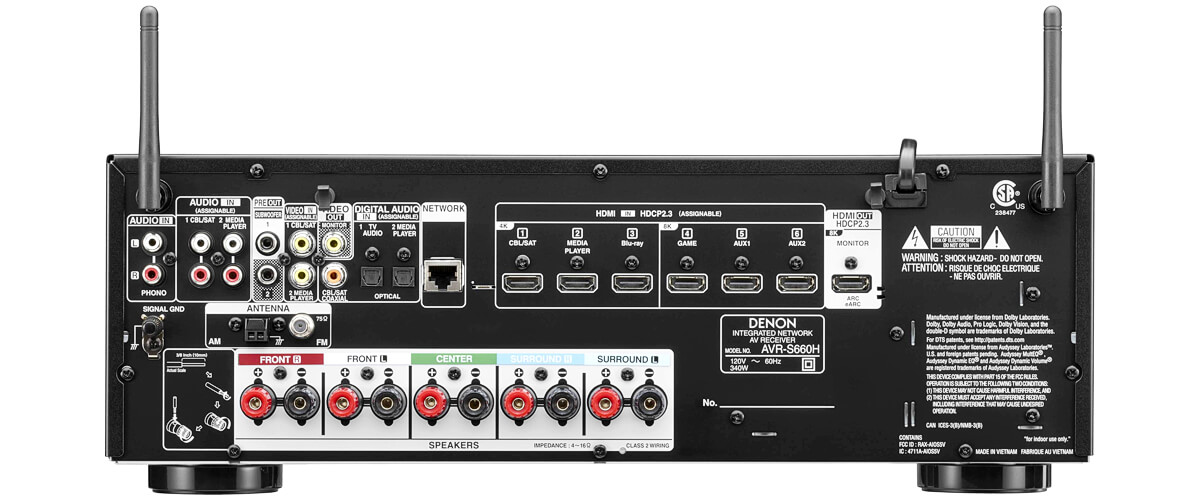 Another feature that will please many here is 6 HDMIs, 3 of which offer 8K/60Hz and 4K/120Hz video pass-through at up to 40Gbps, support for Dolby Vision, HDR10, HDR10+, Dynamic HDR and HLG. The receiver supports video upscaling to 8K, but the downside is that the S660H can only operate through its HDMI ports rather than from analog to HDMI. This AVR also has a built-in phono stage and a turntable input for vinyl enthusiasts.
The AVR-S660H also offers built-in HEOS multi-room music streaming technology, allowing users to listen to online music. Wireless connectivity to popular music streaming services like Spotify and Tidal, you can access through HEOS. I like that we have the ability to connect wireless Bluetooth headphones to watch movies and television programs with this model. S series AV receiver also supports voice assistants Amazon Alexa, Google Assistant, and Apple Siri, allowing you to control it using voice commands.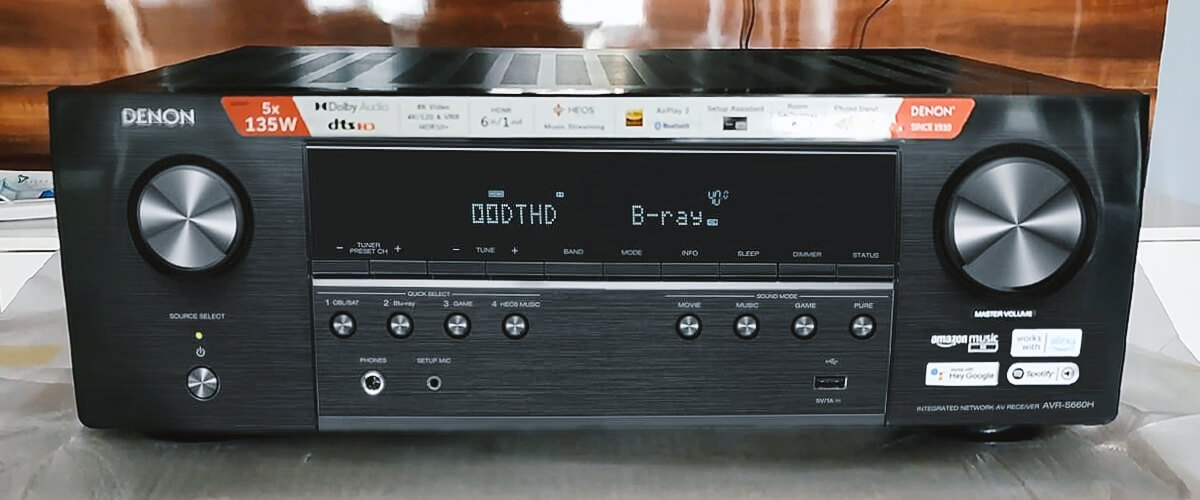 You also will find Audyssey MultEQ technology for a simple and precise speaker setup. Overall, the built-in system is more than enough for most basic users, it provides everything that is needed for a very accurate setup.
The AVR-S660H is the best 5.2 receiver that will satisfy your basic needs at a price that most people can afford. The audio output of the desktop is good, as much as possible for an AV receiver of this category, and it's equipped with functions for operation on the Internet. HDMI 2.1 ports give it superiority on par with other 5.2-channel receivers presented. And if you are no longer swayed by Dolby Atmos technologies, then it will undoubtedly give you an amazing cinematic benefit.
Key specs
Channels: 5.2.
Power output: 75W/8 Ohm, 100W/6 Ohm.
HDMI inputs/outputs: 6/1.
Video functions: 4K/60Hz, 4K/120Hz, 8K/60Hz pass-through, upscales HD video signals to 8K Ultra HD.
Bluetooth/Wi-Fi: yes/yes.
Streaming services: AirPlay 2, Pandora, Spotify, Napster, SiriusXM, TIDAL, Deezer, Qobuz, Amazon Music.
Suppots: HDMI ARC, HDMI eARC, HDMI CEC, HDCP2.3, HDR10+, Dolby Vision.
Surround sound: DTS HD Master, Dolby TrueHD, Dolby ProLogic II.
Pros
Supports some of the surround sound formats.
Premium 32-bit D/A converter.
Dialogue Enhance feature.
8K upscaling.
Cons
No analog to HDMI operation.
Marantz NR1510 – also great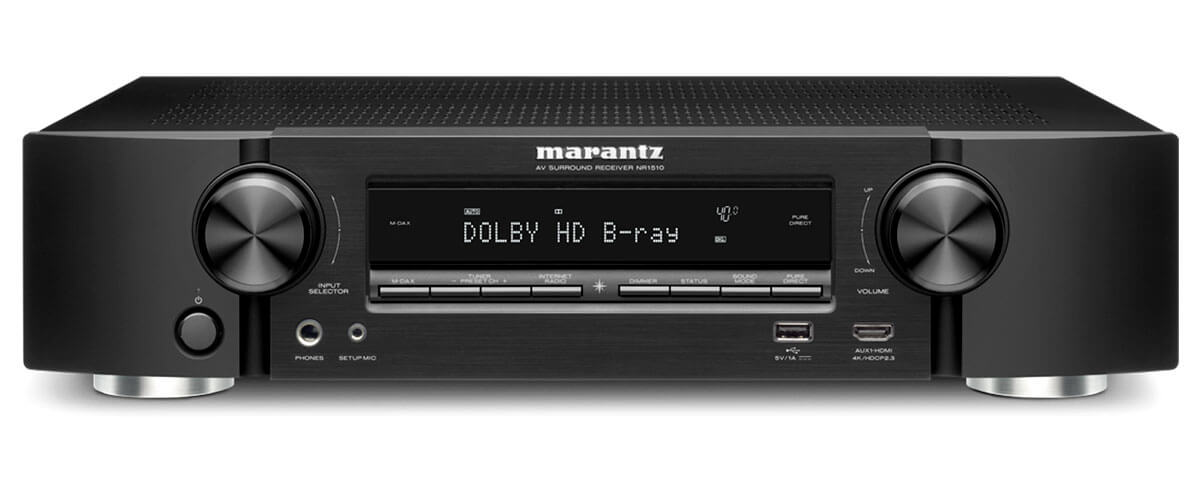 The next great receiver on my list is from Marantz. It has less power output than our first reviewed model – 50W (8 Ohms, 20 Hz – 20 kHz, 0.08% THD, 2ch). The overall construction and its basic features will be a great choice for a small room. The possibility to connect 2 subs also improves the whole soundstage, although, for such systems, it is completely optional.
6 HDMI inputs and eARC guarantee 4K/60 Hz resolution and HDR10, Dolby Vision, and HLG video standards. As a basic device, NR1510 connectivity specifications will be enough for you for years.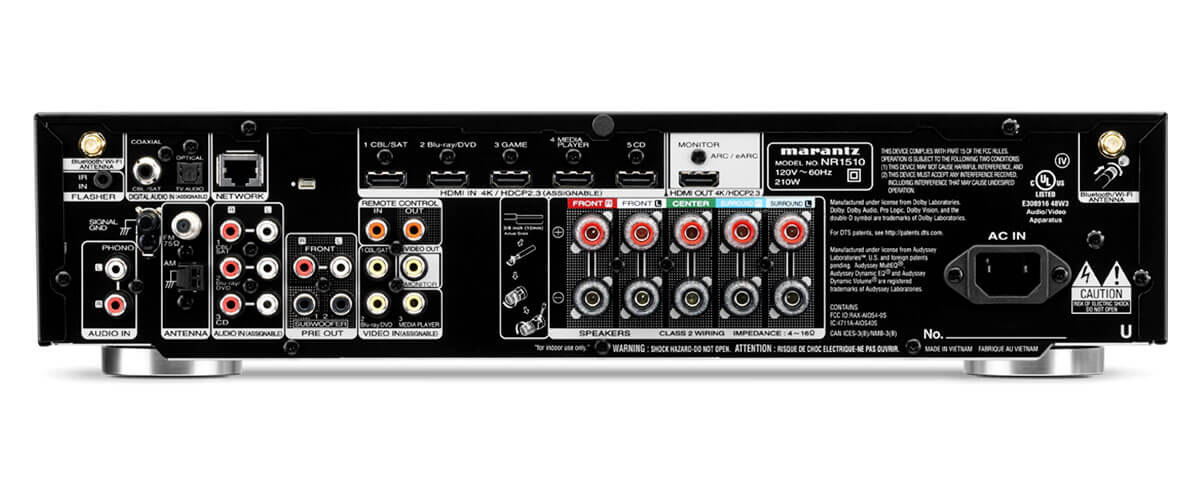 This model supports only one surround sound format, DTS HD Master, and there's no Dolby True HD. Someone will consider it acceptable because DTS is more detailed and high-quality. Don't expect your room to shake with sound, but the quality of detail is amazing for such a simple AVR. I didn't want to make it louder or go into the settings to hear what was said. This is not something common for inexpensive devices, but that's a Marantz quality!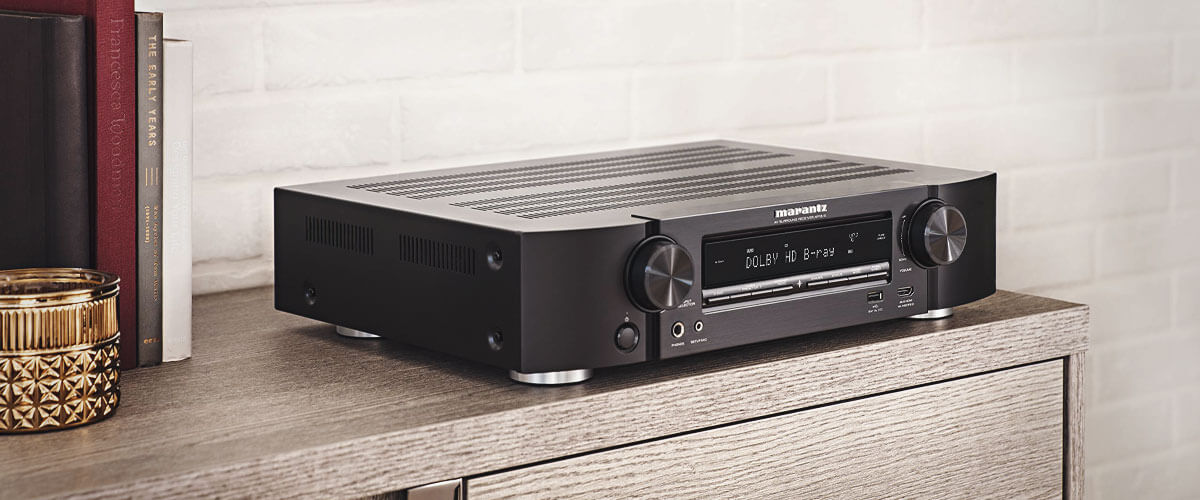 Besides the standard Wi-Fi and Bluetooth, NR1510 features include HEOS, DSD, AirPlay 2, and Network Audio Streaming in all sorts of lossy and lossless formats. I didn't really like the quality of signal transmission via Bluetooth, but it didn't spoil the impression of the functionality of this model. NR1510 has a MDAX2 feature, which improves the quality of the stereo signal. If you have old recordings, you'll have a cool experience. Whatever I turned on sounded better, cleaner, more vibrant, and fuller than when I listened to it on a CD player.
The Marantz NR1510 is a good choice for upgrading your home theater system. It has all the features to expect from an AV receiver in this price range, including 4K HDR pass-through and built-in Bluetooth streaming capabilities. The easy setup process is user-friendly thanks to its onscreen GUI help throughout installation. Marantz NR1510 offers excellent value for money and would make a great addition to any collection.
Key specs
Channels: 5.2.
Power output: 50W/8 Ohm, 60W/6 Ohm.
HDMI inputs/outputs: 6/1.
Video functions: 4K/60Hz.
Bluetooth/Wi-Fi: yes/yes.
Streaming services: AirPlay 2, Pandora, Spotify, Napster, SiriusXM, TIDAL, Deezer, Qobuz, Amazon Music.
Suppots: HDMI eARC, Dolby Vision, HDR 10.
Surround sound: Dolby Atmos, Dolby Atmos Height Virtualization, Dolby TrueHD, Dolby Surround, Multichannel Stereo.
Pros
Provides greater sound quality than other models from the rating.
Includes MDAX2 for better stereo signal.
Cons
Poor Bluetooth signal transmission.
The receiver's power is half that of the rating leader Denon AVR-S660H.
As for surround sound formats, only DTS HD Master is supported.
Sony STR-DH590 – budget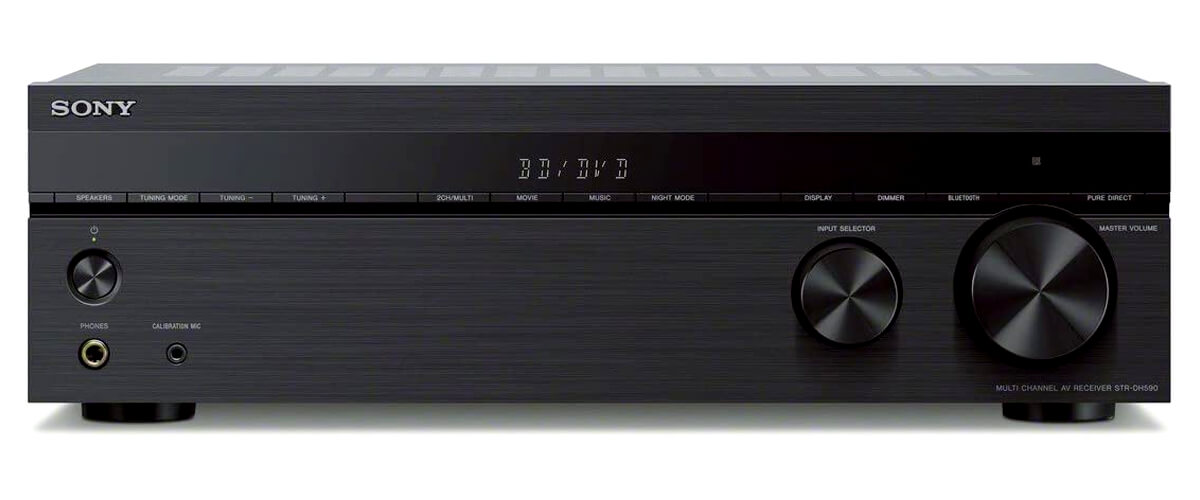 Now, it's time for a budget model in our rating. Being the oldest receiver (released in 2018) in my review and also the lightest one (16.4 lbs), Sony STR-DH590 gives 90W per channel (6 Ohms, 20 Hz – 20 kHz, 0.09%THD, 2ch). Note that if you have 4 Ohms speakers, it can be a problem since the unit supports speaker impedance from 6 to 16 Ohms.
The only video input option is HDMI, and you get 4 HDMI 2.0 inputs with HDCP 2.2, as well as one output with an audio return channel. DH590 can deliver a full 4K/60 Hz 4:4:4 signal with support for 3D, HDR10, HLG, and Dolby Vision. However, there's no upscaling feature.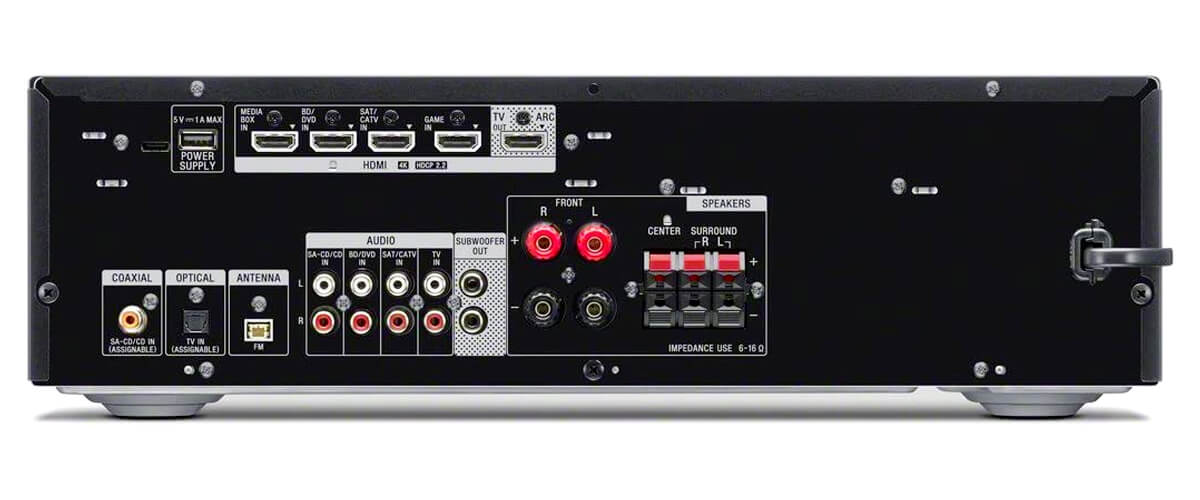 In terms of surround sound formats, the receiver offers decoding of DSD, Dolby Digital, DTS-HD Master Audio, and DTS-HD High-Resolution Audio. With the built-in S-Force PRO Front Surround, you get virtual surround sound using just 2 speakers. Nevertheless, I have to admit that this is the purest receiver in my rating equipped with surround sound.
Sony saved some money by eliminating the network features, so you won't find any AirPlay, Chromecast, or DTS Play-Fi. This is the only model in my rating without Wi-Fi, but what you get with the DH590 is Bluetooth 4.2 connectivity. So you can stream some services like Spotify or Tidal from a computer or mobile device if you want. I actually had no problems pairing my devices with the receiver via Bluetooth. When you switch to Bluetooth, it remembers the last paired source.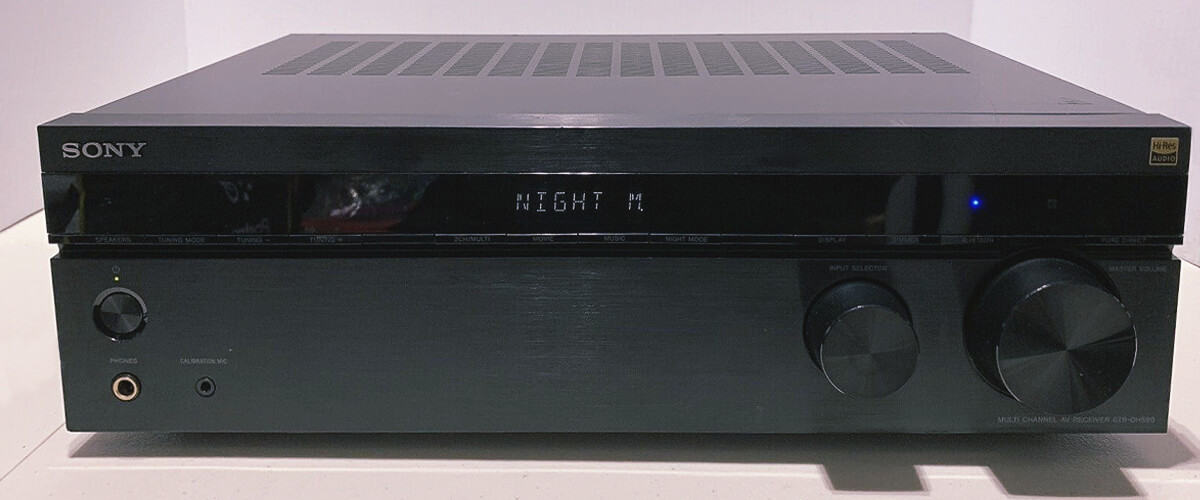 After connecting the speakers and selecting the language of your choice from the on-screen menu, you'll be instructed to connect the included microphone cable to launch the Sony DCAC Auto Setup. This entry-level model starts DCAC in less than 30 seconds, which is actually a bit too long.
I also would like to note that this receiver doesn't include auto power off or ECO mode compared to other devices on the list.
If you have no real desire to go beyond a 5.1-channel speaker system or are not looking to upgrade to Atmos and DTS:X, the Sony STR-DH590 should be your choice. It's just the best budget 5.1 AV receiver, an easy-to-use unit to complement any home theater setup.
Key specs
Channels: 5.2.
Power output: 145W/6 Ohm.
HDMI inputs/outputs: 4/1.
Video functions: 4K/60Hz pass-through.
Bluetooth/Wi-Fi: yes/no.
Streaming services: no.
Suppots: HDCP2.2, HDR10, Dolby Vision.
Surround sound: DTS HD Master, Dolby Digital.
Pros
Supports S-Force PRO Front Surround, which emulates surround sound without additional rear speakers.
Low price for basic features.
Wide speaker compatibility 6-16 Ohms.
Cons
No Internet feature.
The sound correction program is slightly delayed.
Yamaha RX-V4A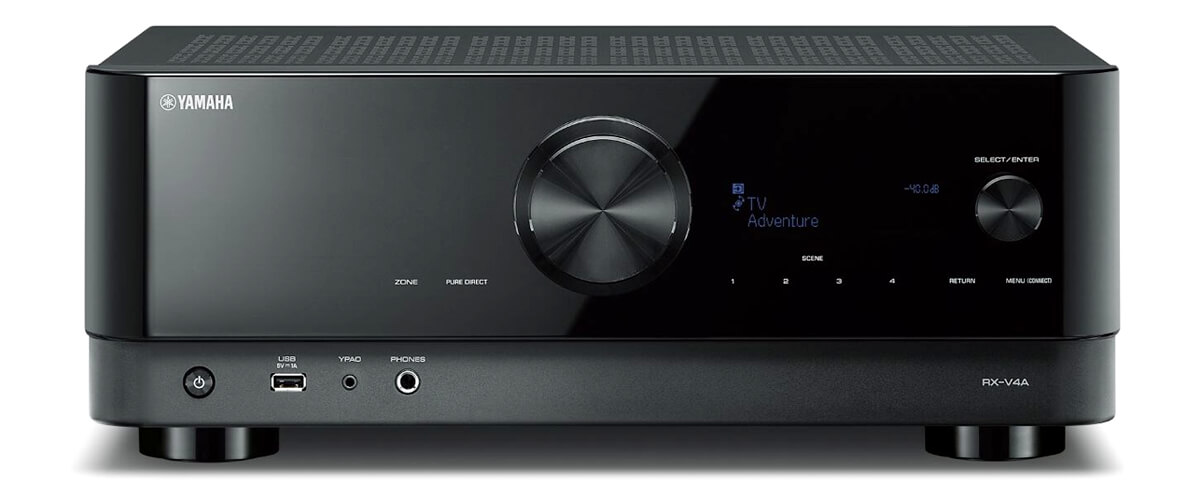 This entry-level model has everything you need and a little extra for an easy and efficient installation. With 80W power output (6 Ohms, 0.06% THD), Yamaha RX-V4A is a 5.2 receiver with no pre-out or other outputs. This simple configuration, indeed, isn't bad for those who don't have much space or don't really want to fill their living room with speakers.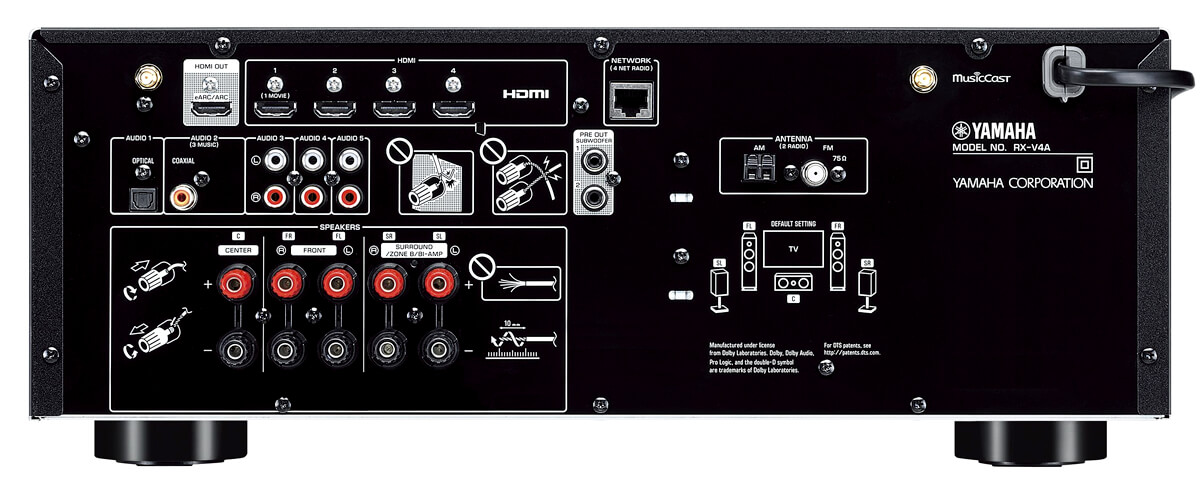 V4A has 2 digital audio inputs, 3 analog and 4 HDMI inputs. You won't find a phono preamp here, the same as in Sony STR-DH590, but you can play music on an FM/DAB tuner if you still prefer this option. On the other hand, Yamaha relied more on HDMI, as all connectors are compatible with 8K and 4K at 120Hz, as well as Dolby Vision and HDR10+. There's also CINEMA DSP 3D, creating an echo, which is even suitable for larger rooms. Enhanced gaming features are presented, supporting ALLM and VRR.
RX-V4A offers surround sound with Dolby TrueHD and DTS-HD, and it's pretty much the same as what Marantz NR1510 includes.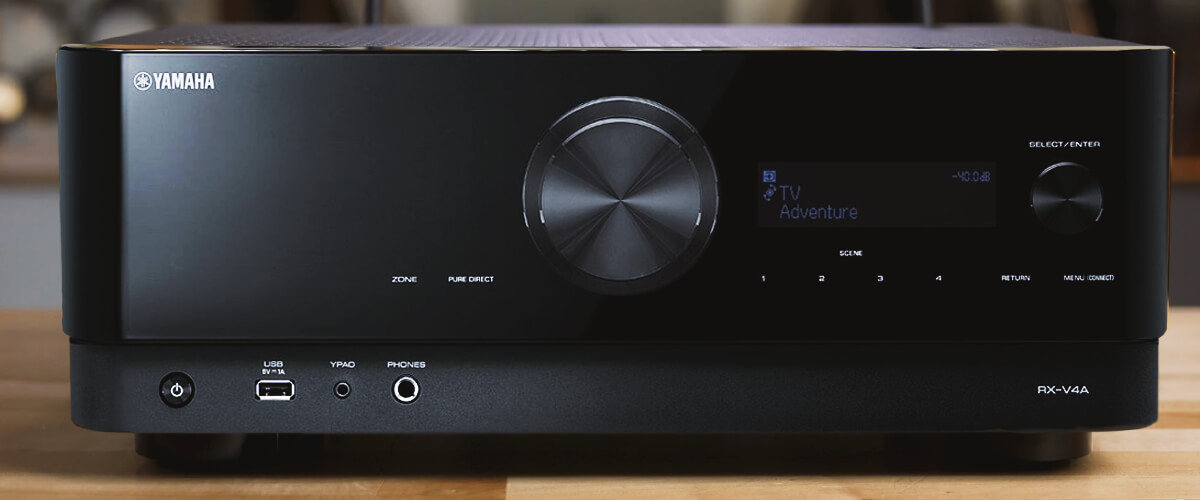 In addition to wireless technologies, the receiver features MusicCast. Thus, you can access music services through a mobile application and share your content with other Yamaha MusicCast devices. You can also use MusicCast wireless speakers for surround channels for easy connectivity. Controlling multi-channel audio and playback from streaming services is possible via voice assistants. Audio calibration goes through the home's YPAO system with the included small microphone.
The Yamaha RX-V4A is ideal for getting started without spending too much time. It's not a Hi-Fi device, although it does have pretty good sound quality and advanced network audio capabilities. An adequate solution for unpretentious users.
Key specs
Channels: 5.2.
Power output: 80W/6 Ohm.
HDMI inputs/outputs: 4/1.
Video functions: 4K/60Hz, 4K/120Hz, 8K/60Hz pass-through, upscales HD video signals to 4K Ultra HD.
Bluetooth/Wi-Fi: yes/yes.
Streaming services: AirPlay 2, Pandora, Spotify, Napster, SiriusXM, TIDAL, Deezer, Qobuz, Amazon Music, MusicCast.
Suppots: HDMI ARC, HDMI eARC, HDMI CEC, HDCP2.3, HDR10, HDR10+, Dolby Vision.
Surround sound: DTS HD Master, Dolby TrueHD, Dolby Digital Plus, Cinema DSP.
Pros
Supports 8K.
Offers CINEMA DSP 3D for more detailed audio images.
Includes MusicCast, which expands listening possibilities.
Cons
No phono preamp.
No pre-outs.