In the developing world of audio technology, Dolby Atmos has emerged to reshape the way we perceive and experience sound. It has transcended conventional boundaries to immerse us in sound like never before. If you are a cinema addict and love to watch movies with incredible sound effects, you should know more about this surround sound format.
I offer my review of Atmos AVRs, which I have selected and thoroughly tested can make a significant difference to your home entertainment system. From the subtle rustle of leaves in a forest to the thundering roar of a rocket launch, these receivers have redefined audio immersion, promising an unparalleled level of realism and excitement.
Let's explore how these models work their magic, the technology behind them, and the profound ways they can enhance your audio-visual experiences. But before reviewing the best Dolby Atmos receivers, I will also explain what this technology is all about.
Our pick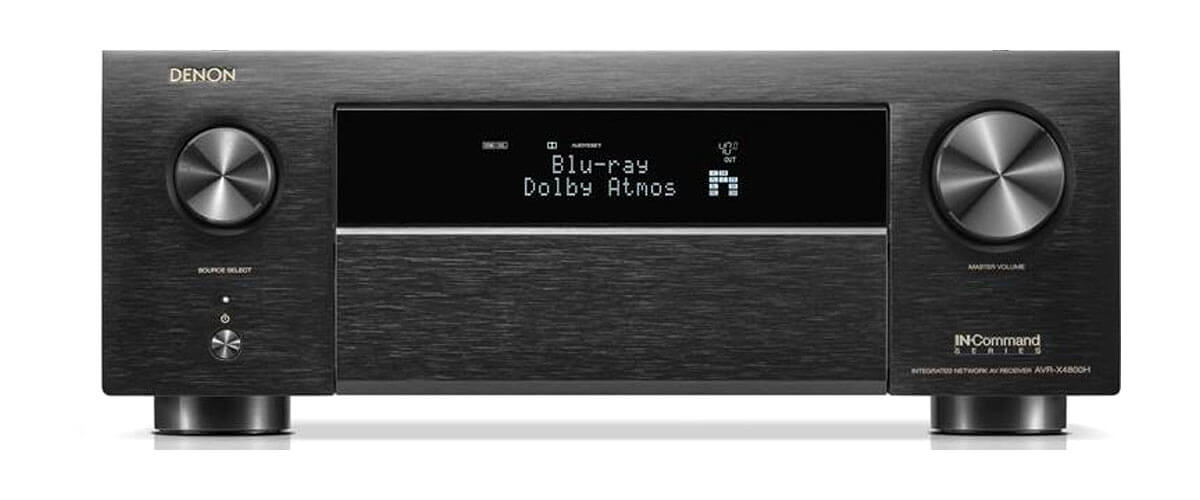 Denon AVR-X4800H
Best Atmos receiver
The Denon AVR-X4800H drives 9.4 channels of amplification. With Dolby Atmos and DTS:X, plus IMAX Enhanced and Auro 3D, the AVR-X4800H envelops larger living spaces in breathtaking 3D audio.
Read the full review
.
Dolby Atmos receivers comparison table
Name
Channels
Power output
HDMI in/out
Bluetooth/Wi-Fi
Review
Denon AVR-X4800H

best overall

9.4
125W/8 Ohm, 165W/6 Ohm
7/3
yes/yes
Review
Sony STR-DH790

budget

7.2
145W/6 Ohms
4/1
yes/no
Review
Onkyo TX-RZ50

also great

9.2
120W/8 Ohm, 250W/6 Ohm
7/2
yes/yes
Review
Denon AVR-X8500HA

premium

13.2
150/8 Ohm, 190/6 Ohm
7/2
yes/yes
Review
Understanding Dolby Atmos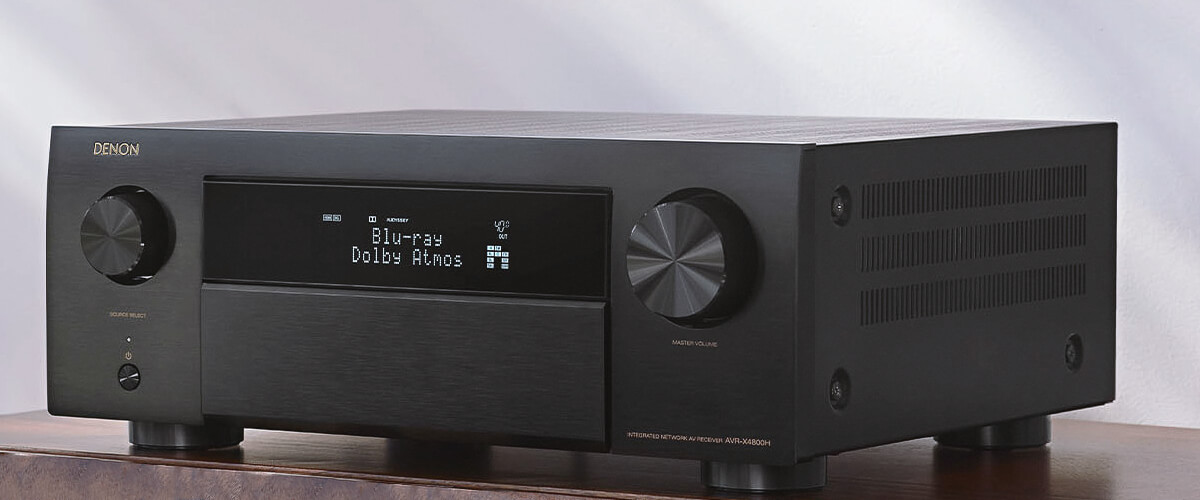 Dolby Atmos is an audio technology that provides the effect of presence by creating three-dimensional audio. Unlike traditional surround sound systems, which only have a fixed number of audio channels, it allows you to position sound in 3D space, including height information. This creates a more realistic sound that surrounds the listener from all sides.
One of the key features of Dolby Atmos is the use of metadata to position audio objects in a 3D audio space. This metadata can be embedded in audio files or generated in real-time by the audio device. When a Dolby Atmos-enabled unit receives audio with surround sound metadata, it can precisely position audio objects in the 3D audio space, providing a more immersive sound experience.
Benefits of Dolby Atmos
The most notable benefit of Atmos-ready receivers is their ability to create immersive soundscapes that envelop the listener. This spatial audio experience delivers a sense of depth and dimension, making you feel like you're right in the heart of the action.
Traditional audio systems are limited in how they can position audio, but Dolby Atmos allows audio to be precisely positioned in three-dimensional space. This precise localization of audio objects adds realism and depth to your content.
Unlike conventional systems, Dolby Atmos speakers can project some audio tracks from ceiling speakers. This means that you'll hear audio above you, enhancing the sense of height and space in your audio experience.
Moreover, this technology is adaptive, meaning it tailors the audio to your specific setup. No matter how intricate your multi-speaker array is, the technology optimizes the audio experience, ensuring you get the greatest possible performance from your equipment.
As audio technology continues to evolve, Dolby Atmos is at the forefront. By investing in the best Atmos receiver, you future-proof your home theater or audio setup, ensuring it remains relevant and compatible with upcoming content.
Best Atmos receivers reviews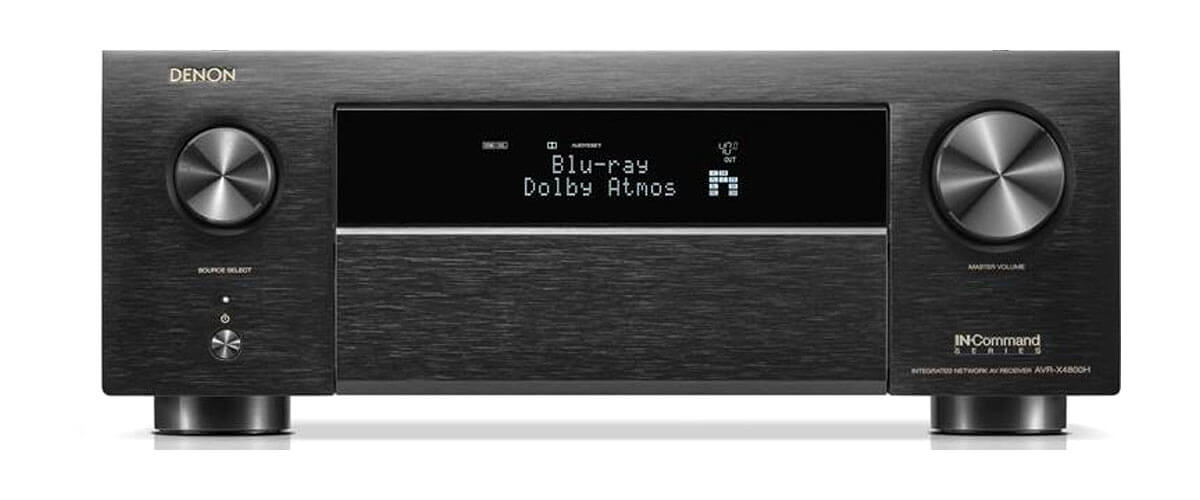 I'll start traditionally with a review of the most interesting model and the best receiver for Dolby Atmos from Denon, which was released in 2023. I don't usually give my impressions of a model right off the bat, but I decided to bend my rules a bit for this receiver. Indeed, this is the leader of my chart, and now I'll tell you why I made my choice in favor of this device.
With 11.4 channels of processing and 9.4 channels of built-in amplification, the AVR-X4800H delivers 125 W per channel (8 Ohms, 20-20 kHz, 0.05% THD, 2ch). The X4800H uses an independent power amplifier board for each channel, which means reduced crosstalk and vibration. More importantly, it has AL32 processing – Denon's patented analog signal reproduction technology. This technology completely suppresses noise associated with digital-to-analog conversion to reproduce low-level signals with optimal clarity and reveal all the subtle nuances of music.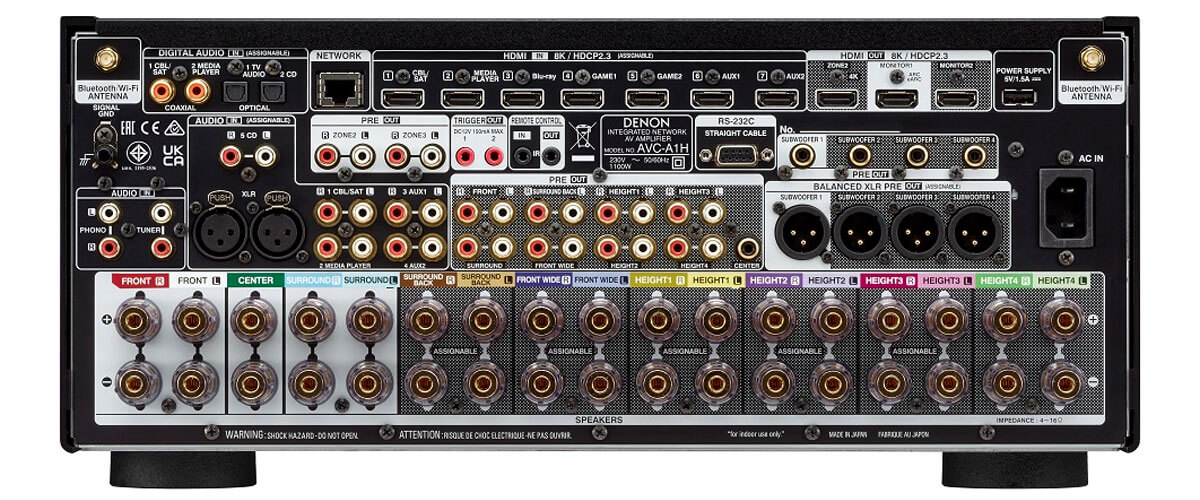 8K video is supported on all 7 HDMI inputs and 2 of the 3 outputs. With HLG, HDR, Dolby Vision, HDR10+, and Dynamic HDR pass-through, there's no need to worry about video compatibility or picture quality.
With this device, you're able to get the greatest 3D audio experience. Except for Dolby Atmos and DTS:X, we also get expanded IMAX support, as well as Auro-3D. What's new is 360 Reality Audio, a technology that the receiver can support by connecting a 360 RA streaming device via HDMI. Up front, you get a very deep and expansive wall of sound that extends beyond your speakers. During my tests, I actually felt sounds coming from all directions with incredible precision.
In the X4800H, you will find the Audyssey MultEQ XT32 version, which, in my opinion, has a fairly wide range of functionality. However, you'd need to pay some fee for that. But that's not all; it comes with Dirac Live support.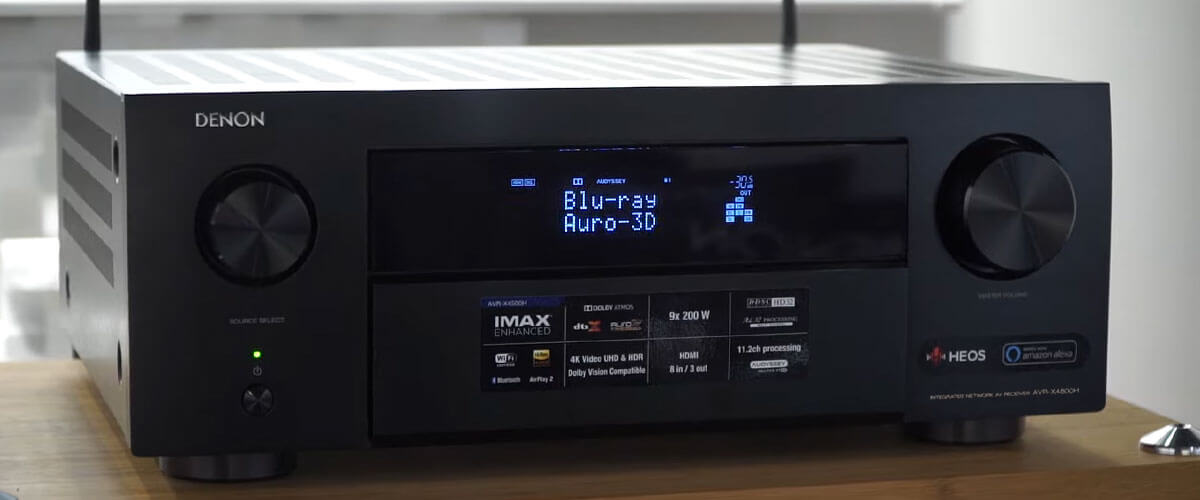 Since AVR supports both HEOS and Airplay 2, you can either stream music online from one of the available online streaming services, including Spotify, Amazon Music HD, TuneIn, Deezer, TIDAL, and others, or create your own multi-room environment using appropriate wireless speakers.
It's important to mention Bluetooth. The X4800H can send audio to Bluetooth-enabled headphones for a completely silent home and can also output audio from both the speaker jacks and a Bluetooth headset. This can be especially convenient if there is a person in the family who is hearing impaired.
The Denon AVR-X4800H is an absolutely amazing AV receiver that can handle almost anything you ask of it. No matter how you use it, you can't go wrong with it. The aesthetics and construction quality are outstanding, the connectivity and capabilities are extensive, and the setup is simple and straightforward. The HDMI support for 8K video and every next-gen gaming option is a nice future-proofing feature, and you simply won't find another alternative at this price range that offers and works in this way. In all respects, the clear leader on my list!
Key specs
Channels: 9.4.
Power output: 125W/8 Ohm, 165W/6 Ohm.
HDMI inputs/outputs: 7/3.
Surround sound

Dolby features: Dolby TrueHD, Dolby Surround, Dolby Digital Plus, Dolby Atmos Height Virtualization, Dolby Atmos.
DTS features: DTS HD Master, DTS Neural:X.
Other features: Auro-3D, IMAX Enhanced, Multichannel stereo.

Video

Video functions: 8K/60Hz, 4K/120Hz, 4K/60Hz pass-through, video upconversion (up to 1080p and 8K) for analog and HDMI sources.
Video supports: HDMI ARC, HDMI eARC, HDMI CEC, HDCP2.3, HDR10, HDR10+, Dolby Vision.

Bluetooth/Wi-Fi: yes/yes.
Streaming services: AirPlay2, Deezer, Tidal, Pandora, SiriusXM, Napster, SoundCloud, Amazon Music, Amazon Music HD, Mood mix.
Pros
Supports most widespread surround sound formats.
Availability of unique technologies such as 360 Reality Audio and AL32.
Supports Bluetooth-enabled headphones.
Cons
The Audyssey MultEQ editing app is not free.
Sony STR-DH790 – budget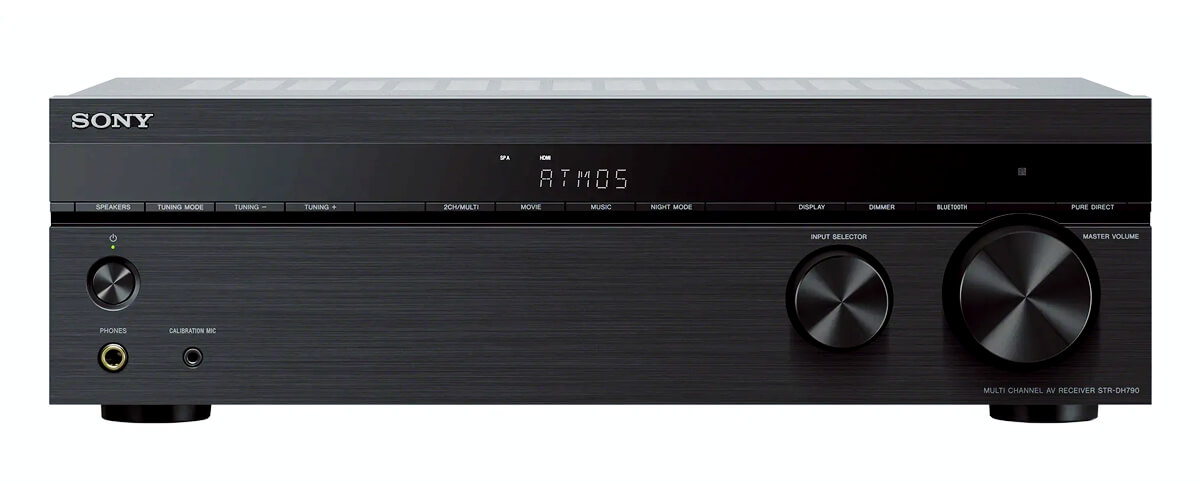 In 2018, Sony released its entry-level unit, which I give second place in my rating. The 7.2 receiver provides 90 W power output (6 Ohms, THD 0.9%, 2ch). It lacks the capability of processing more channels, so 7 is the most it can handle. The design of the device is quite Sony-like, and if you've seen the brand's earlier releases, you'll notice how similar they are right away.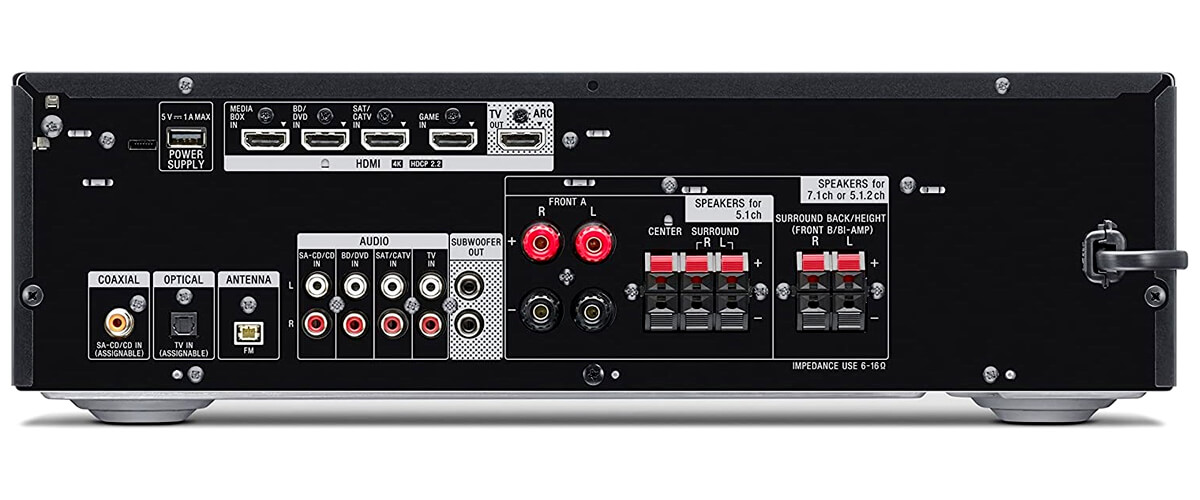 The model has 4 HDMI 2.0 inputs with capabilities associated with this standard. In accordance with the list of technical characteristics, the receiver supports signal quality up to 4K with a frequency of up to 60 Hz, HLG and Dolby Vision formats, 3D, Deep Color technology, BT.2020 color space, and HDCP 2.2. But there is only one HDMI output. The choice, of course, is not the widest but sufficient for most small and medium-sized systems. There is also a 6.35mm headphone jack.
The 790 supports the traditional Dolby and DTS surround sound formats. Ideal for smaller rooms, S-Force PRO front surround delivers a virtual surround acoustic field using only two speakers. The receiver also comes equipped with Advanced D.C.A.C. auto-calibration, which analyzes and adjusts the audio for optimal sound in every room.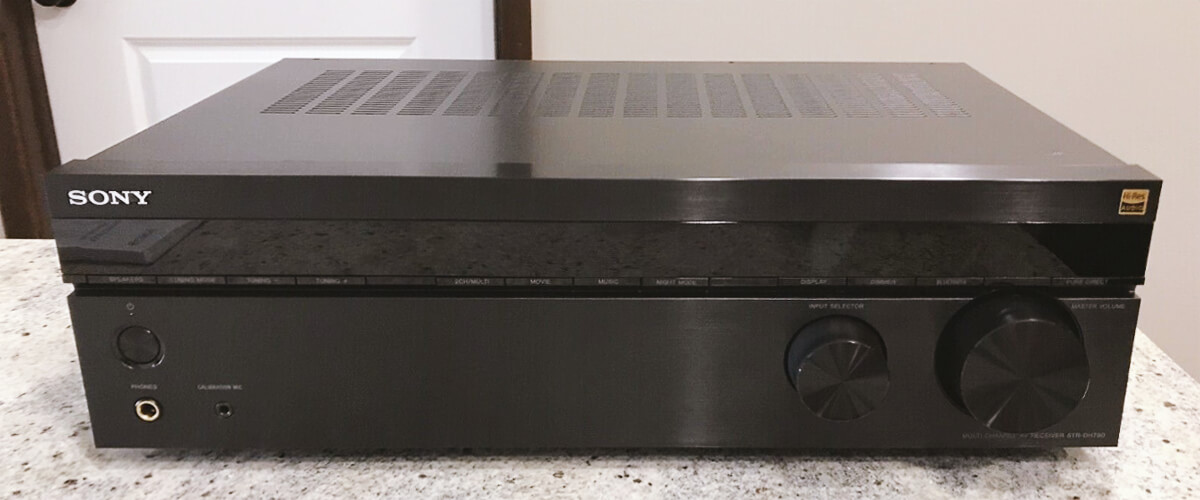 The absence of network connections like Wi-Fi is also striking. However, Bluetooth is provided, which is important for those who want to purchase an affordable model. At the same time, the receiver supports the AAC codec, which allows you to receive sound from Apple devices through it in the optimal possible quality for Bluetooth. Unfortunately, the DH790 does not read aptX and LDAC codecs.
If you're happy with the connection options, the Sony STR-DH790 is the best budget Dolby Atmos receiver that delivers quality surround sound at an affordable price. It's the model in which there is nothing superfluous, while on its basis, you can create a full-fledged home theater with multi-channel and three-dimensional sound.
Specifications of Sony STR-DH790
Channels: 7.2.
Output power: 145W/6 Ohms.
HDMI inputs/outputs: 4/1.
Surround sound

Dolby features: DSD, Dolby Digital, Dolby Atmos, Dolby Dual Mono.
DTS features: DTS HD Master, DTS:X, DTS-ES.

Video

Video functions: 4K/60Hz pass-through.
Video support: HDMI ARC, HDMI eARC, HDMI CEC, HDCP2.2, HLG, HDR10, Dolby Vision.

Bluetooth/Wi-Fi: yes/no.
Streaming service: has not.
Pros
Decent sound for this price range.
Bluetooth supports AAC codec.
Cons
Network connections are not provided.
Only 1 HDMI output.
Onkyo TX-RZ50 – also great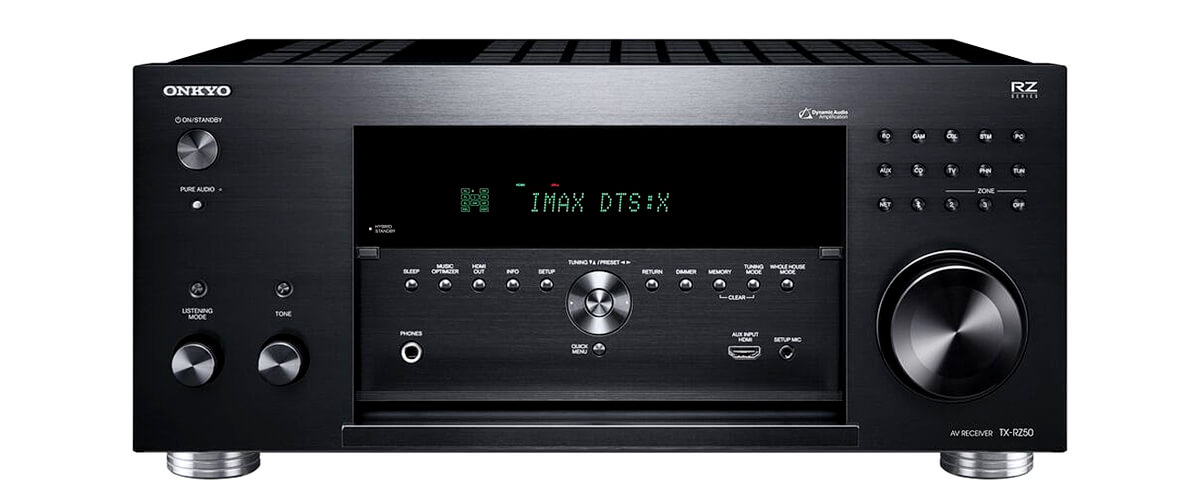 With this unit, you get 120W power output (8 Ohms, 20 Hz–20 kHz, 0.08% THD, 2 ch). Being a 9.2 Atmos receiver, it can be configured in a variety of ways. By the way, like the Denon AVR-X4800H, it has 11-channel processing. Because it belongs to the RZ line, this unit has some significant hardware, making the construction heavy, with some components common for all of the brand's flagship products.
RZ50 provides 7 HDMI inputs and 2 outputs, allowing you to connect many different equipment without constantly switching cords. Its 2.1 HDMIs allow 4K and 8K video, as well as HDR10+, Dolby Vision, LipSync, and HDCP 2.3.
You also might note how this model's features remind the first one of my rate. Of course, Dolby Atmos and DTS:X are on board, as well as IMAX Enhanced support. Moreover, here, you get Onkyo's unique THX certification. So, it will provide a sound experience similar to those experienced in cinemas. It produces great sound – rich, lush, and tantalizing. It's hard to explain other than stating it is an extremely satisfying sound. The accuracy, detail, balance, and exceptional dynamics created a very immersive soundstage. The receiver's performance from Onkyo will captivate perhaps the most demanding enthusiasts.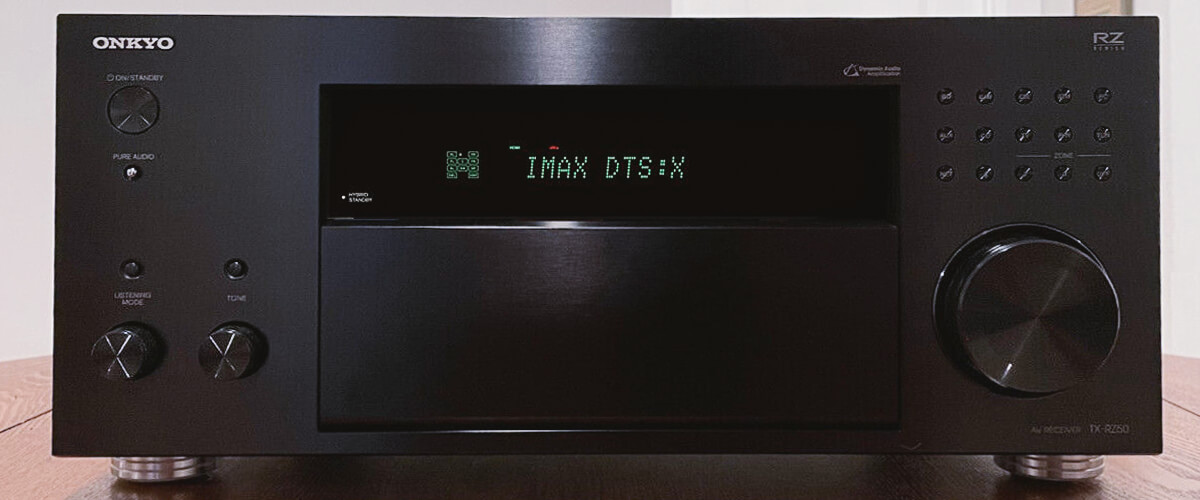 Bluetooth capabilities include SBC transmission and AptX along with AptX HD. That's something very different from most receivers. As for streaming services, you have everything you need to do it via AirPlay 2 or Chromecast and voice assistants like Hey Google and Alexa, for which you should get another device. If you have a Sonos device, you can easily add it to a TX-RZ50. Among other advanced features is Dirac Live for improving the staging and adding more clarity.
In general, the Onkyo TX-RZ50 is an amazing multimedia solution that provides home theater enthusiasts with a full of functions and dynamic experience. In addition, its characteristics correspond to a wide range of customer preferences, making it an attractive choice for upgrading an existing system.
Key specs
Channels: 9.2.
Power output: 120W/8 Ohm, 250W/6 Ohm.
HDMI inputs/outputs: 7/2.
Surround sound

Dolby features: Dolby TrueHD, Dolby Surround, Dolby Digital Plus, Dolby Atmos Height Virtualization, Dolby Atmos.
DTS features: DTS HD Master, DTS Neural:X.
Other features: IMAX Enhanced.

Video

Video functions: 8K/60Hz, 4K/120Hz, 4K/60Hz pass-through, video upconversion (up to 1080p and 8K) for analog and HDMI sources.
Video supports: HDMI ARC, HDMI eARC, HDMI CEC, HDCP2.3, HDR10, HDR10+, Dolby Vision.

Bluetooth/Wi-Fi: yes/yes.
Streaming services: AirPlay2, Deezer, Tidal, Pandora, SiriusXM, Napster, SoundCloud, Amazon Music, Amazon Music HD, Mood mix.
Pros
Availability of Dirac Live.
Hands-free control over the system.
Integration with Sonos.
Bluetooth supports AptX and AptX HD.
Cons
A bit too heavy.
Requires another unit to use voice assistants.
Denon AVR-X8500HA – premium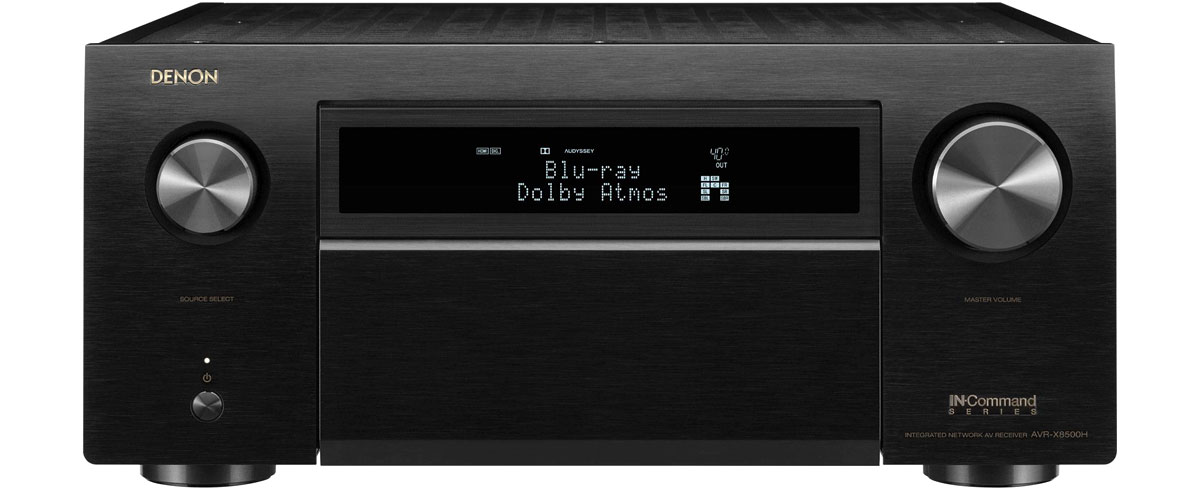 This 13.2 giant offers 150W per channel (8 Ohms, 20Hz-20kHz, 0.05% THD, 2ch). Thanks to the new generation DDSC-HD 32 Bit along with dual-core Griffin Line DSPs, the processor gets a powerful performance boost and the possibility of 15-channel signal processing. So, this AV device is capable of decomposing an object-oriented Atmos stream according to a 7.2.6 configuration (i.e., into 6 ceiling speakers) or 9.2.4.
The AVR-X8500H is packed with HDMI 2.1 (on all 8 inputs and 3 outputs). The device supports 4K Ultra HD 60Hz picture, 4:4:4 color resolution, HDR, and extended BT.2020 color space. Moreover, it is capable of independently upscaling "low-resolution" signals ( for example, when viewing archived videos and/or Internet videos) up to 4K Ultra HD level. Well, if there is more 8K/60Hz video content, X8500H will be completely ready to play it.
The unit can become a powerful center of your home media network – it supports data transfer via Wi-Fi, Bluetooth, Apple AirPlay, and HEOS wireless multiroom. This means you can listen to music in different rooms, from any source, and in any format (DSD, FLAC, ALAC, and WAV).
In addition to the above, it's equipped with the Audyssey MultEQ XT32 calibration system. The kit includes a special measuring microphone. Moreover, the equipment supports a more "advanced" professional application, Audyssey MultEQ Editor.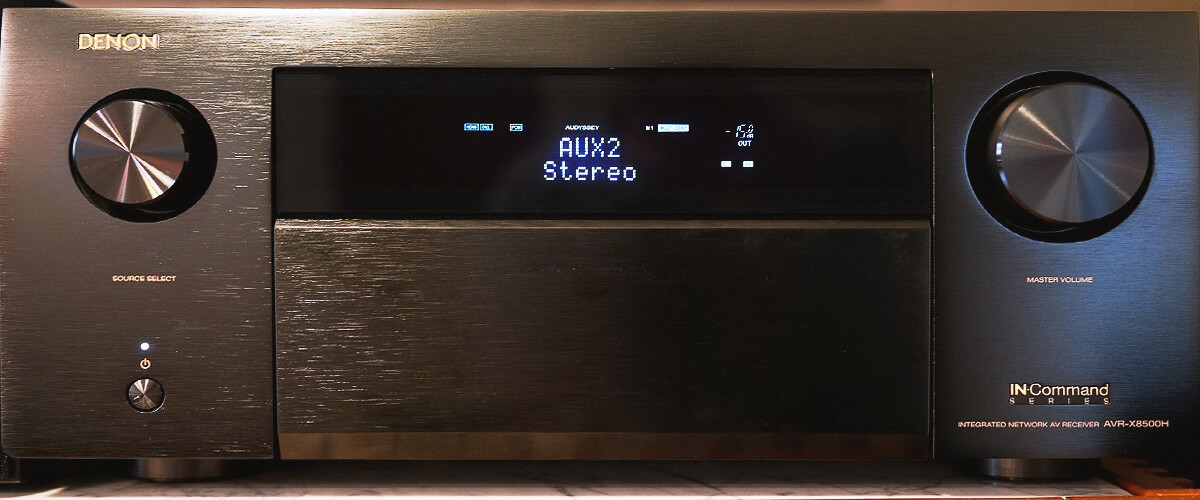 On its own, it provides an impressively clean and clear sound. The receiver can easily and quickly switch from one genre to another, allowing you to maximize both cinema and music in all their manifestations. X8500H builds a cool stereo space, and from a power point of view, it gives energy-rich and pulse components.
Denon AVR-X8500H is one of the most sophisticated cinema receivers for those who dream of complete immersion. Except for Dolby Atmos, there are other surround sound formats like DTS:X, IMAX Enhanced, Auro 3D, and 360 Reality Audio. The purity, detail, and expressiveness of the sound of multi-channel soundtracks are definitely impressive. This receiver has proven itself to be excellent with video. Fans of mobile network entertainment will also not be disappointed.
Key specs
Channels: 13.2.
Power output: 150W/8 Ohm, 190W/6 Ohm.
HDMI inputs/outputs: 7/2.
Surround sound

Dolby features: Dolby TrueHD, Dolby Atmos, Dolby Atmos Height Virtualization, Dolby Surround.
DTS features: DTS HD Master, DTS:X, DTS Neural:X, DTS Virtual:X.
Other features: IMAX Enhanced, Auro 3D.

Video

Video functions: 4K/120Hz, 8K/60Hz pass-through, video conversion analog to HDMI, upscales video signals to HD and Ultra HD (up to 8K).
Video supports: HDMI ARC, HDMI eARC, HDCP2.3, HDR10, HLG, HDR10+, Dynamic HDR, Dolby Vision.

Bluetooth/Wi-Fi: yes/yes.
Streaming services: AirPlay 2, Pandora, Spotify, Napster, SiriusXM, TIDAL, Deezer, Qobuz, Amazon Music.
Pros
Offers an option of processing up to 15 channels.
All of the channels feature a 32-bit audio processor.
More advanced app – Audyssey MultEQ Editor.
The most powerful model in the rating.
Cons
No paper operating manual is included.
FAQ
Can you upgrade an existing receiver to support Dolby Atmos?
If your existing receiver doesn't support Dolby Atmos, then it's not possible. You're required to have the model that is capable of decoding it, as well as a source that offers it.
Is Dolby Atmos worth the investment for small rooms?
Since the technology was made for movie theaters with 50-100 speakers covering the whole room, it may not provide you with the same effect in a small room. According to experts, the tiniest area should be 10×11.5 feet with a minimum ceiling height of eight feet. However, with the appropriate setup, you can enjoy Dolby Atmos even in smaller areas. The most common Atmos setup is a 5.1.2. A smaller room is going to make those 7 speakers feel more directional than a large room, where sound has room to spread.
How many speakers do I need for a full Dolby Atmos experience?
The minimal configuration for using Dolby Atmos is known as a 5.1.2 setup, where 2 ceiling speakers are used. However, more elaborate setups with 4 speakers (5.1.4 or 7.1.4) will deliver more pleasure.