As you probably already know, there are different receiver configurations, but 7-channel models are a popular choice for those looking for a balance of sound quality, functionality, and versatility. From decoding the latest audio formats to creating a captivating three-dimensional soundstage, these AVRs have much to offer. I'll explore the technology that drives them, describe their capabilities, and help you select the perfect device for your needs with my top rating of the best 7.2 receivers.
Our pick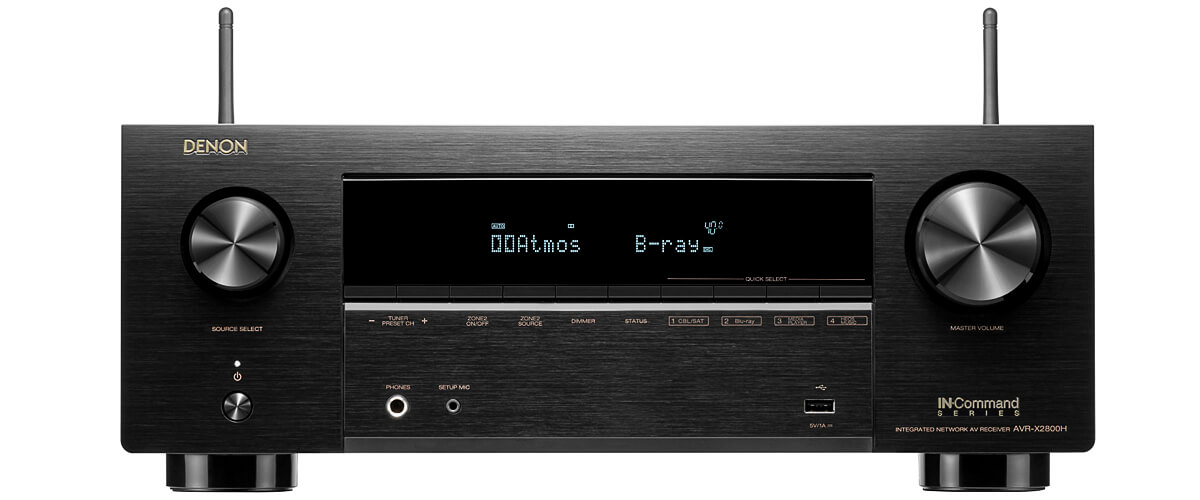 Denon AVR-X2800H
Best 7 channel receiver
The Denon AVRX2800H delivers immersive 3D audio from a 7.2 or 5.2.2 setup with Dolby Atmos and DTS:X. Enjoy an incredible 8K video, wirelessly stream online music, and share it with HEOS-enabled speakers in other rooms.
Read the full review
.
7.2 AV receivers comparison table
Name
Channels
Power output
HDMI in/out
Bluetooth/Wi-Fi
Review
Denon AVR-X2800H

best overall

7.2
95W/8 Ohms, 125W/6 Ohms
6/2
yes/yes
Review
Yamaha RX-A4A

also great

7.1
110W/8 Ohm
7/3
yes/yes
Review
Sony STR-DH790

budget

7.2
145W/6 Ohms
4/1
yes/no
Review
Marantz SR5015
7.2
100W/8 Ohm, 180W/6 Ohm
6/2
yes/yes
Review
Useful tips for choosing a 7.2 receivers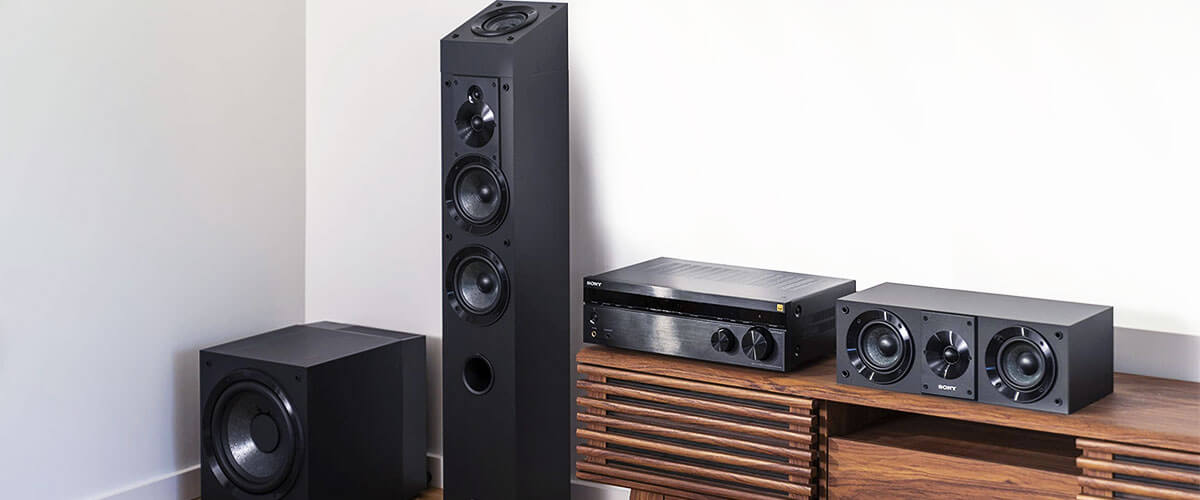 Choosing a 7-channel receiver involves considering a range of factors to ensure it meets your audio and video needs. My following tips will help to evaluate your specific needs so you can select the optimal device that satisfies your desire for your home theater system.
What about watts?
Generally, for an average-sized room (150-300 sq ft) and reasonably sensitive speakers, a 7.2 surround sound system with around 80-100 watts per channel should be sufficient for most users. However, if you have a large room, speakers with low sensitivity, or prefer very high volume levels, you might want to consider a receiver with higher power output, such as 120 watts per channel or more.
Built-in Wi-Fi, multiroom and streaming services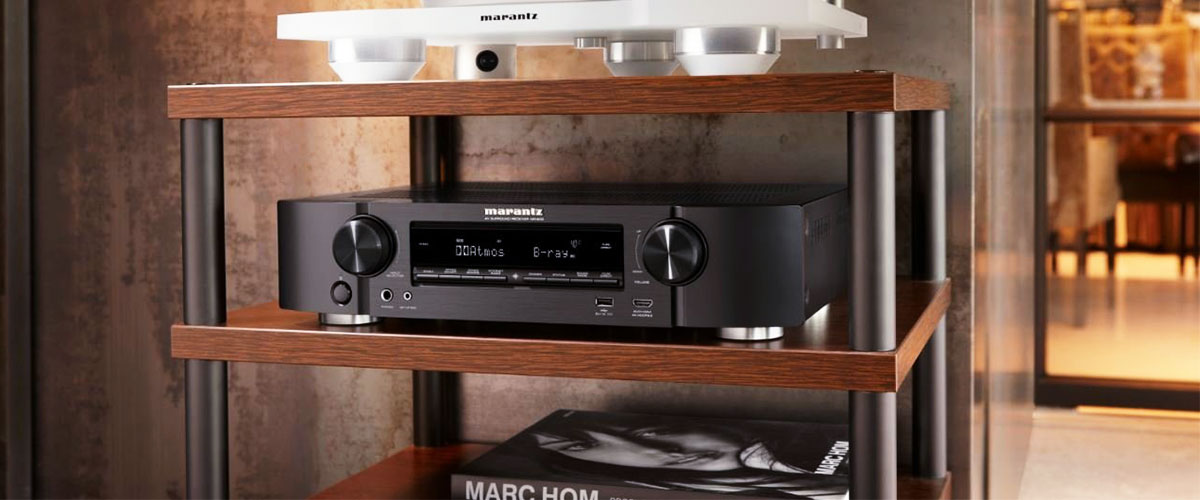 Check the number of zones the receiver supports. Such models can typically handle at least two zones (the main listening area and one additional zone). Look for compatibility with popular multiroom audio systems like HEOS (by Denon), MusicCast (by Yamaha), or DTS Play-Fi. These systems allow you to integrate your receiver into a broader multiroom setup.
In addition to Wi-Fi availability, verify that the receiver has wired Ethernet connectivity for those times when a wired connection is more stable and reliable. Support for AirPlay and Chromecast can also be useful for streaming content from your Apple devices or casting content from various apps.
What connections do you need
The exact configuration of connections may vary, so it's important to review the specifications of the particular receiver with 7 channels. Make sure it offers the inputs and outputs you need to accommodate your source devices and speakers. Additionally, consider the latest HDMI standards (e.g., HDMI 2.1 for 4K and 8K video) and their quantity, which are critical for modern home theater setups.
Make sure there are pre-outs to connect external power amplifiers if you wish to boost the receiver's power output. In addition to speaker terminals, the unit should include a dedicated subwoofer output for connecting subwoofers that handle low-frequency sound reproduction. A great addition would be a dedicated phono input for connecting a turntable.
I also find it useful when the receiver has inputs on the front panel, making it convenient to temporarily connect devices like smartphones, tablets, or cameras.
Surround sound formats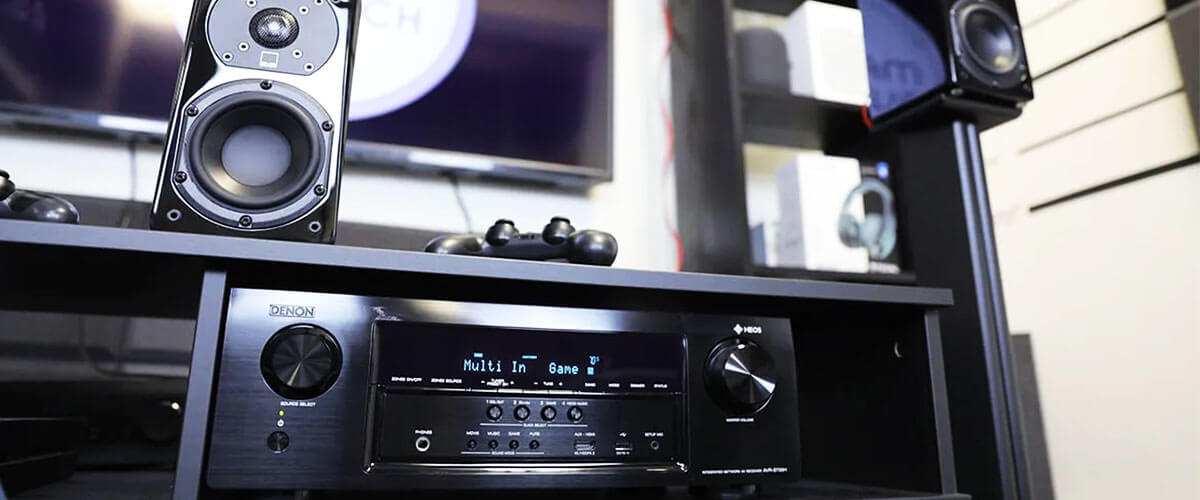 Some common surround sound formats you may get with a 7.2 receiver include Dolby Atmos and DTS:X and older formats like Dolby TrueHD and DTS-HD Master Audio. The upmixing technologies like Dolby Surround and DTS Neural:X take standard audio tracks and create a more immersive soundstage, often by simulating height channels. However, I'd like to note that having all of them is indeed great, but they won't sound as good as it could be, for example, with the 9.2 configuration system.
Additionally, I'd choose only a receiver that supports the latest audio standards and can receive firmware updates to accommodate new formats as they emerge.
User interface and controls
Most receivers are compatible with popular voice assistants like Amazon Alexa and Google Assistant. This feature enables hands-free control of your home entertainment system. Moreover, receivers often come with an automated calibration system, such as Audyssey, YPAO, or similar technologies. They help optimize sound quality based on your room's acoustics. Ensure that the calibration process is user-friendly.
Look for a receiver that allows for easy firmware updates. Manufacturers often release updates to add new features, improve performance, or fix issues. An automatic update feature can be convenient, especially if it's not a budget model.
Best 7.2 receiver reviews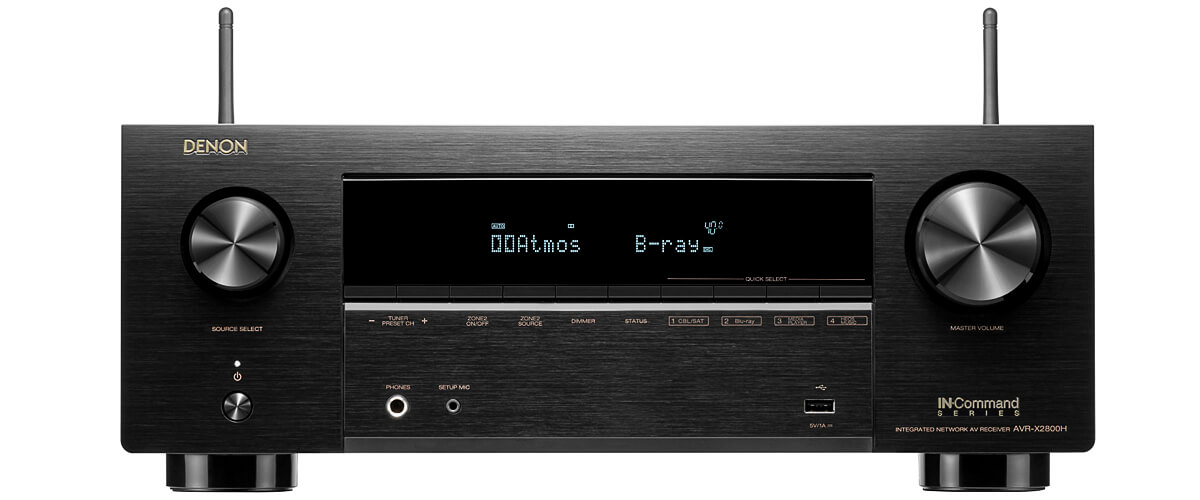 Released in October 2022, 7.2-channel AVR-X2800H from Denon became the top priority this time in my review. It has the smart features and 3D sound support you need in a modern home theater space, as well as the power to drive entertainment throughout your medium-sized room, which is 95W per channel (8 Ohms, 20 Hz – 20 kHz, 0.08% 2ch).
The unit supports 5.2.2 3D sound configurations, thereby decoding DTS:X and Dolby Atmos. Of course, you will be able to enjoy older audio content with Dolby Surround and DTS:Neural X upmixing. It also offers Dolby Height Virtualization to mimic the effect of overhead speakers from a 7.1 or 5.1 setup.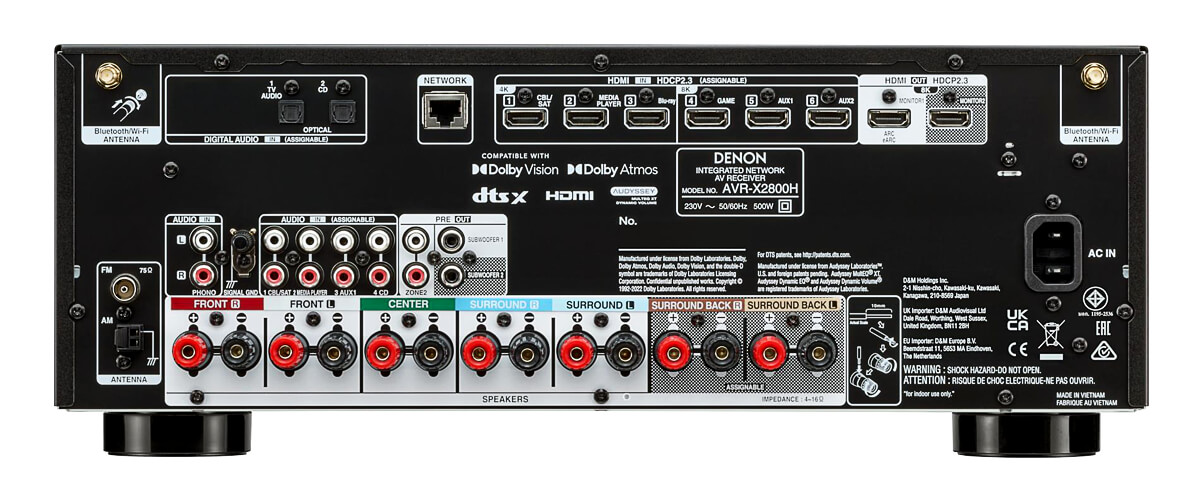 Its 3 HDMI ports support video resolutions up to 8K, while all 6 support a 4K/120Hz pass-through, along with Dolby Vision, HLG, and Dynamic HDR. Important gaming features, such as ALLM, VRR, and QRT, are included, all of which prevent added lag so you can enjoy playing consoles as dynamic as possible.
You won't find it difficult to get the sound adjusted specifically to your room with X2800H. It uses Audyssey EQ software, along with the microphone, that analyzes the noise level and regulates the speakers accordingly. You may also fine-tune the audio with the MultEQ XT Editor app.
Thanks to the built-in HEOS, the unit has the ability to operate the music throughout your entire home. You may pair them or enjoy music in a particular location while watching television in another. It also has amazing streaming features. AirPlay allows Apple customers to play music directly from their phone or another gadget, and it additionally includes streaming services such as Spotify, allowing you to quickly find the preferred tracks.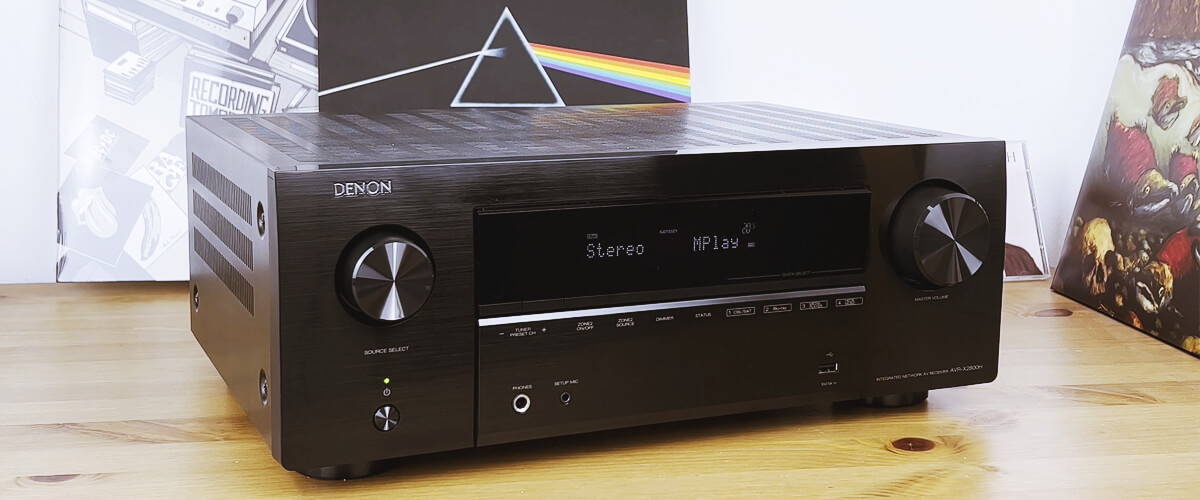 The sound quality of X2800H is pretty good, providing decent value for its price. Even at the maximum level, the sound performance was clear and without any distortion. The sole issue I noticed was that the response of the bass felt a bit insufficient. In general, the audio specifications of this model correspond to its place in my rating.
The Denon AVR-X2800H is simple to set up and use, no matter if you choose to operate it effortlessly using voice commands or rely on the included regular remote. It's also versatile and capable of playing movies, games, and music at a comparable finest level. The AVR-X2800H is the best 7.2 AV receiver if you're looking for one that can not only operate your home theater system but also manage multimedia across your entire dwelling.
Key specs
Channels: 7.2.
Output power: 95W/8 Ohms, 125W/6 Ohms.
HDMI inputs/outputs: 6/2.
Video functions: 4K/120Hz, 8K/60Hz pass-through, upscaling to 8K.
Bluetooth/Wi-Fi: yes/yes.
Streaming services: AirPlay2, TuneIn, Pandora, SiriusXM, Spotify.
Supports: HDMI ARC, HDMI eARC, HDMI CEC, HDCP2.3, HDR10, HDR10+, Dolby Vision.
Surround sound: DTS HD Master, DTS:X, DTS Neural:X, DTS Virtual:X, Dolby Atmos, Dolby TrueHD, Dolby Surround, Dolby Digital Plus, Dolby Atmos Height Virtualization.
Pros
3 HDMI ports support 8K video resolution.
Offers MultEQ XT Editor app to fine-tune the audio.
Great sound performance even at high volume level.
Versatile streaming features with built-in Heos.
Yamaha RX-A4A – also great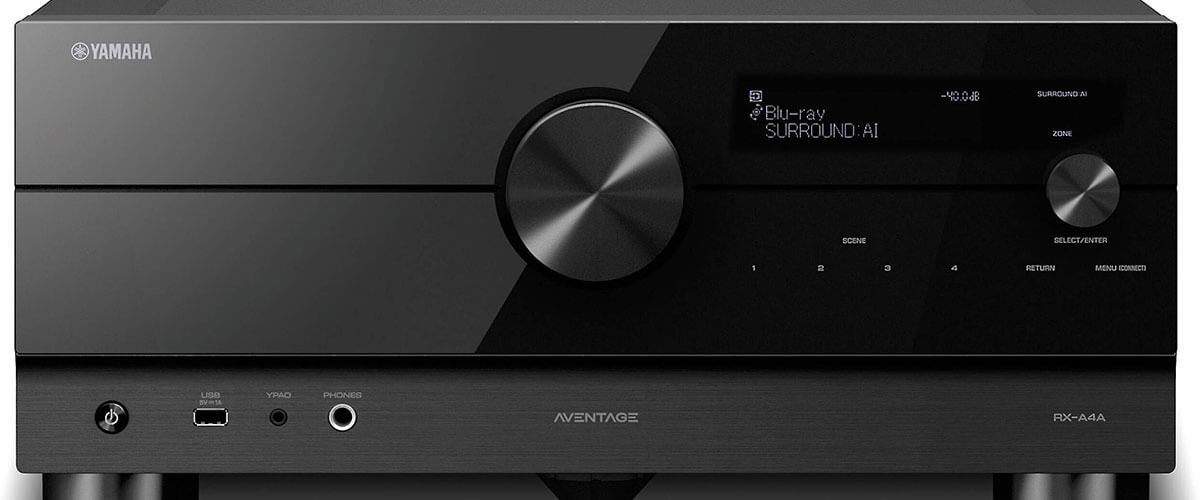 Now it's time for the most powerful model in the rating from Yamaha. RX-A4A is a 7.2-channel receiver with its own Surround AI tech and good connectivity options, which I will introduce later.
Here are a few words about the design of this receiver. What I didn't like about its design is its small LCD display where you can see input, sound processing mode, volume, etc. Within a regular watching and listening distance, this monitor can be challenging to understand. However, Yamaha built the device with a braced steel 'H frame' design, and its components made it the heaviest one (35.7 lbs) that I reviewed in this chart.
As mentioned above, its power output of 110W (8 Ohms, 0.06% THD, 20 Hz – 20 kHz, 2 ch) is more than enough for a mid-size room. What makes it really great is the ESS SABRE ES9007S premier audio DAC for high-performance conversion. In addition, the receiver has DSP modes and associated functionality.
Having the largest number of HDMI inputs (7) among the reviewed models, they support 4K UltraHD video, 8K/60Hz, 3D video, eARC, HDR10+, and Dolby Vision.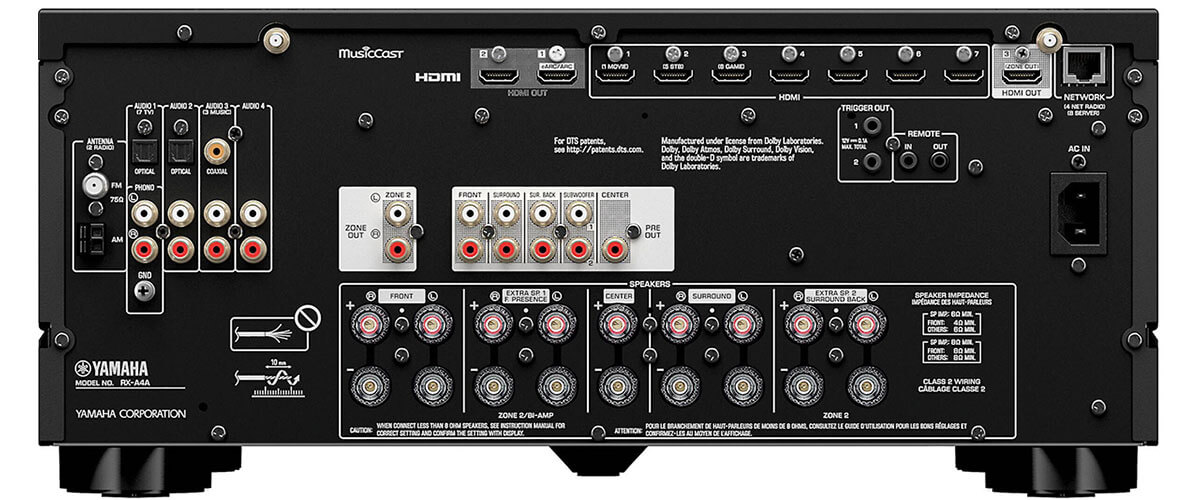 RX-A4A can decode Dolby Atmos and DTS:X. All the older formats like Dolby TrueHD, DTS-HD Master Audio, Dolby Digital Plus, and Dolby Digital are supported as well. The included Dolby Atmos Height Virtualization can replicate the Atmos immersion if you do not have in-ceiling or vertical speakers in your audio system.
I also would like to pay your attention to the fact that Yamaha put a premium Cinema DSP HD3 architecture, which has cutting-edge signal processing methods and can enhance audio effects. Moreover, the in-built Surround AI with real-time processing can generate multidimensional soundscapes and simulate the effect of back rear or height speakers. Watching several films, I've noticed this reproduction instance to be really beneficial.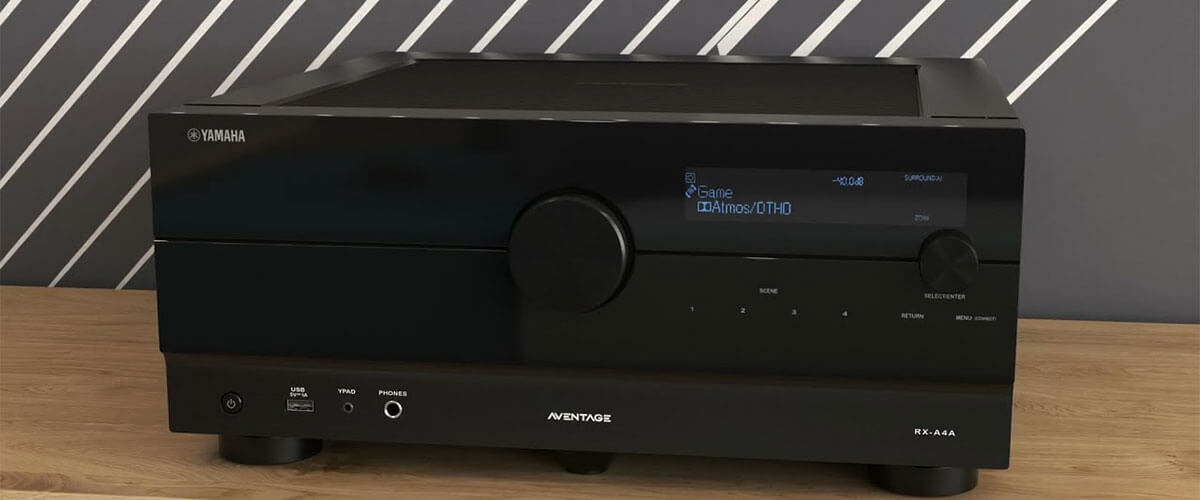 Using the MusicCast app, you can add the A4A to your network for the enjoyment of music and gadget control. Other MusicCast equipment, such as those for multi-room entertainment, can be connected to the system. You can also use appropriate wireless speakers. It's an easy-to-use program with a lot of features.
Of course, it can't do without calibration, YPAO, which may save statistics and adjustments for maximum sound playback from up to 8 unique microphone placements. I personally favor the Dirac Live, which has more complex adjustment options. Still, the post-calibration outcome I achieved was satisfying.
The Yamaha RX-A4A is another of the best 7.2 receivers with superb performance and lots of power in a compact space. There are also numerous audio customization options that you can deal with. Its construction quality met Aventage requirements, and its list of specifications is more than enough, especially with 7 HDMI 2.1 inputs.
Key specs
Channels: 7.1.
Power output: 110W/8 Ohm.
HDMI inputs/outputs: 7/3.
Video functions: 8K/60Hz, 4K/120Hz, 4K/60Hz.
Bluetooth/Wi-Fi: yes/yes.
Streaming services: Pandora, Spotify, Napster, SiriusXM, TIDAL, Deezer, Qobuz, Amazon Music HD.
Supports: HDMI eARC, HDMI Upscaling up to 8K, HDMI Audio Return Channel, HDMI Up-conversion, HDR 10+, Dolby Vision.
Surround sound: Dolby TrueHD, Dolby Digital Plus, DTS:X, DTS-HD Master Audio, Auro 3D.
Pros
Has the greatest power output than other models of the rating.
Surround AI technology for simulating rear speakers.
Cinema DSP HD3 enhances audio effects.
Equipped with premier audio DAC.
The only model that includes the largest number of HDMI inputs.
Sony STR-DH790 – budget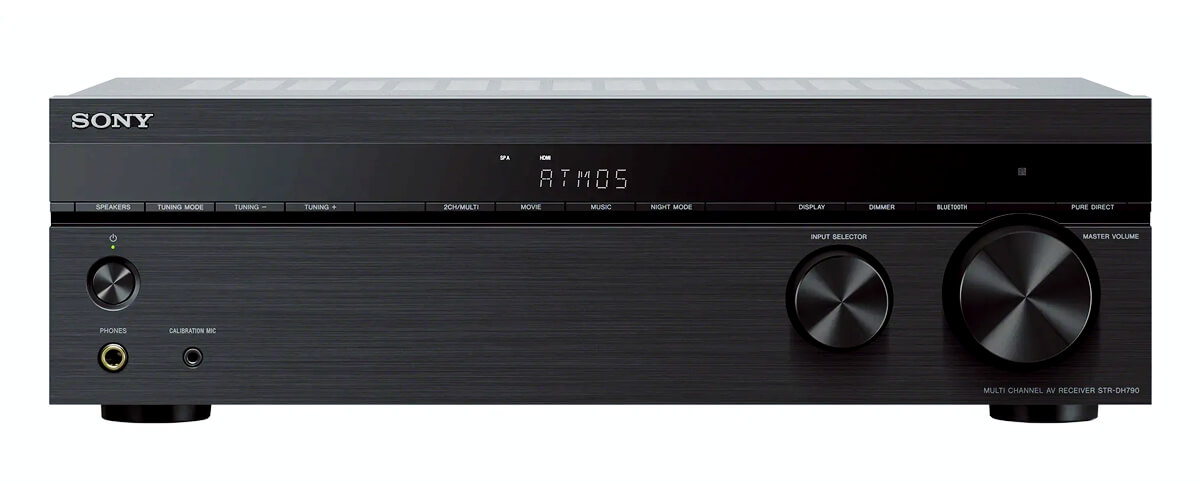 The oldest receiver of the rating (released in 2018) enables an ordinary 7.2 surround sound system. I'm not going to hide the fact it also provides less output power than the rest of the competitors – 90W (6 ohms, 20 Hz – 20 kHz, THD 0.9%, 2ch). However, don't get upset with that since DH790 offers 3 DSPs, and to enable reliable signal decoding, they all handle a variety of audio formats. Furthermore, the receiver employs a discrete amplifier design, which aids in the prevention of distortion by supplying reliable power. The device is professionally constructed with heat sink tech to assist in the disposal of extra heat and create a cool operating condition.
In terms of surround sound formats, the DH790 supports Dolby Atmos and DTS:X. The greatest feature of the equipment is Sony's S-Force PRO surround sound technology, which creates a synthetic immersive sound environment by applying just two front speakers.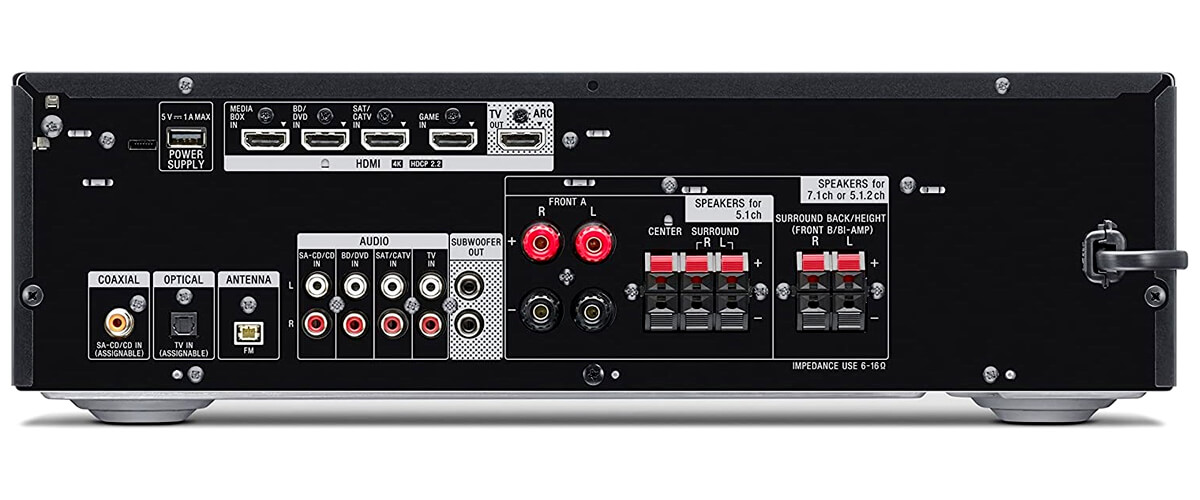 In comparison with other receivers from the list, this model has fewer HDMI connections – 4/1. They support 4K and the latest 4K HDR standards – HDR10, Dolby Vision, and HLG. Also, it's the only one here that doesn't support 8K.
It's also frustrating that there's no Internet connectivity, unlike other models. Luckily, DH790 allows you to manage your video and audio content by pairing it with any Bluetooth-enabled device. Bluetooth of the 4.2 version supports SBC and AAC codecs.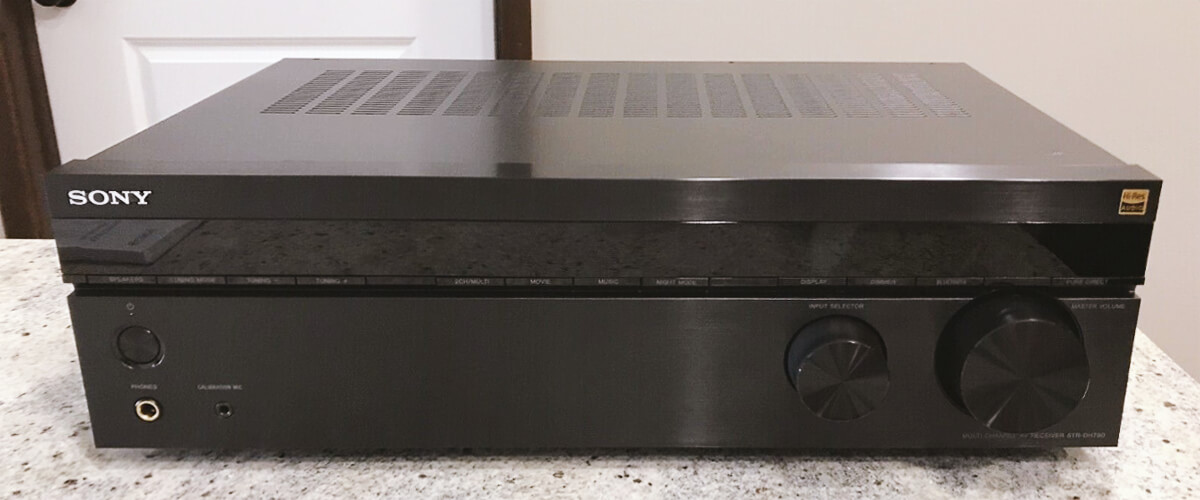 Sony's DCAC speaker calibration is a useful feature to have aboard if you use an alternate set of speakers and audio equipment. The receiver checks the area's acoustics or speaker range on its own and modifies the parameters to maximize the system in any environment. Furthermore, the incorporated mic adjusts the features of the left channels to be in sync with the right channels, resulting in a more accurate and consistent sound quality.
As long as the absence of Wi-Fi isn't bothering you, the Sony STR-DH790 is the best budget 7.2 receiver. It's a cheap way to experience immersive sound, and the HDR passthrough keeps it compatible with even the greatest multimedia players.
Key specs
Channels: 7.2.
Output power: 145W/6 Ohms.
HDMI inputs/outputs: 4/1.
Video functions: 4K/60Hz pass-through.
Bluetooth/Wi-Fi: yes/no.
Streaming services: has not.
Supports: HDMI ARC, HDMI eARC, HDMI CEC, HDCP2.2, HLG, HDR10, Dolby Vision.
Surround sound: DTS HD Master, DTS:X, DTS-ES, DSD, Dolby Digital, Dolby Atmos, Dolby Dual Mono.
Pros
Offers 3 DSPs for reliable signal decoding.
Has a discrete amplifier design to prevent distortion.
Includes a heat sink tech that disposes of extra heat.
S-Force PRO technology creates an immersive sound with 2 front speakers.
Cons
Doesn't have a Wi-Fi connection.
The weakest receiver due to power output on the list.
The only receiver of the rating that doesn't support 8K.
Marantz SR5015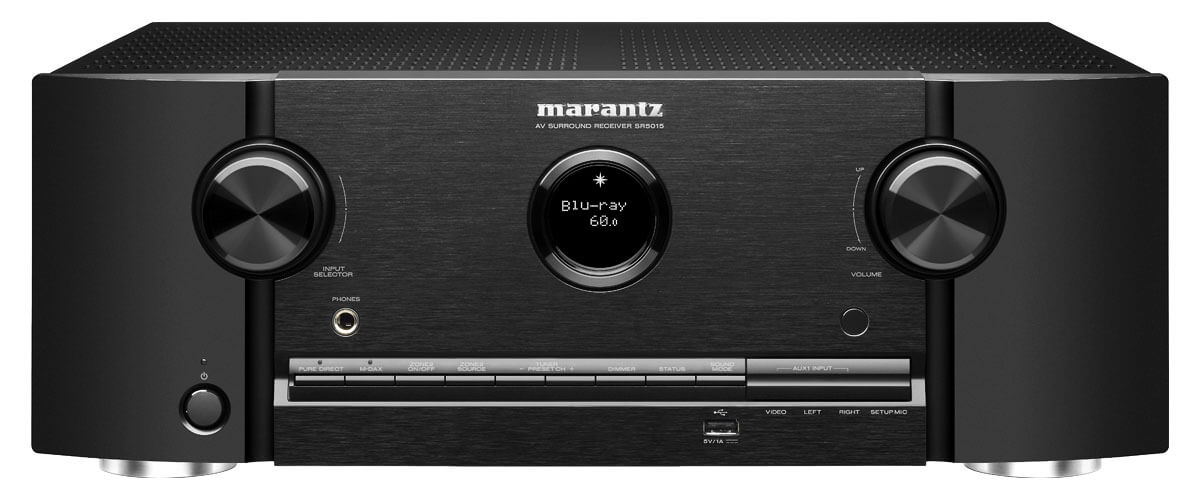 This is the junior model in the flagship SR series for 2020. The power output of SR5015 is almost the same as Yamaha RX-A4A – 100W (8 Ohms, 20 Hz – 20 kHz, 0.08% THD, 2ch). The receiver is built around unique HDAM amp units, and its audio section includes 32-bit AK4458 DACs.
The unit provides the ideal setup for home theaters in the majority of compact apartments and is equipped with Dolby Atmos and DTS:X. In addition, DTS Virtual:X and Dolby Atmos Height Virtualization are available, offering highly immersive 3D audio without a requirement specific to the system speakers.
The video specifications are also rather good and include everything a modern consumer needs. SR5015 offers 6 HDMI inputs, which support 4K/120Hz and 8K/60Hz video with HDR, as well as eARC and HDCP 2.3 certification. The following functions, important for gaming, are available: VRR, QMS, ALLM, and QFT. There is also the possibility of connecting to Zone 2 using an external amplifier.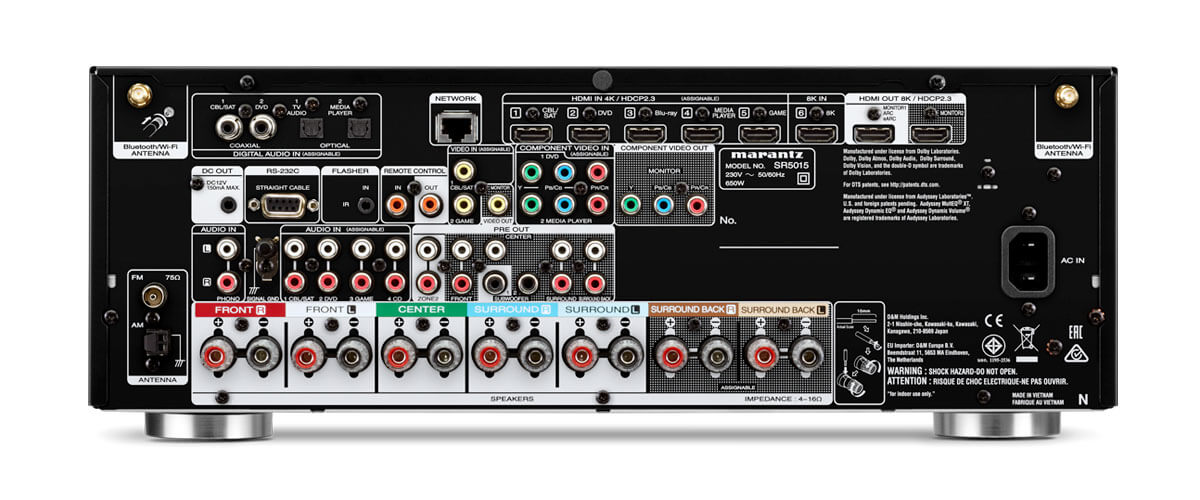 With its Audyssey MultEQ XT auto-calibration and straightforward displayed visuals, the Marantz SR5015 is simple to configure. This model incorporates Audyssey's unique MultEQ Editor App technology, which enables accurate audio balancing via a smartphone app. Dynamic EQ and Dynamic Volume technologies are also employed. However, those who prefer to avoid auto setup would face rather challenging manual user instructions, which many consumers complain about.
All of the main voice assistants are available, including Amazon Alexa, Google Assistant, and Siri. You can also use Wi-Fi, Bluetooth, AirPlay 2, or the HEOS app to play content from well-known platforms such as Spotify, Deezer, or Amazon Prime. The integrated HEOS multi-room system enables you to enjoy music across your home.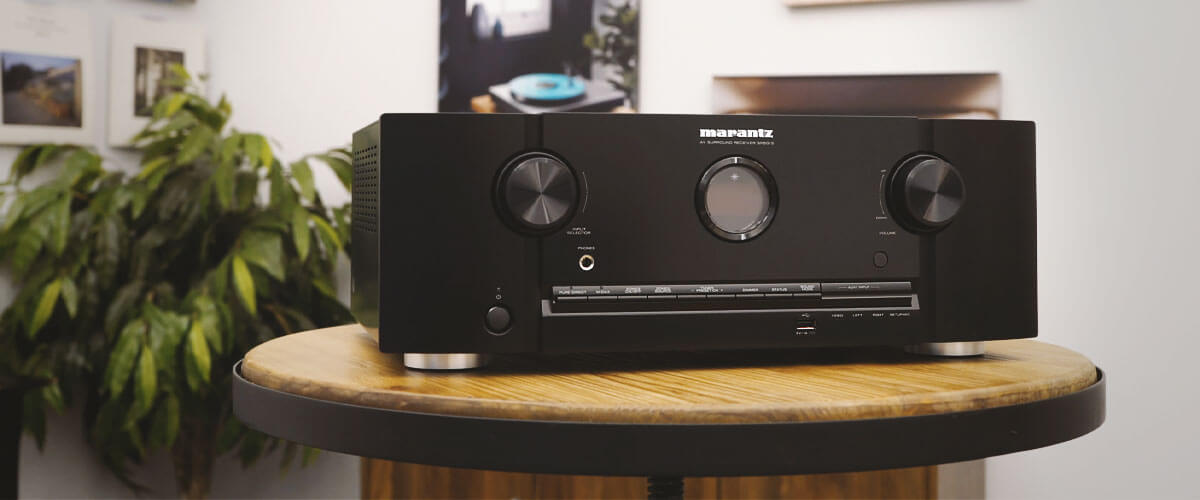 I've been listening to a few of my favorite records, and the SR5015 has effortlessly mastered all of them. The audio was full and powerful. The bass was crisp and snappy, while the mids were organic and clear.
In total, the Marantz AVR SR5015 is a beneficial receiver that will elevate your listening experience. Thanks to its robust amplification, finest surround sound processing, and multiple connecting options, it's ideal for music and movie nights. If you can afford this priciest device in my review, don't hesitate to get one.
Key specs
Channels: 7.2.
Power output: 100W/8 Ohm, 180W/6 Ohm.
HDMI inputs/outputs: 6/2.
Video functions: 8K/60Hz, 4K/120Hz, 4K/60Hz.
Bluetooth/Wi-Fi: yes/yes.
Streaming services: AirPlay 2, Pandora, Spotify, Napster, SiriusXM, TIDAL, Deezer, Qobuz, Amazon Music.
Suppots: HDMI eARC, HDMI Upscaling up to 4K, Dolby Vision, HDR 10+.
Surround sound: Dolby Atmos, Dolby Atmos Height Virtualization, Dolby TrueHD, Dolby Surround, DTS:X, Multichannel Stereo.
Pros
Equipped with 32-bit AK4458 DACs.
Includes Dynamic EQ for adjusting audio to your room's acoustics and Dynamic.
Volume for consistent and comfortable volume levels.
Cons
More pricey than comparable models.
Manual user instructions should be improved.