In my Pioneer VSX-935 review, I will talk about the 2021 released AV receiver that the company is positioning as a middle-class representative. Considering the quality of Pioneer equipment, this model, with some features of more expensive comrades, can be a great help for those who do not have high financial resources but want to provide decent functioning of their home theater. You may think the receiver is similar to its predecessor, the VSX-934, but the two AVRs have a few notable differences that may influence your decision. Learn more about their differences and the features of the new model below.
Features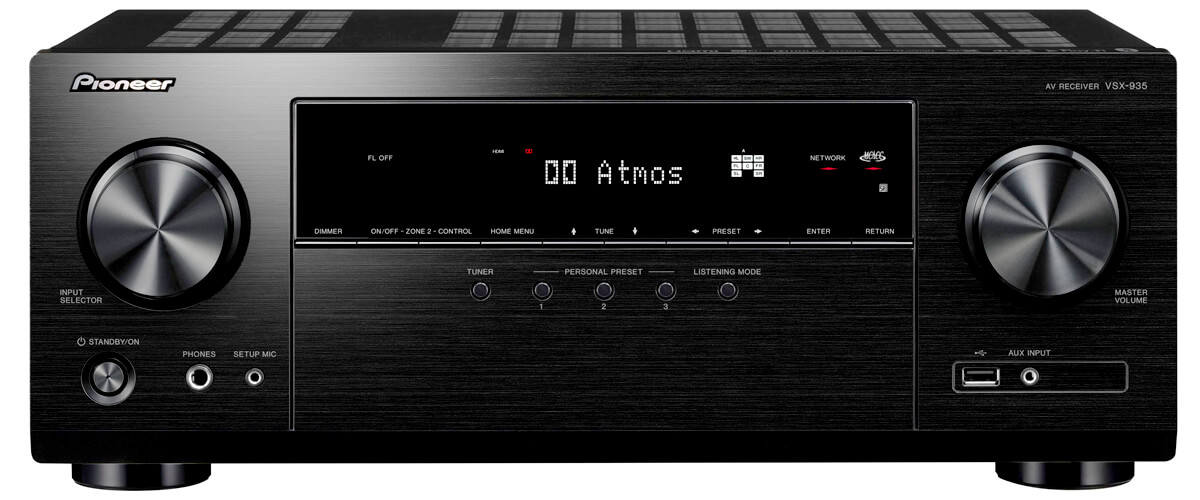 The Pioneer VSX-935 has a sleek, modern design with a black matte finish that looks great in any home entertainment system. The VSX-935 specifications are quite impressive for its price point. The model has up to 7.2 channels of 80W output (8 Ohm, 20Hz-20kHz, THD 0.08%, 2ch) and is therefore suitable for medium-sized rooms and can be configured as a 5.2.2 system. One of the differences with the 7.1-channel VSX-934 is the optional subwoofer for an even more immersive bass experience. The receiver also has a dedicated Zone 2 DAC for playing digital music through a stereo pair of speakers.
As for the connections, it is important to me as an audiophile that the VSX-935 AVR has a built-in phono stage. In terms of HDMI ports, everything is also very good. There are 6 inputs and 2 outputs (eARC), and they support HDR10, Dolby Vision, and HLG, as well as 8K/60p (4:2:0), 4K/60p (4:4:4), and BT.2020 pass-through, so you can easily enjoy content from any source. The receiver also has 4K to 8K, 1080p to 8K/4K video conversion, and scaling capabilities to improve picture quality on older devices.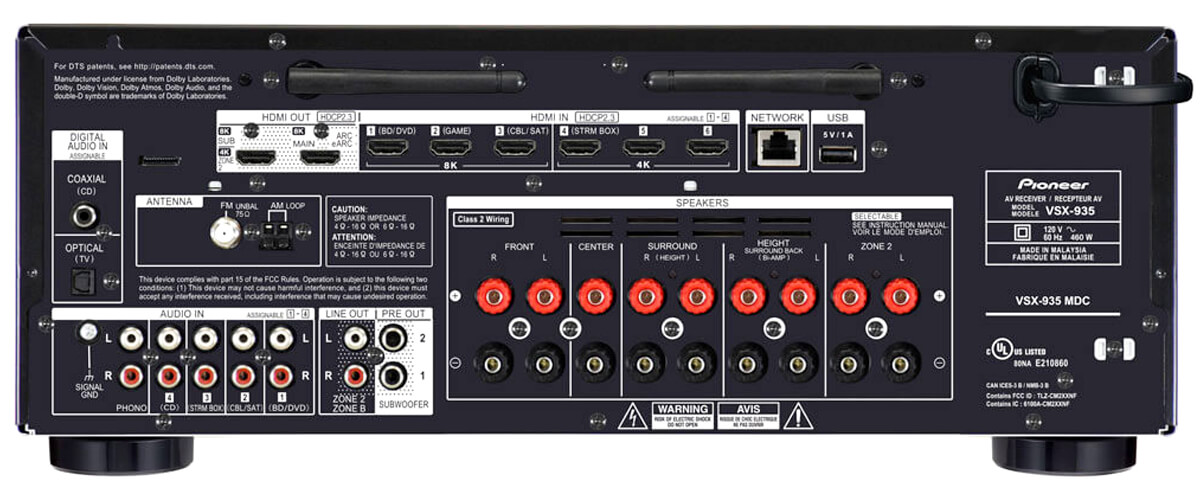 The Pioneer VSX-935 features include wireless connectivity, such as Wi-Fi and Bluetooth, so you can easily listen to music from your phone or tablet. It also works with various streaming services and ecosystems (Sonos, AirPlay 2, Spotify, Amazon Music, etc.), which sets it apart from many competitors. Moreover, the VSX-935 has several additional features that the VSX-934 doesn't have, such as built-in Chromecast and DTS Play-Fi support. This model also has a radio tuner, which I often use when I don't have time to manage content manually.
As for surround sound, the model supports Dolby Atmos, DTS:X, and Dolby Atmos Height Virtualization. It also has a unique Reflex Optimizer feature that provides accurate sound reflections from the ceiling when using Dolby Atmos-enabled speakers. The receiver also has a handy feature called Multi-Channel Acoustic Calibration, which I found particularly useful and working well during setup.
The main issue I faced while setting up the Pioneer VSX-935 receiver was its complex user interface. Navigating through the menus and settings was a bit time-consuming, but with some patience, I managed to complete the setup. Overall, the experience was still positive.
Sound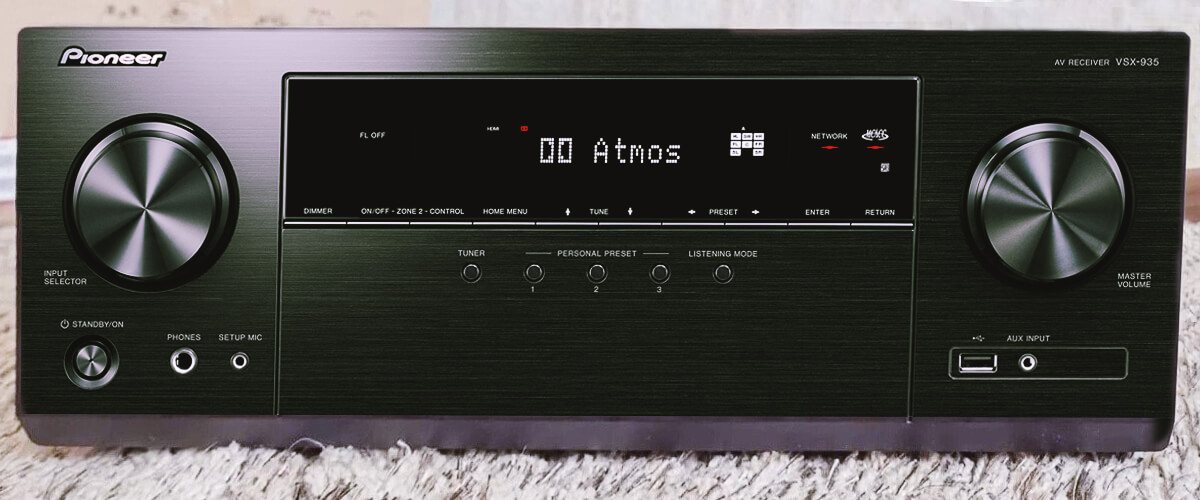 For sound quality, the VSX-935 provides excellent sound with a good balance between bass and treble. It also has a dynamic and punchy sound, which is great for action movies. For example, that's why I chose to test the receiver for the movie John Wick, and the sound quality was excellent, making it easy to hear every shot and explosion. I love the adrenaline flowing inside me when watching movies like this, so the surround sound pleased me by fully immersing me in the atmosphere.
But the Pioneer VSX-935 does a great job with more than just action movies. When I played some of my favorite pieces of music, I was impressed with the clarity and detail of the sound. The receiver also has a wide soundstage, which creates a more immersive listening experience.
Specifications of Pioneer VSX-935
Channels: 7.2.
Output power: 80W/8 Ohms.
HDMI inputs/outputs: 6/2.
Surround sound

Dolby features: Dolby Atmos, Dolby TrueHD, Dolby Surround Upmixer, Dolby Digital Plus, Dolby Atmos Height Virtualization.
DTS features: DTS HD Master, DTS:X, DTS Neural:X Upmixer, DTS Virtual:X.

Video

Video functions: 4K/120Hz, 8K/60Hz pass-through, upscaling to 4K.
Video support: HDMI ARC, HDMI CEC, HDCP2.2, HLG, HDR10, Dolby Vision.

Bluetooth/Wi-Fi: yes/yes.
Streaming service: AirPlay2, Spotify, Deezer, Tidal, Pandora, SiriusXM, Napster, SoundCloud, Amazon Music HD.