I've recently had a joyful opportunity to put my hands on Denon AVR-X6700H—a high-end AV receiver released in 2020. Undoubtedly, it is a fascinating unit, and my Denon AVR-X6700H review definitely won't leave you indifferent. So, Denon positions this model as the centerpiece of any premium home theater setup, with features that cater to audiophiles and cinephiles alike.
With 11 channels of amplification, a maximum power output of 140 watts per channel into 8 ohms, and a 13.2 channel processing capability, this receiver stands very high in the Denon product line. Commonly for its price range, the AVR-X6700H also includes an advanced DAC, a frequency response ranging from 10Hz to 100kHz, and a low THD (total harmonic distortion), delivering exceptional audio playback quality.
Features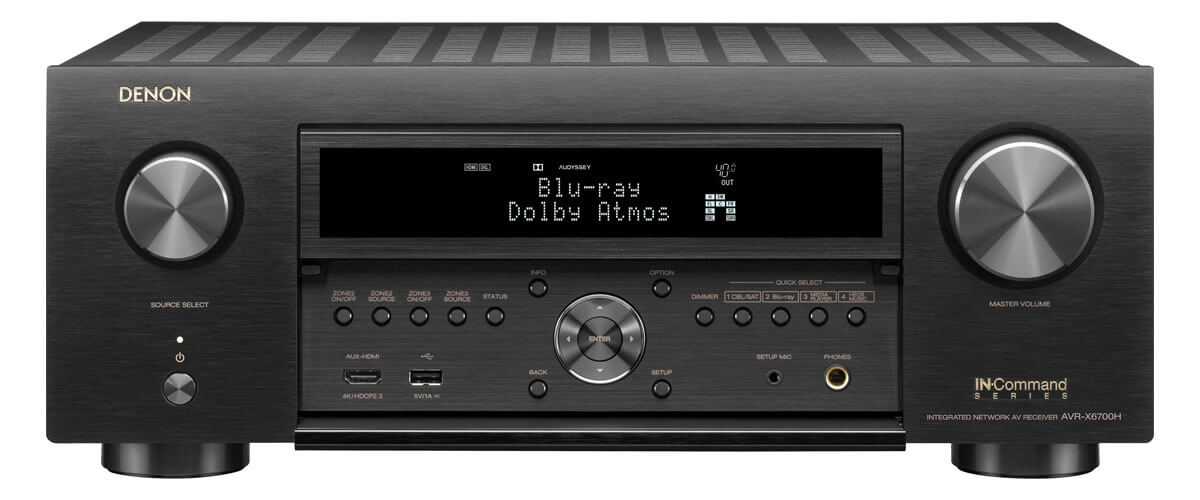 Most importantly for me, the Denon AVR-X6700H features an array of connectivity options. The set of those was pretty much sufficient for me to unite all my devices in a single system. So, the receiver comes equipped with 8 HDMI inputs and 3 HDMI outputs, all of which support the latest HDMI 2.1 specification. The AVR-X6700H can pass through 4K/120Hz and 8K/60Hz. On the video side, it also worked well with my newest Philips 77 OLED 937 due to its vast set of supported technologies. According to AVR-X6700H specifications, it supports HDR10+, Dolby Vision, and HLG families of technologies. Yet, sometimes, I prefer to turn off the Dynamic HDR to get a different picture.
Additionally, the AVR-X6700H supports HDMI ARC and eARC. While it's not something extraordinary, it certainly adds convenience. For example, with these technologies, I could use a single HDMI cable to let it exchange the info between my TV and the receiver. Also, one should never underestimate the importance of CEC because controlling all the compatible devices with a single remote is priceless.
Regarding audio inputs, the AVR-X6700H includes a phono input for connecting a turntable and a dedicated subwoofer output for enhanced bass performance. The receiver also features digital audio inputs, including two coaxial and two optical inputs and an array of analog inputs.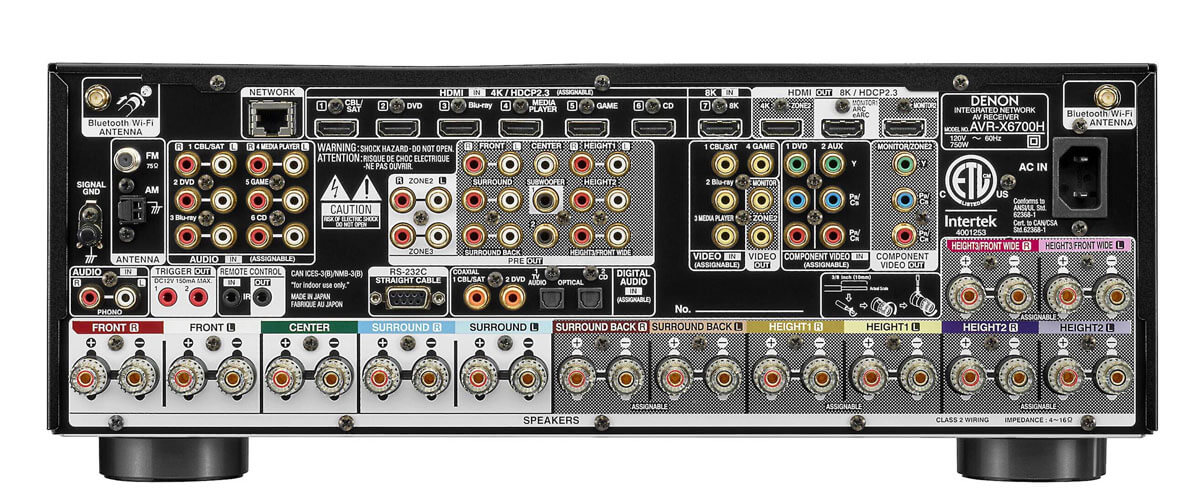 Apart from a pretty rich set of Denon AVR-X6700H features, it also has an extensive wireless connectivity option. Indeed, I prefer the wired connections, but still, it allows my kids to bring on their wires devices and, to a certain extent, share my interest in the AVR-X6700H. That day we streamed music, TikToks, and YouTube videos from their tablets. They also introduced me to their beloved singers in streaming services.
In turn, when everyone got tired, I arranged a multiroom audio system for all of us to enjoy the content we liked the most. So, this was a hardcore day for AVR-X6700H, but it lasted with dignity. Should you be surprised by this? No, because with all these audio codecs in the arsenal, it would be a massive problem if the receiver wouldn't be up to the challenge of creating the immersive audio experience and wouldn't be able to integrate all the devices seamlessly. In this case, knowing that every penny one invests in this device pays off is good.
As a gamer, I was impressed with the AVR-X6700H's gaming capabilities. I connected my gaming PC to the receiver, and the ALLM and VRR features made a noticeable difference in performance. The input lag was significantly reduced, making fast-paced games feel more responsive and fluid. The VRR technology also eliminated frame tearing, resulting in a smoother and more immersive experience. Additionally, the receiver's upscaling functions made older games look sharper and more detailed on my 4K TV.
The AVR-X6700H supports the latest and most advanced surround sound formats, including Dolby Atmos, DTS:X, DTS Virtual:X, and Dolby Atmos Height Virtualization. Dolby Atmos Height Virtualization is a particularly interesting feature, as it can create the illusion of height channels even when no physical ceiling speakers are present. This can be the case if the receiver is the first thing you buy when switching to an 11-ch setup, and yet you have to buy speakers in the future.
Sound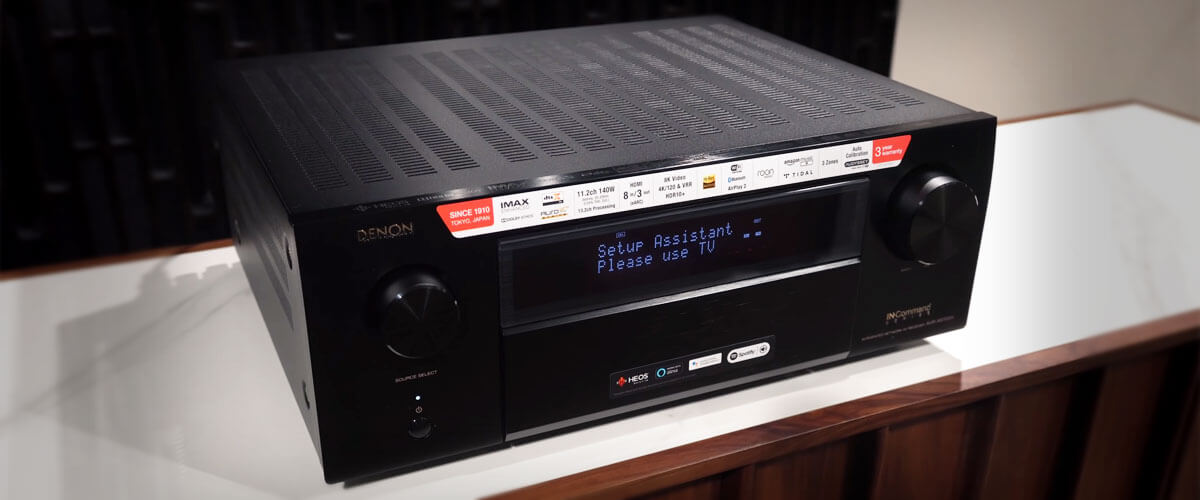 So, talking about sound, I have been blown away by the sound quality. I love how detailed and precise the sound is, even at high volumes. So, I tested this receiver with my favorite set of movies, including Blade Runner 2049, Mad Max: Fury Road, Gravity, Interstellar, The Dark Knight, Saving Private Ryan, and Avengers: Endgame. Dolby Atmos support adds a new dimension to the viewing experience, with sounds coming from all around the room. It truly feels like I am in a movie theater. This is when the AVR-X6700H truly shines, thanks to its support for modern surround sound formats like Dolby Atmos and DTS:X.
In my experience, these modern surround sound formats can enhance the overall movie-watching or music-listening experience. I love the feeling of being completely immersed in sound, with audio coming from all directions, and these advanced formats deliver on that promise. It's awe-inspiring when watching action or sci-fi movies, where the sound effects can add to the scene's excitement and drama.
Regarding music, the AVR-X6700H delivered a clean, balanced sound with excellent detail and clarity. I first began testing it with rock operas. My testing list included the full The Wicked Symphony» & «Angel of Babylon» albums, my favorite ballads by Scorpions, including Still Loving You and their more rocky songs like Rock You Like a Hurricane. Finally, my wife and I enjoyed orchestral music, including Beethoven's Symphony No. 9, Mozart's Symphony No. 40, and Holst's The Planets. The unit performed well during each part of the test, with no issues whatsoever, offering a clear and juicy sound during all my tests.
Specifications of Denon AVR-X6700H
Channels: 11.2.
Output power: 140W/8 Ohms, 175W/6 Ohms.
HDMI inputs/outputs: 7/1.
Surround sound

Dolby features: Dolby TrueHD, Dolby Atmos, Dolby Atmos Height Virtualization, Dolby Surround.
DTS features: DTS HD Master, DTS:X, DTS:X Pro, DTS Neural:X.
IMAX Enhanced, Auro 3D.

Video

Video functions: 4K/120Hz, 8K/60Hz pass-through, upscaling to 8K.
Video support: HDMI ARC, HDMI eARC, HDMI CEC, HDCP2.3, HLG, HDR10, HDR10+, Dolby Vision.

Bluetooth/Wi-Fi: yes/yes.
Streaming service: AirPlay2, Spotify, Deezer, Tidal, Pandora, SiriusXM, Napster, SoundCloud, Amazon Prime Music.