Delving into the world of home audio, Denon emerges as a highly reputable brand, delivering the great sound quality and a seamless user experience. This Denon AVR-S660H review explores a mid-priced receiver that boasts an optimal balance between affordability and performance.
Comparing the AVR-S660H to its higher-priced counterpart, the Denon AVR-S750H, you might expect the latter to be superior in every way. Interestingly, though, the AVR-S660H outshines its sibling in specific areas, including support for the cutting-edge 8K video format and enhanced gaming capabilities. While the AVR-S750H has a broader range of features, the AVR-S660H remains a dependable choice that won't break the bank.
So, let's take a closer look at this versatile AV receiver's specifications, connectivity, and overall performance to determine if it's the right addition to your home theater setup.
Features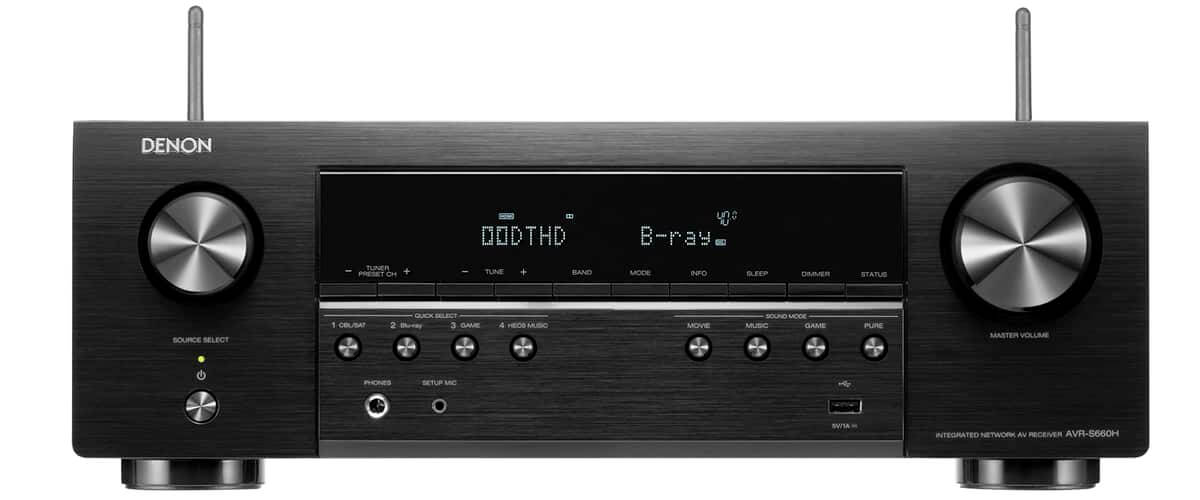 Denon AVR-S660H is designed to cater to a wide range of home theater enthusiasts. With its substantial array of features, this 5.2-channel AV receiver offers an engaging and immersive audio-visual experience. In this section, we'll delve into the AVR-S660H specifications and how they can enhance your home entertainment setup.
One of the key highlights of the AVR-S660H is its support for 3D audio formats, such as Dolby TrueHD, Dolby Surround, DTS-HD Master Audio, and DTS Neo:6.
The advanced 8K HDMI section truly sets this model apart from its competitors. With three dedicated 8K inputs that support 8K/60Hz and 4K/120Hz video pass-through, you'll enjoy stunning visuals with great color and clarity. The receiver also supports HDR10/10+, Dolby Vision, and HLG, further enhancing your viewing experience with richer colors and higher contrast. While the current 8K content is limited, investing in the AVR-S660H means you'll be future-proofing your home theater for years to come.
If you like to play video games, the 4K/120Hz pass-through, Variable Refresh Rate (VRR), Auto Low Latency Mode (ALLM), and Quick Frame Transport (QFT) ensure that your gaming sessions are both visually impressive and responsive. Say goodbye to screen tearing, input lag, and latency issues, and enjoy your favorite games as they were meant to be played.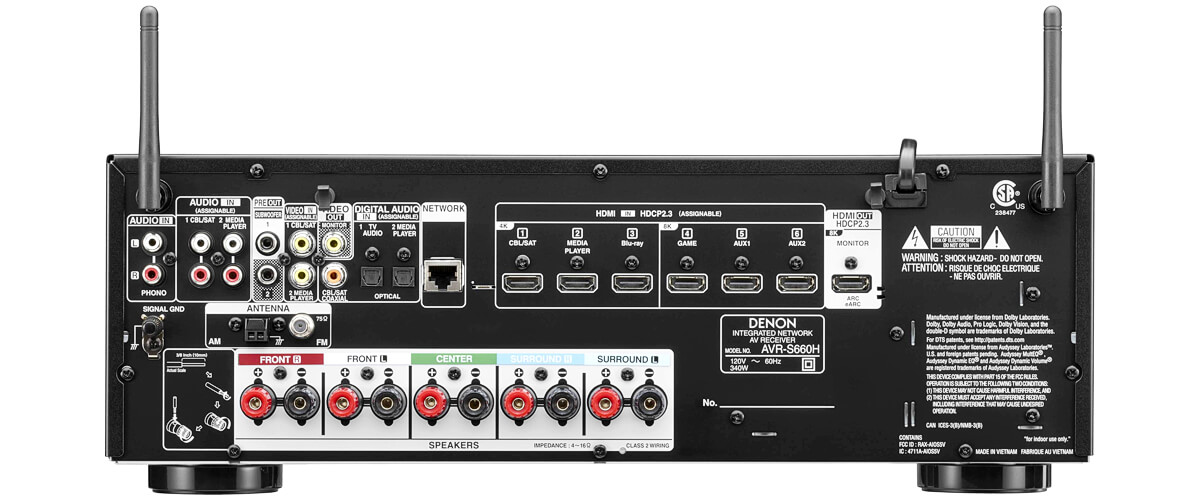 The AVR-S660H's wireless multi-room music streaming capabilities are another feature I love. With built-in HEOS Multi-Room Digital Streaming, you can stream unlimited music from popular platforms such as Pandora, Spotify, and TuneIn via Wi-Fi, Airplay, or Bluetooth. This allows you to create a seamless, high-fidelity audio experience throughout your home, whether you're hosting a party or simply unwinding after a long day.
Versatile connection options are essential for any modern AV receiver, and the AVR-S660H does not disappoint. With 6 HDMI inputs, 2 digital, 2 analog, 1 coaxial, and 1 phono input, you can connect a variety of audio sources, from CD players to turntables. The 2 pre-outs for subwoofers offer an added bonus, allowing you to enhance the bass output for a more robust audio experience.
The on-screen setup guide makes the receiver a breeze to configure. Denon's Setup Assistant provides simple, intuitive instructions for connecting your TV, specifying EQ settings, and tuning the device for optimal listening. Plus, the color-coded back panel ensures hassle-free organization of all your connections.
While I consider Denon AVR-S660H an excellent mid-range receiver, it still has some limitations. For example, the 75W per channel power output may not be sufficient for larger rooms or more demanding speakers. However, you can still achieve a powerful audio experience by carefully selecting compatible speakers or adding an external amplifier to your setup.
Sound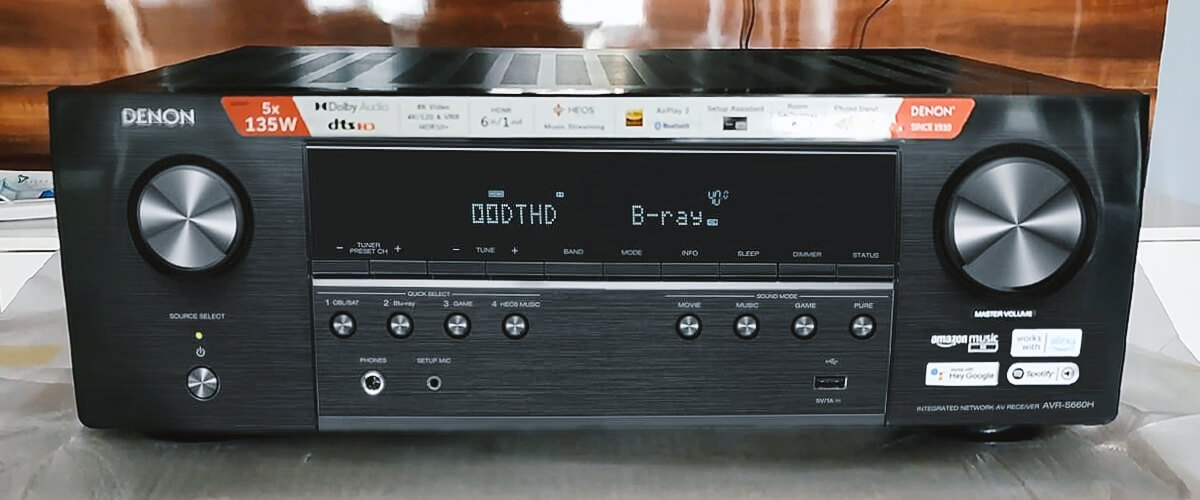 Thanks to the support for the 3D audio formats I mentioned earlier, the Denon AVR-S660H features bring cinematic soundscapes right into your living room. The receiver's meticulous calibration and tuning ensure a well-balanced, clear, and detailed audio output. I'm really impressed by the delicate whispers of a dramatic scene and the full-throttle intensity of an action sequence it can deliver.
In addition to the 3D audio formats, the AVR-S660H also excels in stereo performance, making it a versatile choice for both movie and music enthusiasts. The receiver's sound signature reflects Denon's commitment to delivering that classic, warm, and natural sound that audio fans have come to love and expect from the brand.
With the AVR-S660H, I can hear excellent instrument separation when listening to my favorite music tracks. Vocals come across crisp and distinct, while the midrange and treble frequencies are well-articulated, never sounding harsh or overly bright. The bass response is tight and controlled, providing a solid foundation without overpowering the other frequencies.
Overall, Denon AVR-S660H cannot boast the power of higher-end models, though, it delivers a commendable performance for its price range. The sound quality is clear and detailed, with the receiver handling various audio formats effectively.
Specifications of Denon AVR-S660H
Channels: 5.2.
Output power: 75W/8 Ohms, 100W/6 Ohms.
HDMI inputs/outputs: 6/1.
Surround sound

Dolby features: Dolby TrueHD, Dolby ProLogic II.
DTS features: DTS HD Master.

Video

Video functions: 4K/120Hz, 8K/60Hz pass-through, upscaling to 8K.
Video support: HDMI ARC, HDMI eARC, HDMI CEC, HDCP2.3, HLG, HDR10, HDR10+, Dolby Vision.

Bluetooth/Wi-Fi: yes/yes.
Streaming service: AirPlay2, Spotify, Deezer, Tidal, Pandora, SiriusXM, Napster, SoundCloud, Amazon Prime Music.