A decent home theater can be built only with a suitable AV receiver. That's a fact that every member of tech society knows and supports. And it's still hard to believe that the technology that became an essential point in transmitting movie sounds indoors is even less than half a century old.
The AV receiver evolution began in the 1980s and has never stopped. It continues to surprise the new generations of technophiles and bring new emotions and experiences to ordinary music lovers and movie fans. But it's always interesting to know where all these began. So today, we will get back in time and follow the history of AV receiver technology.
The birth of AV receivers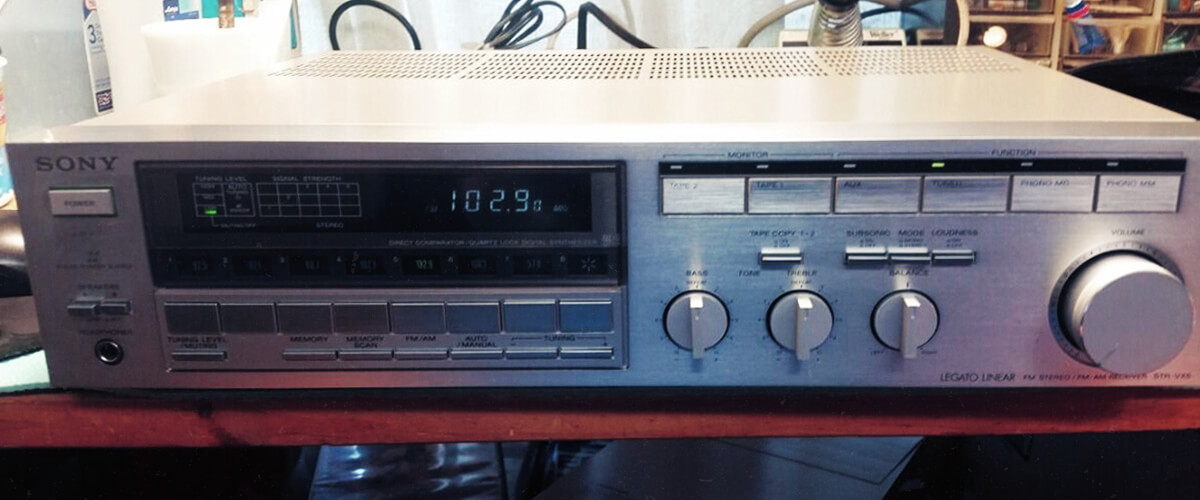 The AV receiver history began not in the mid-1980s but at the beginning of the 20th century when electronic amplification technology was developed. It allowed sound to be amplified and played through loudspeakers. After such a discovery, the era of radio broadcasting began, which enabled people to listen to recorded music in their homes.
Early audio equipment and the rise of home entertainment
In the 1950s, introducing the first transistor radios allowed people to take their music wherever they wanted. These systems, which typically included a turntable, amplifier, and speakers, were designed to reproduce sound with higher accuracy and clarity than previous audio products. The technologies continued to evolve, and the appearance of new equipment was just a matter of time. In the mid-60s, high-fidelity audio equipment, known as Hi-Fi, appeared and gradually conquered the market.
In the 1970s, the world saw the first videocassette recorder (VCR) and home video game consoles. The beginning of a new era of home entertainment begins.
First AV receivers and their impact on the industry
Then came 1980, and Sony Company released its first AV receiver STR-VX5. It was a real breakthrough in the technology world with 4 channels and a built-in Dolby noise reduction system that allowed people to feel the sounds in a new way.
The major innovation that the STR-VX5 offered to users was its digital tuning system, which allowed it to preset up to 16 FM and 8 AM radio stations. The model also featured two phono inputs for turntables, a tape loop for cassette decks, and two pairs of speaker outputs.
During the same period, Yamaha and Pioneer also launched their first AVRs – Yamaha RX-4600 and the Pioneer VSX-9300 could create good competition for Sony's product. But in 1984, Panasonic released Technics SA-1000, which had 5 channels, 330 watts of power, a Class A amplifier, a built-in FM tuner, and a wide range of inputs and outputs. In the mid-1980s, this unit became something unique that every audio enthusiast liked to test, but only the wealthy could do that because it cost a small fortune.
You can still find most of these vintage receivers on online markets. They have become good trophies for collectors. Despite their age, some of them can still perform well if we are talking about sound and audio effects
Technological advancements in AV receivers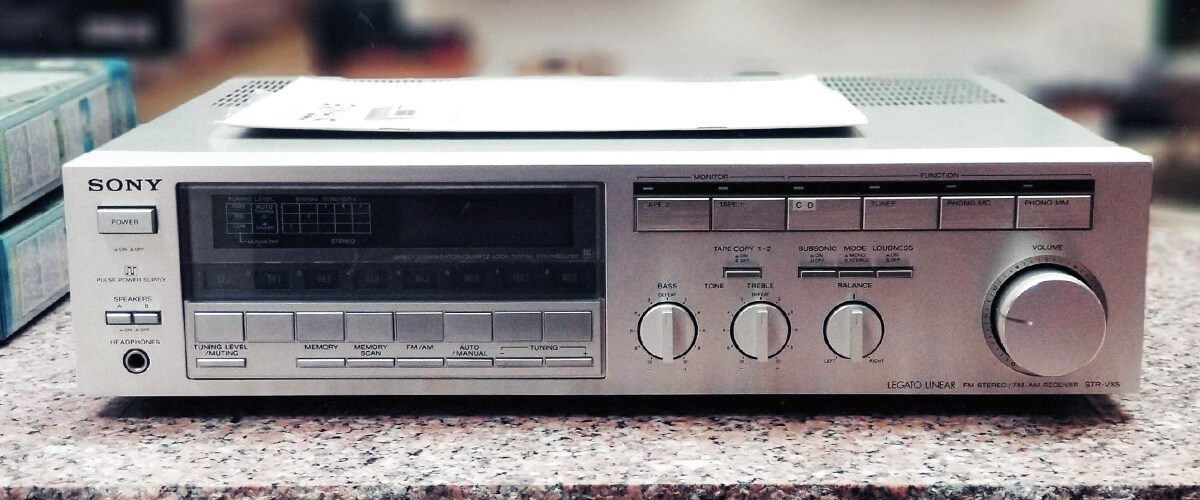 Today you won't surprise anyone with some new technological improvements. Still, the advancements in AV receiver features from the end of the 1980s until the early 2000s developed rapidly, so something new appeared every 5 or 10 years. I have highlighted the most important innovations of that period.
Introduction of surround sound technology
In 1982 Dolby Laboratories introduced people to the Dolby Surround sound system (later it was improved to Dolby Pro Logic) with 4-channel audio and compatibility with stereo equipment. It was another breakthrough in the world of sound, so the company started implementing the technology in its products. The first AVR, with the support of the Dolby Surround sound, was the Yamaha RX-4600, released in 1986.
Most Dolby Pro Logic decoders used analog circuitry with mediocre separation and real-time signal routing, also known as "steering" between the left, center, right, and surround channels. In 1991 Yamaha developed a digital surround decoder integrated circuit that provided digitally controlled "steering" for better surround sound.
The role of digital signal processing
In 1993 Yamaha launched its new product with the latest technology. The company's RX-V870 supported CINEMA DSP, which enhanced the Dolby Pro Logic technology and helped to create the premium surround presentation.
This technology helped to transfer the surround sounds from cinemas into homes with 70-mm mode. It made it possible to create a feeling of spaciousness and depth of the sound stage, even in relatively small listening rooms.
HDMI and the integration of video switching
Today we can't imagine any AVR without several HDMI inputs/outputs. The High-Definition Multimedia Interface technology was introduced in the early 2000s', and it was planned to become a digital replacement for analog video sources, yet it transformed into something bigger. It helps to connect different devices, so they can work smoothly together and deliver the maximum effect. Today, HDMI can be used to transmit high-definition video and multi-channel audio, as well as various control signals. In a word, it is the "universal connector" for all modern devices.
The emergence of multi-channel surround sound formats
But we know that AV receivers are more about sound, and their manufacturers know that too. So they always try to focus on technologies that grant the finest surround sound effect.
Dolby Digital and its impact on the sound
The technology comes from cinemas directly to home theaters. Those who grew up in the 1990s know what a mind-blowing technology it was – you can listen to the sounds in the movies from a new perspective, and it was a real shock and pure joy!
First, it was used in 5-channel receivers that can perfectly transmit all the nuances of the sounds. This technology used advanced compression algorithms to deliver high-quality audio with a high signal-to-noise ratio and minimal distortion, supported a range of bitrates from 192 kbps up to 640 kbps, and allowed the creation of multi-channel audio.
DTS and its influence on the market
The company has become a real competitor of Dolby Laboratories. DTS also started its career with the cinemas and later switched to the receivers market, where it feels good – most AVRs support its technology that keeps developing.
The development of object-based audio formats (Dolby Atmos, DTS:X, Auro-3D)
2015 brought us a new era of surround sound with the Dolby Atmos, DTS:X, and Auro-3D formats. Again, the technologies used only in big cinemas come to people's homes and set new levels of the movie-watching experience. It's like a 3D effect, but with the sound.
For clarity, I gathered their capabilities and features in the table so that you could easily see the difference between them.
| Feature | Dolby Atmos | DTS:X | Auro-3D |
| --- | --- | --- | --- |
| Object-based | Yes | Yes | No |
| Channel-based | No | No | Yes |
| Maximum speakers | 64 (theater) | 32 (theater) | 13.1 (theater) |
| Maximum audio objects | 128 | Not specified | Not specified |
| Height channels | Yes | Yes | Yes |
| Compatibility with existing setups | Limited | Limited | Yes |
As you can see, each format has its own peculiarities, but all of them are nowadays successfully used to provide incredible emotions of 3D sound.
The rise of networked AV receivers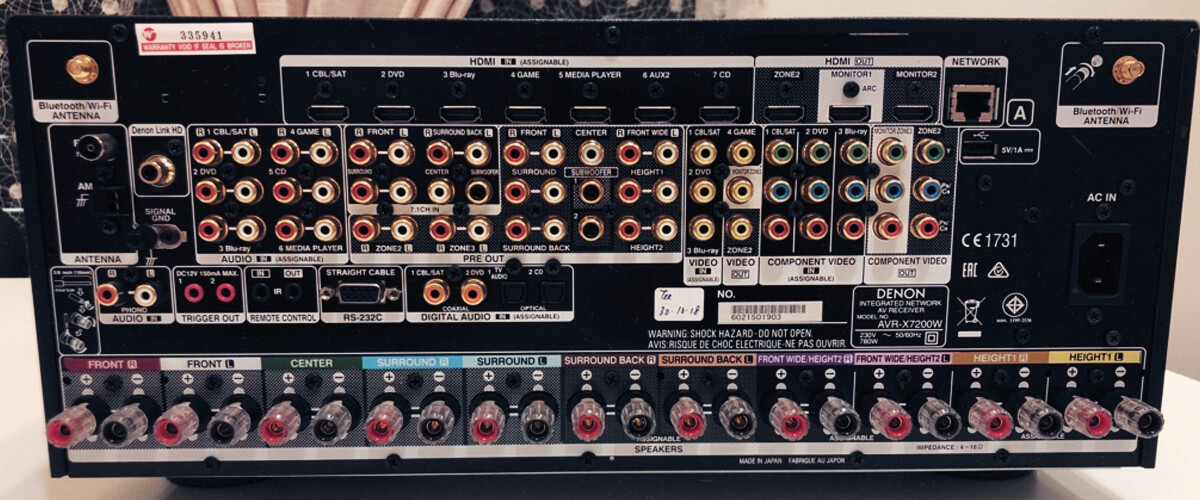 Modern AVRs have a lot of differences when compared to old receivers. Now they look more like part of the intelligent house. They can be controlled with voice assistance. They can set the optimal audio options for your home or apartment using such technologies as Surround: AI and Audyssey. They have Bluetooth and Wi-Fi, support for wireless subwoofers, their own OS, and a lot of streaming services for better entertainment, including Spotify or AirPlay 2.
Modern receivers are not just improvements of home theaters. Instead, it's a new level of entertainment that will be even bigger shortly.
The future of AV receivers
We took a brief look into the past, so now it's time to discuss future trends in AVR technologies. Some manufacturers think AVRs will focus on better internet support, streaming services, 3D pictures, and audio advancement, so the system can easily be set up for any room. Also, simplicity is the core element because the developers want their products to be user-friendly to attract more attention.
So soon, AVR can become the primary system to grant access to any entertainment you want without leaving your house. All we need is to wait for a little while.