In this Yamaha RX-V385 review, I delve into an AV receiver that offers a remarkable blend of functionality and affordability. I'm always on the lookout for products that strike the perfect balance between performance and value.
The Yamaha RX-V385, a 5.1-channel AV receiver released in 2019, has certainly caught my attention, boasting technologies such as Dolby Vision, 4K Ultra HD, HDR10, and Bluetooth, all at a price point that won't break the bank.
Features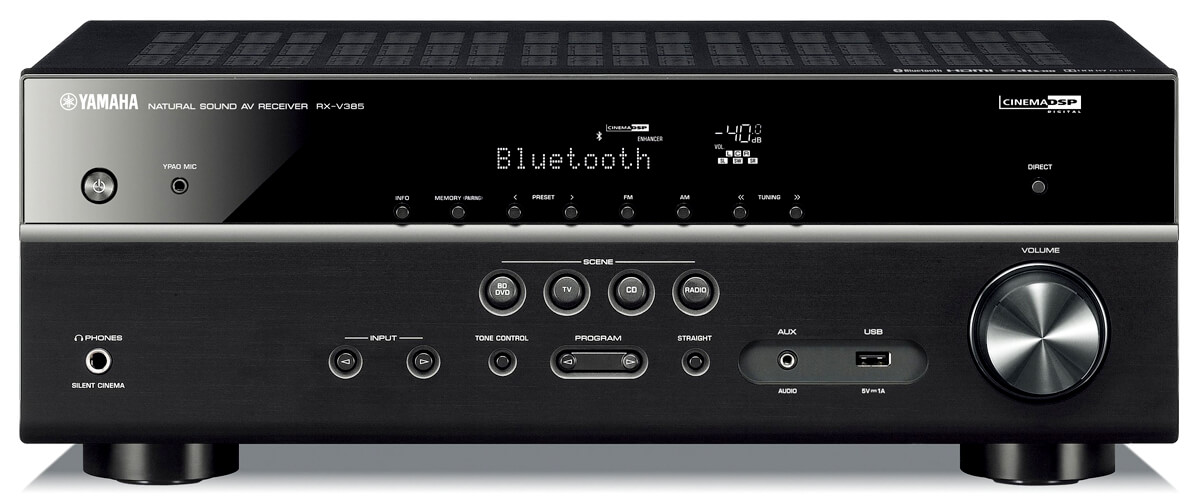 Diving into the RX-V385 specifications, I can confidently say that this 70-Watt AV receiver packs a powerful punch in terms of features and performance. Its 5.1 channel surround sound delivers a pleasant audio experience, making any movie night or music session truly immersive. With wireless connectivity via Bluetooth, you can effortlessly stream audio from your gadgets without the hassle of additional cables. Plus, there is a Music Enhancer – a specially designed feature to optimize Bluetooth audio transmissions. It delivers dynamic and vibrant sound quality during wireless listening.
Next, the HDMI 2.1 interface with HDCP 2.3 offers versatility in connecting a wide range of devices, thanks to its four inputs and one output. I love that all jacks accept banana plugs – you won't need to deal with flimsy spring clip connectors and copper wire oxidation.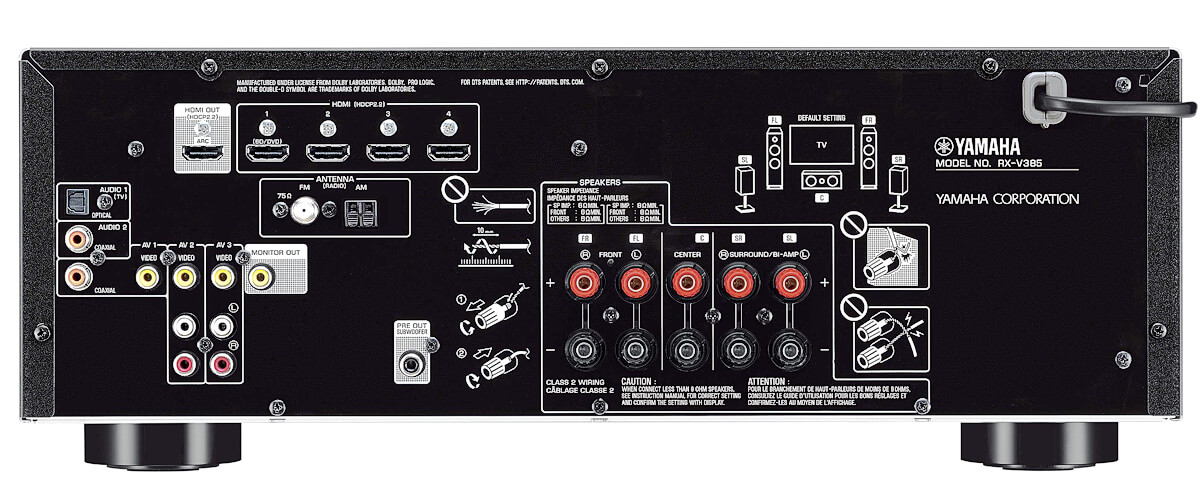 One of the standout features of the RX-V385 is its YPAO auto-calibration technology, which optimizes the sound according to the room's unique acoustics. This, coupled with Yamaha's exclusive Cinema DSP, enables the playback of HD Audio formats, such as Dolby TrueHD and DTS HD Master Audio, creating an expansive and natural soundstage that leaves me spellbound.
The ability of this AV receiver to transmit 4K video at 60 frames per second ensures a lifelike and vivid visual experience. Its support for HDR video, including Dolby Vision, Hybrid Log Gamma, and BT.2020, further improves contrast, color smoothness, and brightness.
Another thing I appreciate about this unit is that it can be controlled via Android or iOS gadgets, so you can comfortably adjust the volume or access additional settings.
Finally, the RX-V385 weighs only 17 pounds and has a slim appearance, easily fitting in tight spaces.
Sound
I must say, this model has genuinely impressed me with its pretty good sound quality. This is thanks to the expertly designed discrete amp configuration and low-jitter PLL circuit, which work together in perfect harmony.
I also love the RX-V385's bi-amping capability for compatible front speakers. This clever approach drives high and low ranges with independent amplifiers, providing greater power and minimizing interference between frequencies. The result? Front speakers produce refined, crystal-clear audio that elevates the entire listening experience.
Furthermore, this receiver boasts low-range enhancement technology, which extracts deep and rich bass from even compact speakers. Combined with a subwoofer, this technology enhances the entire low-frequency range, creating a powerful and immersive soundscape for movies and music alike.
In conclusion, the Yamaha RX-V385 has won me over with its audio performance and well-thought-out features. Its ability to deliver powerful, immersive sound makes it a top choice for anyone looking to improve their home theater experience with an AV receiver that won't ruin the family budget.
Specifications of Yamaha RX-V385
Channels: 5.1.
Output power: 70W/8 Ohms.
HDMI inputs/outputs: 4/1.
Surround sound

Dolby features: Dolby TrueHD, Dolby Digital Plus.
DTS features: DTS HD Master.
Cinema DSP.

Video

Video functions: 4K/60Hz pass-through.
Video support: HDMI ARC, HDMI eARC, HDMI CEC, HDCP2.3, HDR10, Dolby Vision.

Bluetooth/Wi-Fi: yes/no.
Streaming service: has not.