I have prepared my review of the Yamaha RX-A6A, a powerful and popular AV receiver for those looking for a multifunction device for the home. The brand released this model in 2021, and many connoisseurs consider it an improved version of the Yamaha RX-A3080, which was also popular. RX-A6A is positioned as a mid-range receiver but will suit even those who are tech-savvy and have pretty high demands for sound quality. So let's take a closer look at it.
Features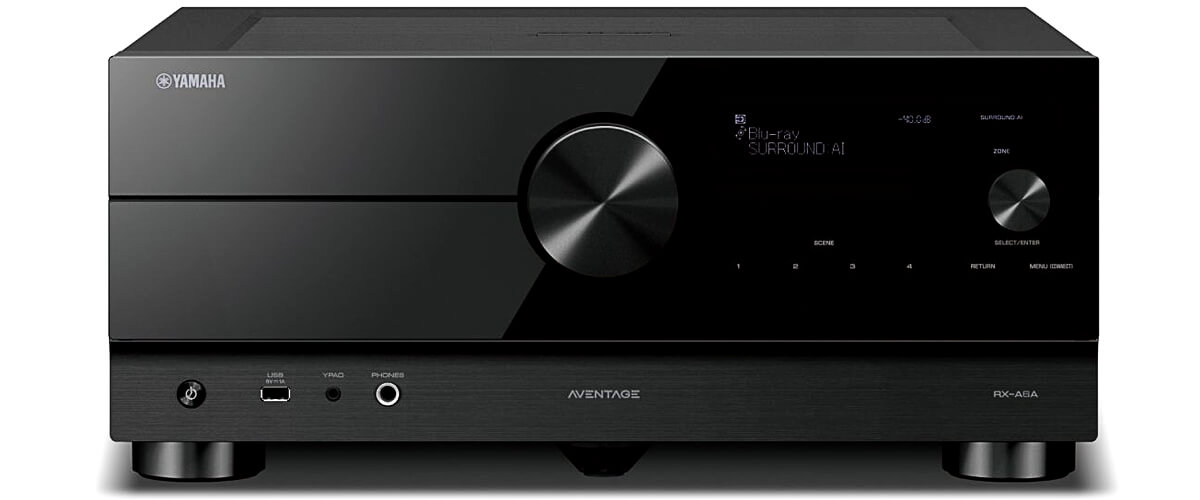 One of the most interesting features of the Yamaha RX-A6A is the ability to use 11 channels, while the original configuration is 9.2. This means that you can connect up to 11 speakers to the receiver, including height and width channels, for more accurate and faithful sound and 2 subwoofers. Producing 150 watts per channel at 8 ohms load, it has an impressive frequency response ranging from 10Hz to 100kHz, providing superior sound quality at all frequencies. In addition, the RX-A6A supports speakers with impedance from 4 to 16 ohms, so it's compatible with virtually any speaker system, and you don't need to purchase additional dedicated speakers. Therefore, I don't think explaining that this receiver is suitable for placement in a huge room is necessary.
But what makes the Yamaha RX-A6A different from other 11-channel receivers on the market? The answer lies in Yamaha's unique technologies, including its proprietary Cinema DSP 3D processing and Surround:AI technology. Cinema DSP 3D processing uses advanced algorithms to create a more natural and immersive sound scene. At the same time, Surround:AI analyzes the content being played and automatically adjusts sound parameters according to the scene, creating a more dynamic and realistic experience.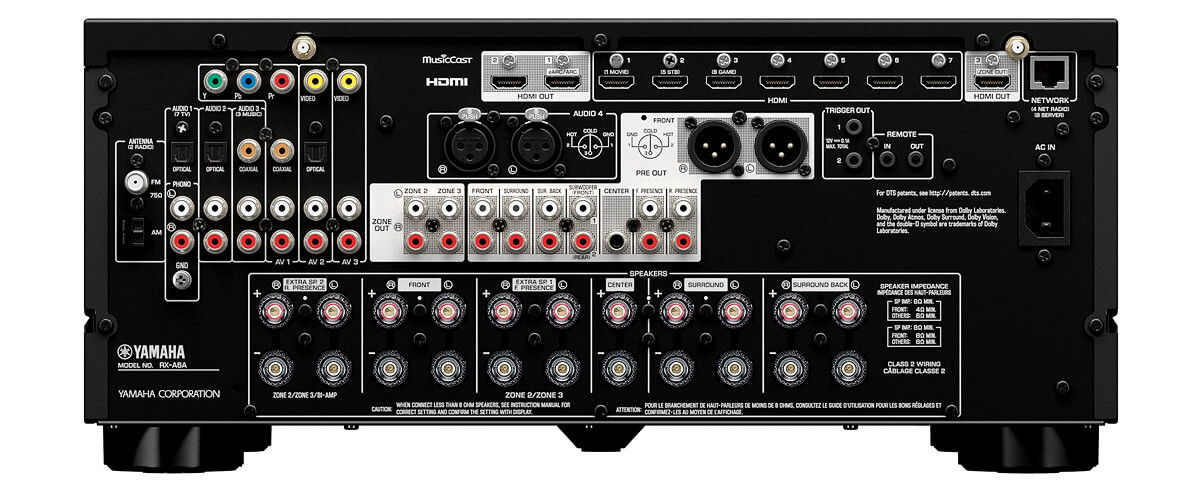 The RX-A6A receiver specifications have a range of connections, including component connections, making it a great choice for anyone with different equipment (including a turntable). It has seven HDMI 2.1 inputs and three outputs (with ARC and eARC support), all of which support HDCP 2.3 and high-quality video in HDR10, HDR10+, Dolby Vision, and HLG formats. The RX-A6A also supports 8K/60Hz and 4K/120Hz video processing and video scaling capabilities to improve picture quality.
This AVR also supports wireless connectivity, including Wi-Fi, Bluetooth, and AirPlay 2. You can listen to streaming content from Spotify, Pandora, Tidal, Amazon Music, and others in Hi-Res. I really like its features for music lovers, which I am, especially since the receiver allows you to stream audio to 4 Zones. This is awesome for a large house with many rooms. After all, I'm ready to listen to music around the clock and everywhere.
The receiver also supports the latest Dolby Atmos, DTS:X, and Auro-3D formats and Dolby Atmos Height Virtualization. So if you have floor-standing speakers adapted for Atmos, you don't have to drill holes in the ceiling.
Sound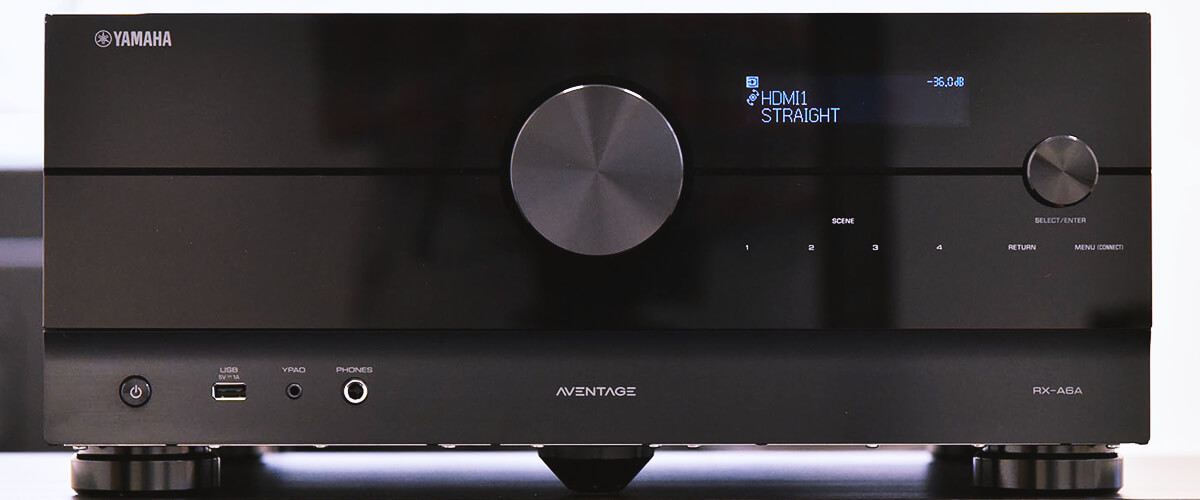 What can I say about sound quality? The Yamaha RX-A6A delivers clear, powerful, and engaging sound. During my testing, the receiver showed excellent sound quality, with a good balance between bass and treble.
When I tested the Yamaha RX-A6A with the movie Interstellar, the sound was incredibly realistic, with excellent dialogue clarity and accurate background music and sound effects. I have to say that the way this receiver reproduces powerful bass amazed me. I'm sure that such power will impress even the most demanding audiophile.
And, of course, Yamaha fans will appreciate its specific sound, but it may seem cold to those who are not yet familiar with the brand. So I recommend listening to the receiver in action before deciding. Who knows, maybe you will fall in love with Yamaha forever.
Specifications of Yamaha RX-A6A
Channels: 9.2.
Output power: 150W/8 Ohms.
HDMI inputs/outputs: 7/3.
Surround sound

Dolby features: Dolby Atmos, Dolby TrueHD, Dolby Surround, Dolby Digital Plus, Dolby Atmos Height Virtualization.
DTS features: DTS HD Master, DTS:X, DTS Neural:X, DTS Virtual:X.
Auro 3D.

Video

Video functions: 4K/120Hz, 8K/60Hz pass-through, upscaling to 8K.
Video support: HDMI ARC, HDMI eARC, HDMI CEC, HDCP2.3, HDR10, HDR10+, Dolby Vision.

Bluetooth/Wi-Fi: yes/yes.
Streaming service: AirPlay2, Spotify, Deezer, Tidal, Pandora, SiriusXM, Napster, SoundCloud, Amazon Music HD.