The Marantz NR1200 is a slim, compact stereo receiver that combines high-quality sound with modern features and connectivity. The receiver's sleek design makes it easy to fit into tight spaces or blend seamlessly with other home theater components. But what's most valuable for its price is that the NR1200 is a great option for music lovers and home theater enthusiasts alike. For comparison, in my Marantz NR1200 review, I will discuss its advantages and disadvantages compared to the Yamaha R-N602 since both receivers have a similar price and comparable features.
Features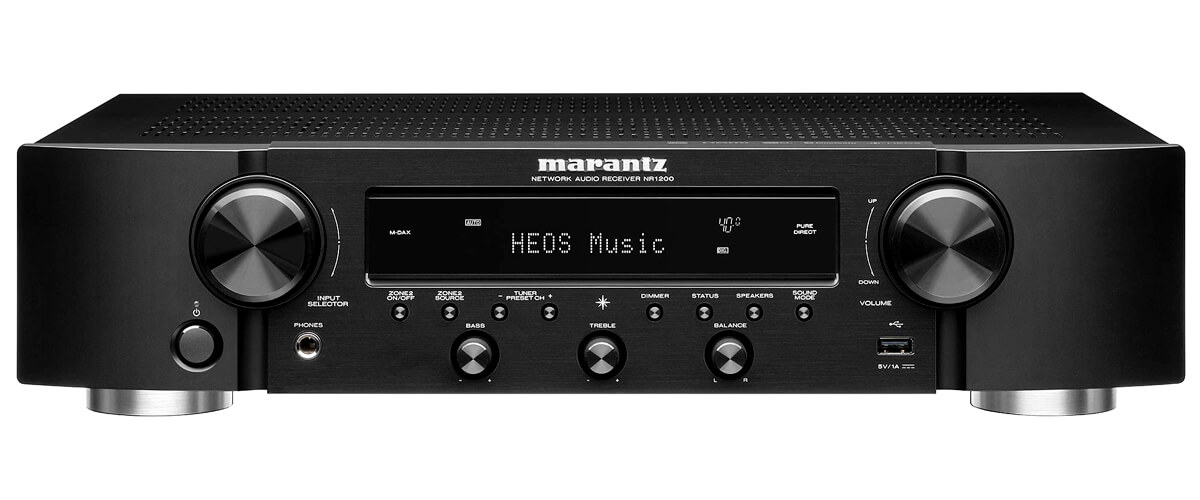 As I said, the Marantz is a nifty device with a more compact design than the standard large-size Yamaha R-N602. At the same time, it is not much inferior to the latter in terms of power, having 75 watts per channel (8 ohms, 20 Hz – 20 kHz, 0.08% THD). But let me state one thing right off the bat. I wouldn't even choose between these models if I preferred to listen only to music without being able to watch videos. The Yamaha R-N602 is not much more powerful, but it has a lower THD of 0.04%, which is very important in terms of sound clarity. However, the Marantz NR1200 is unique because it has AV receiver features without being an AVR per se. At the same time, it remains a good stereo receiver with Hi-Res audio support.
Other specifications of the NR1200 that Yamaha doesn't have are connection options through its HDMI ports. The receiver has as many as 5 HDMI inputs and 1 HDMI output (ARC) and supports full-speed 4K/60Hz playback and HDCP 2.3. Moreover, this makes it compatible with modern TVs and other 4K devices. So you can play videos in HDR and HLG quality. It also has analog and digital audio inputs and a phono input for players (Yamaha has them). Just great for a device in this category, isn't it?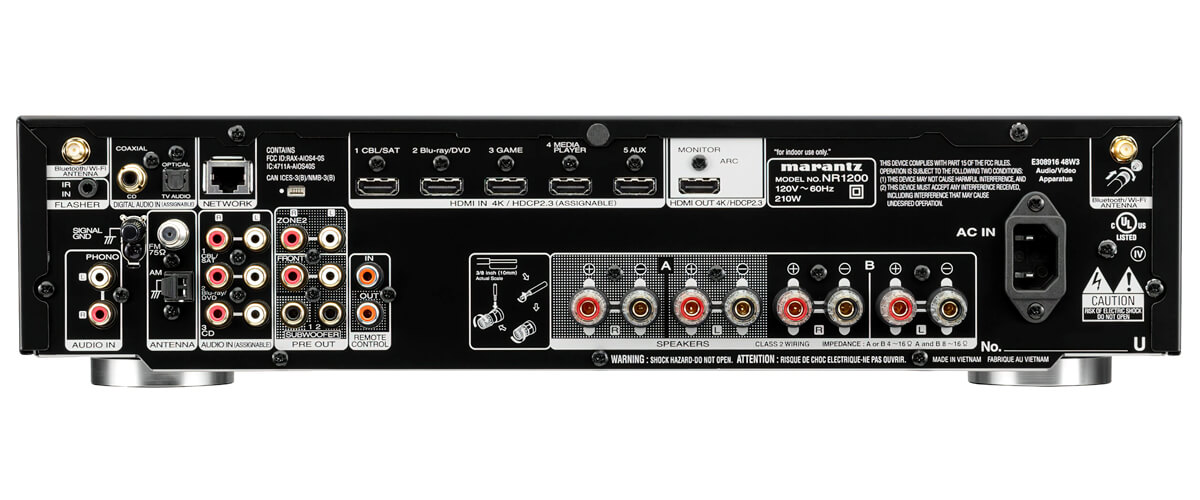 While the Marantz won't allow you to stream audio to other areas because it doesn't have Multi-room connectivity, the HEOS technology nonetheless makes up for this option. It integrates with popular streaming services like Spotify, Tidal, and Pandora. In addition, built-in Bluetooth and Wi-Fi for wireless streaming allow you to use AirPlay 2 or stream videos from YouTube and Netflix. These options are important to me because I use a lot of streaming platforms, so I consider this an unqualified advantage of the NR1200 in its category. It even supports Roon Tested and the Marantz AVR Remote app (available for iOS and Android), allows you to control the receiver from your smartphone or tablet (connect any iOS and Android device), and even integrates with Amazon Alexa, Google Assistant, and Apple Siri.
One common problem is that the NR1200 may become warm, especially with prolonged use or at high volume. But this is a fairly common story; just ensure it is properly powered and ventilated.
Sound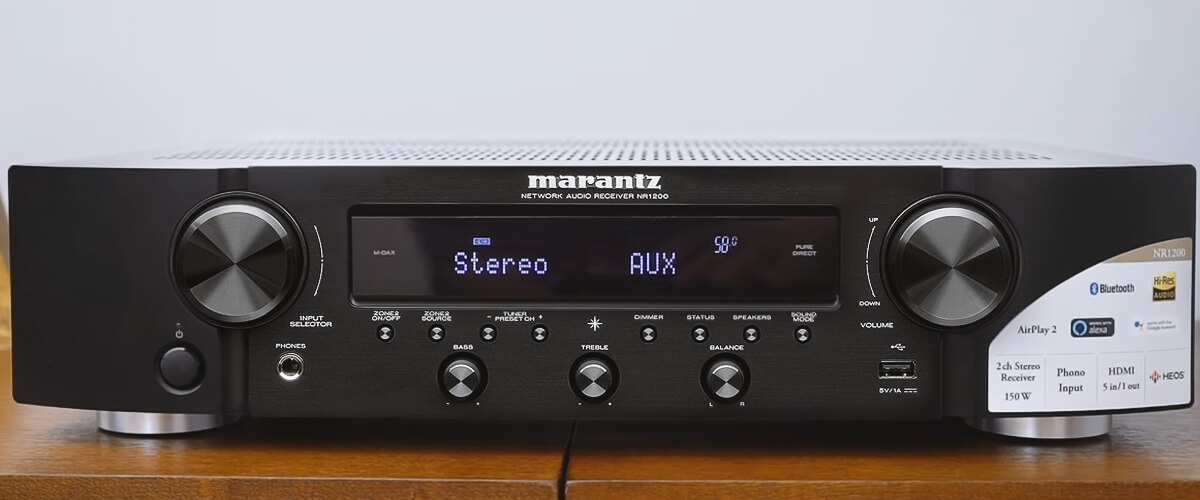 You won't find a calibration system here, but in my experience, the Marantz NR1200 adapts and adjusts quickly in the room. Its ability to handle dialogue and various frequencies with high clarity and precision creates an immersive atmosphere that brings movies to life. In addition, I would note the balanced reproduction of high, mid, and low frequencies to represent all aspects of the sound spectrum during the listening experience, from subtle whispers to thunderous explosions.
As for the music, I didn't notice any shortcomings in the wireless broadcast, and I was particularly pleased with the analog sound of one of my favorite records by The Beatles. So I was satisfied, although I couldn't have expected the worst from Marantz.
Specifications of Marantz NR1200
Channels: 2.1.
Output power: 75W/8 Ohms, 100W/6 Ohms.
HDMI inputs/outputs: 5/1.
Surround sound: has not.
Video

Video functions: 4K/60Hz pass-through.
Video support: HDMI ARC, HDCP2.3, HLG, HDR10.

Bluetooth/Wi-Fi: yes/yes.
Streaming service: AirPlay2, Spotify, Deezer, Tidal, Pandora, SiriusXM, Napster, SoundCloud, Amazon Music HD.