Welcome to my AV receivers buying guide! Here you will find comprehensive information about av receivers available in today's market. There is a wide range of av receivers out there, but which one is right for you?
This buying guide will help you answer some questions, explain how to choose a receiver, and make it easier to find the unit that meets all your needs.
What is an AV receiver?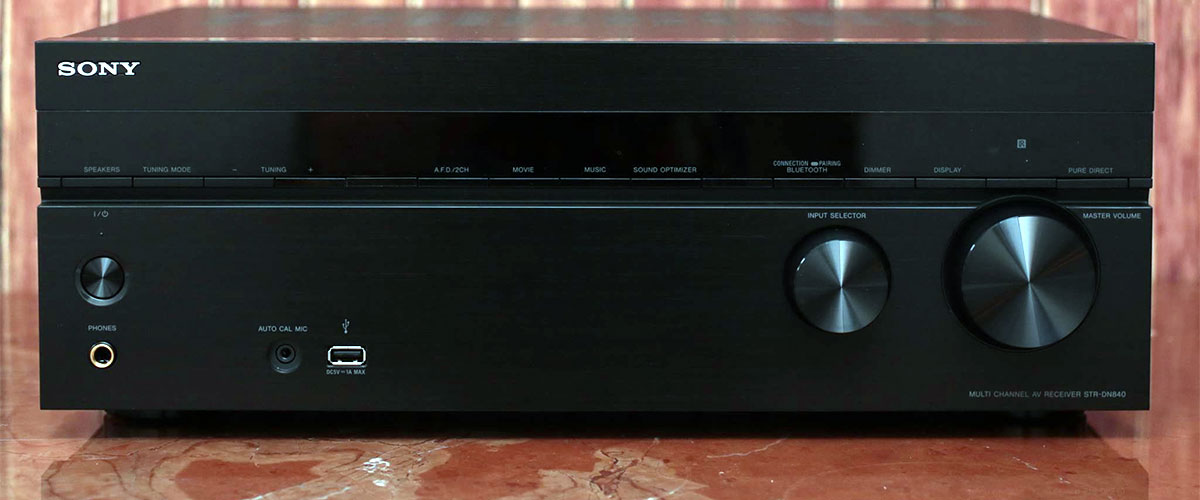 An av receiver is an audio and video element that amplifies, decodes, and transmits signals to the speakers. It can also act as a digital media streaming unit for all audio on your computer, tablet, phone, etc.
In other words, it's the core or brain of the home stereo system through which all gadgets are connected: TV, DVD player, turntable, etc.
What type of receiver do I need?
Av receivers are divided into two categories, each with its own set of features. Here is a quick breakdown:
A stereo receiver or 2-channel receiver – is mainly used for listening to music and features two amplifiers. An audio receiver's two amplifiers will power 2 speakers, and while you can add a 2-channel receiver to a television, it won't decode Dolby or DTS surround sound.
You may also come across integrated amplifiers when shopping, they are basically the same as 2-channel receivers but without the AM/FM tuner.
Surround sound receiver – the best surround sound receiver is the right choice for people who want premium quality surround sound experience possible and are willing to pay a little more for that privilege.
Surround sound receivers were created mainly for televisions to provide an authentic cinema-like experience at home. In this case, they perform better than stereo receivers. As previously stated, a stereo receiver and television combo do not provide surround sound on their own.
So, the type of receiver you need to buy will totally depend on your priorities and budget.
How to choose the right receiver?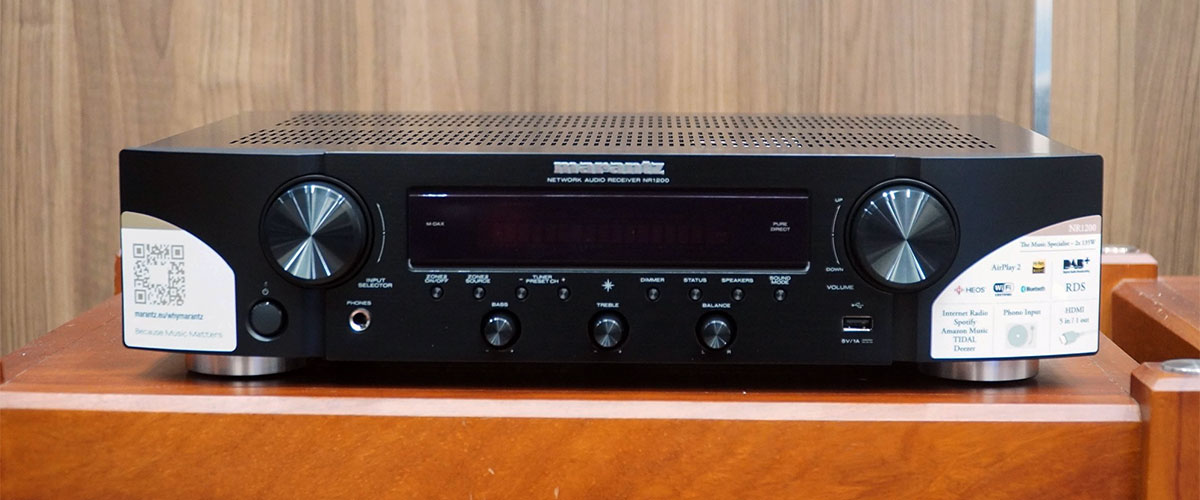 When you're selecting a receiver, remember that the principal task of this gadget is to satisfy your audio needs both in music and video, and connect all units of your home cinema. So, what to look for in a receiver? Let's dive deeper to figure out the answer!
How many amplification channels do I need?
The number of speakers you can install is determined by the number of amplification channels on your receiver.
I do recommend investing in the model with at least 7 channels. Even if you just listen to music, you'll have room for improvements with a multi-channel home theatre receiver. And as soon as you need it, you'll get big, thrilling, surround cinema sound.
Let's split down the advantages by channel:
2.0 channels – you can add only 2 speakers.
2.1 – you can hook up a subwoofer.
3.1 – a center channel speaker can be used to make the conversation appear to come from the center of the TV screen.
5.1 – this is where we begin discussing home theater audio. Now we're at 5.1, with two more speakers in the back of the room delivering surround sound.
5.2 – it means you hook up a second subwoofer.
7.1 – larger spaces, particularly those with a sofa that is set back from the wall, may necessitate rear surround speakers, bringing us to 7.1.
9.1 or higher – you can hook up two or even more speakers in the ceiling for a thrilling surround sound – Dolby Atmos – we're talking about true 3D sound, in which any sound can emerge anywhere in the room.
How many watts per channel do I need?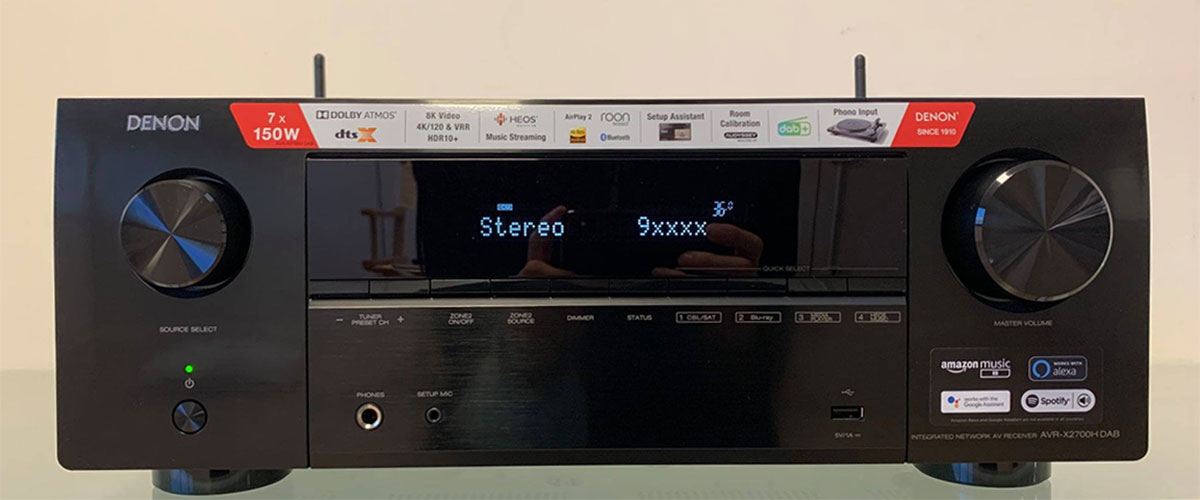 "Watts per channel" indicates how much power a receiver can deliver to speakers on each output channel, with one speaker hooked up to each channel.
Good news! Most models on the market have enough wattage to drive your speakers, but it can be helpful to know how much they are capable of producing so you don't accidentally push them too hard and blow out your speaker system.
Receivers typically have power outputs ranging from 50 to 200 watts per channel. But how many watts do you need? Keep the following factors in mind when making a choice:
Consider the room size and how loudly you want to play your movies or music. If the room is huge and you want it very loud for long periods, you may need a receiver with 150 watts per channel.
If the room is of average size and your speakers are sensitive (87-90 decibels), pick from 70 watts per channel receiver.
A unit featuring from 100 watts per channel is powerful enough for almost all home theaters.
What will I be connecting to the receiver?
Do think about it before buying any model! Make a list of your current media devices and those you plan to purchase soon. You'll need a separate input port on the receiver for each streaming device, cable box, video game system, DVD/CD/Blu-ray/record player, and computer. It would be wise to pick a model that has at least one extra input than you need now, so you can expand your stereo system in the future.
Next, think about how many speakers you own or want to have. Like media devices, each speaker requires its own input port.
Ensure your model has enough up-to-date ports (HDMI, USB, etc.). Finally, it would be great if it could connect wirelessly via Bluetooth or WiFi, so you don't have to mess with cables!
Inputs and outputs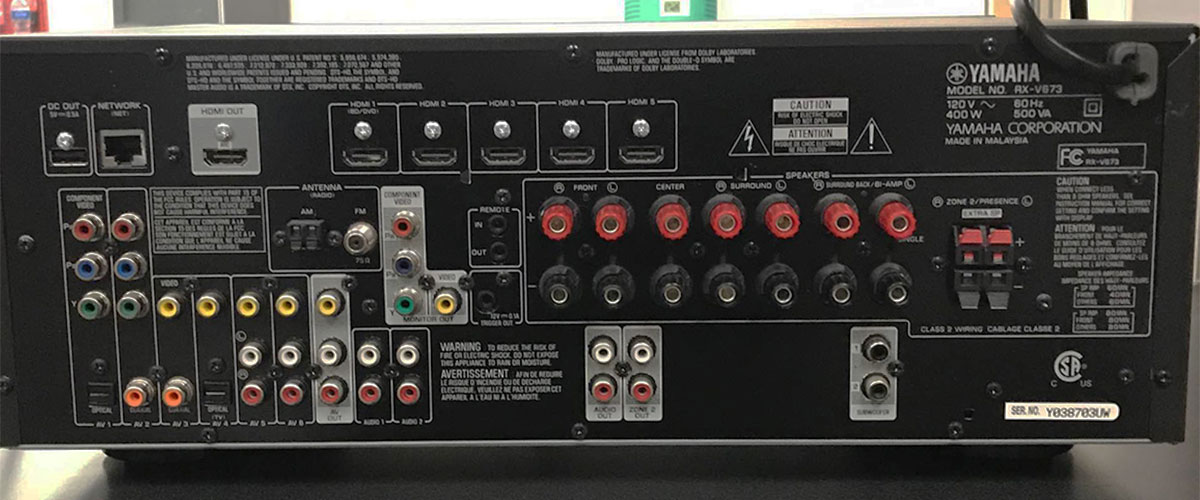 Now it's time to think about how you'll connect your gadgets to the receiver.
All modern receivers come with HDMI inputs, which are the standard for sending high-definition video and audio signals. Nowadays, HDMI (High-Definition Multimedia Interface) is used in everything from cable boxes to streaming devices and game consoles. So, it is helpful to have an av receiver featuring multiple HDMI inputs. This way, you won't need individual av cables for each gadget!
Over the years, the HDMI has developed, and new versions appeared, so let's take a closer look at them:
DMI ARC (Audio Return Channel) – lets you send audio from a compliant HDMI port on your screen to a compliant HDMI ARC port on a soundbar or receiver without using additional wires.
HDMI eARC (Enhanced Audio Return Channel) – the next generation of ARC that transmits premium-quality sound from the television to the speakers or AV receiver. It supports formats like Dolby Atmos, Dolby TrueHD, DTS:X, DTS-HD Master Audio. Devices with compatible HDMI eARC ports are required so that everything works smoothly.
HDMI CEC (Consumer Electronics Control) – eliminates the need for several remotes to control the level on the speakers or amp.
HDCP (High-bandwidth Digital Content Protection) – is a copy protection standard for HDMI connections for cable boxes, Blu-ray players, and Roku streaming devices. Without HDCP, you won't be able to enjoy 4K UHD or 4K UHD HDR, and your player will automatically select 720p or 1080p.
Which other outputs and inputs may your receiver need?
RCA, optical cables and/or coaxial cables if you want to send audio signals from the CD player or turntable.
A Phono In port is also required if you're planning to connect your turntable to the receiver.
If you're going to connect a tablet, phone, or portable cassette player, look for a device with an AUX input.
Those who like listening to music from the computer will appreciate the USB port in the receiver.
Wireless connections and integrated streaming services
There are a few technologies to be aware of if you wish to play music from an internet radio station, smartphone, or other portable devices.
Built-in Bluetooth – lets you play music from your portable gadget; however, the range of Bluetooth is limited, usually making you stay in the same room. You probably heard the terms Bluetooth receiver and Bluetooth transmitter. But what is the difference between them? The Bluetooth receivers allow speakers or headphones to receive the sound and play it. At the same time, the Bluetooth transmitters enable devices (TV, tablet, etc.) to send the sound via Bluetooth – to Bluetooth soundbars, headphones, or speakers.
Built-in WiFi – you'll definitely benefit from the model with WiFi! It usually supports streaming from major services such as Deezer, Tidal, and Spotify. You can easily upgrade the firmware on your receiver. Many models feature apps allowing you to control the device from the comfort of your smartphone.
Receivers usually support 2.4GHz or 5GHz wireless bands. Which one is better for your home? Here are basic tips for you:
Go for 5GHz if you prioritize the network speed.
Choose 2.4GHz if the wireless range is a top priority for you.
If there are plenty of WiFi gadgets that cause interference, 5GHz will be the right solution for you.
However, some brands offer wireless av receivers with dual-band WiFi connectivity to satisfy all user's needs.
Support of the Streaming Services – the days of being restricted by cable TV or the time-limited world of movie theaters are long gone. Instead, there are a plethora of options for on-demand streaming content, including Netflix, Amazon Prime, HBO, Hulu, etc.
Luckily, many modern av receivers are compatible with several of the most advanced streaming services, making it easy to access a variety of quality audio and video content. When selecting a receiver, pay attention to what streaming services a particular brand supports. Some support only Bluetooth, while others offer various options like Bluetooth, Spotify Connect, AirPlay 2, Tidal and other.
Do I need modern surround sound formats in my receiver?
If you are an audiophile who buys an av receiver to get the most out of the speaker system, then investing in av surround sound formats like DTS:x or Dolby Atmos is essential.
Both DTS:x and Dolby Atmos are created to produce immersive sound. They mimic object-based effects like a plane flying overhead or bullets whizzing around the room.
Actually, DTS:X and Dolby Atmos are battling it out for market dominance. The good news is that most new AV receivers can handle both formats. By purchasing such a model, you'll ensure to be treated to thrilling home theatre performances.
What video features do I need in an AV receiver?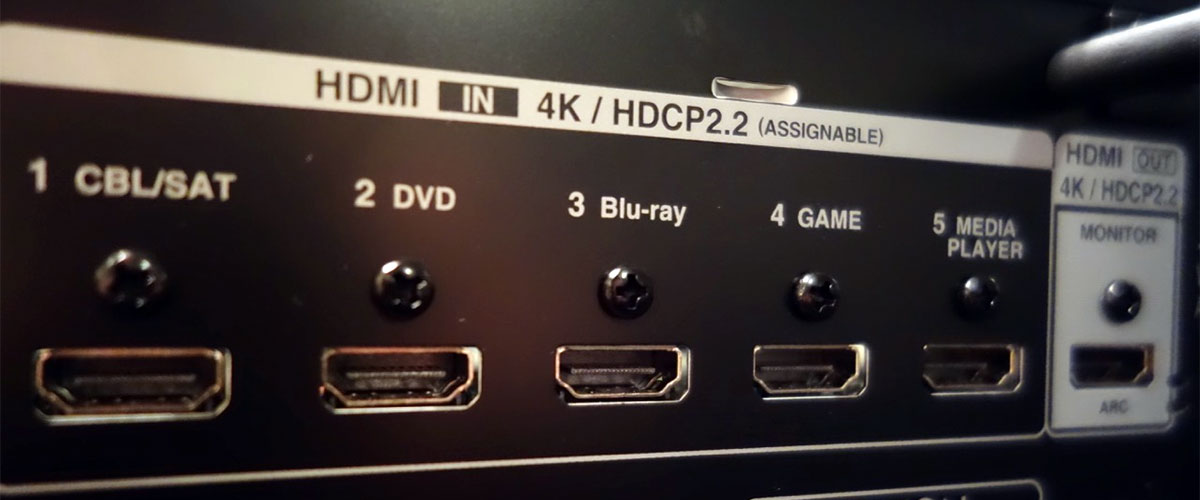 There are a few key characteristics you may need in your new AV receiver to ensure that it works with the TV and other video devices, e.g., Roku, Apple TV, X-BOX, and so on.
4K support – 4K provides a highly detailed picture – you can even sit right in front of the TV, and the picture will still look great. In order to transfer 4K signals, your receiver must be HDMI 2.0 compliant.
8K support – 8K is the next big jump in TV resolution. However, it's more suitable for gamers than for those who want a better home cinema experience. You only need an 8K-compatible av receiver with HDMI 2.1 features if you are a serious gamer who wants the absolute best video game experience and plans to purchase the newest consoles.
HDR support – High Dynamic Range (HDR) is a technology that allows av receivers to transmit more colors and contrast to recreate the brightness, color, and detail of real life. The version of HDR you're using must be compatible with your receiver. For instance, an HDMI 2.0a connector is required for HDR10.
Dolby Vision support – it's a type of HDR, but it offers even higher contrast and more vivid colors. Dolby Vision is a trademark of Dolby Laboratories. This means that any content creator or device maker that wants to use Dolby Vision must pay a royalty charge to Dolby Laboratories. While this implies that content creators and device manufacturers are less likely to employ Dolby Vision, it also means a higher level of quality control than with HDR10.
Passthrough and upscaling – the newest av surround sound formats require av receivers that pass through the signal so it can be transmitted without any loss of quality or delay, while others will upscale lower definition signals, so they are better suited for larger screens.
Do I need multi-room audio?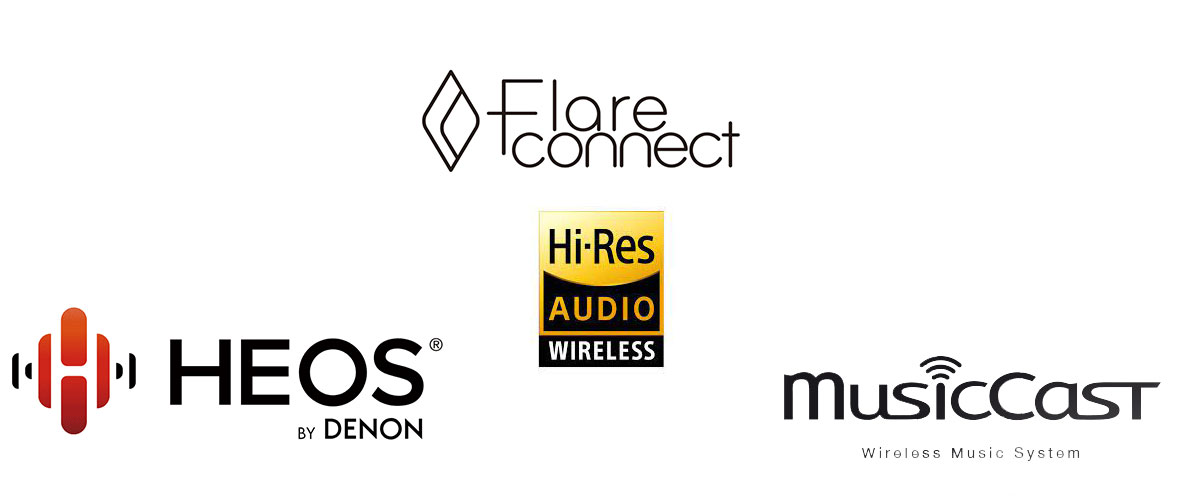 AV receivers are perfect for expanding your home entertainment system. They can allow you to listen to different (or the same) content around your house.
Speaker outputs for a second room are available on most current receivers. Many connect to a home network for access to Internet music sources – that's when an AV receiver with Bluetooth and Wi-Fi comes in handy. However, if you want to build a high-end multi-room stereo system, you may also need wireless speakers, smart speakers, soundbars, and network streamers. You can easily control all those gadgets and music via 1 app.
How much money do I need to spend on a receiver?
Before buying an av receiver, consider how you're going to use it and what functions you really need since the price will largely depend on your needs and preferences.
AV receiver prices start around $300, and if you are a casual user with a pair of inexpensive speakers, you shouldn't spend more than $600.
Of course, the sky's the limit for how much a good home theater receiver can cost. If you're an audiophile building your dream stereo setup, you can buy a luxurious receiver that costs $2,000. It'll deliver excellent video, sound and provide support for all your gadgets.
Hopefully, my home theater receiver buying guide will help you select the right unit for you! If you have anything to add or share, write in the comment section below!