As an experienced audio/video expert, I know firsthand how important an easy-to-use AV receiver GUI is to the smooth operation of your system. Therefore, I believe a well-designed AVR user interface can make a vast difference when setting up and using your home audio/video system. That's why in this article, I will guide you personally through the components of the AV receiver's graphical user interface (GUI) and how it affects the overall experience. This will allow you not only to configure the system correctly but also quickly and easily manage it. Let's dive in!
Components of an AV receiver GUI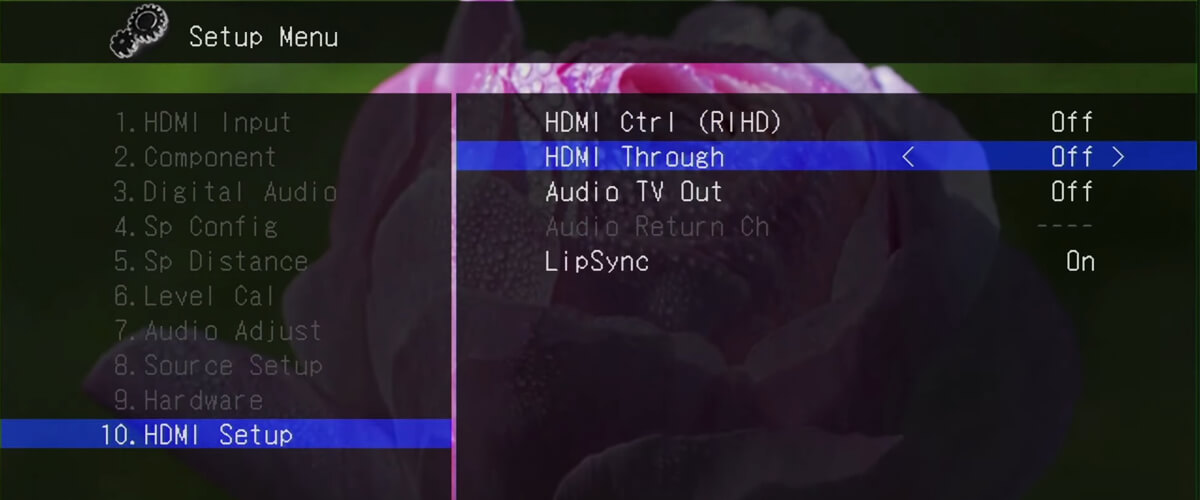 The design of the AV receiver's graphical user interface plays an important role in how you interact with the device. The major components of the interface include the Home screen, input selection, audio and video processing settings, speaker configuration and calibration, network and streaming functions, and system settings. Let's look at the most important of these in more detail.
Home screen and navigation
The Home screen is the heart of accessibility options in the GUI, providing easy access to all key functions and features. It typically includes the main menu, input sources, and quick access to settings. In addition, clear navigation elements such as tabs, icons, or lists help you navigate easily through the GUI. The designs are original, so your choice comes down to individual preference. For example, I prefer large screens with adjustable backlight intensity.
Input selection
This component lets you select the audio/video source you want to play through the AV receiver. Input choices can include HDMI, optical, coaxial, or analog inputs and built-in streaming services or network devices. I like the circular controls, but there are also push-button controls.
Audio processing and formats
The GUI allows you to customize audio processing settings, such as surround modes, sound field presets, and EQ settings. It also displays supported audio formats, allowing you to optimize your listening experience based on the content played to your preferences.
Video processing and formats
You can adjust video settings to ensure the best possible picture quality in the GUI. These usually include resolution, aspect ratio, color depth, and HDR settings. It also displays supported video formats such as 4K, 8K, or 3D, allowing you to choose the best video settings for your display device. But, of course, the set of options depends on the capabilities of your receiver.
Speaker configuration and calibration
In this section of the GUI, you adjust your speakers, specifying their types, sizes, distances, and crossover frequencies. Suppose your receiver has calibration tools such as Audyssey, YPAO, or AccuEQ. In that case, achieving an accurate, balanced sound field for your particular room layout and acoustics will be easier.
Network and streaming features
The graphical user interface allows you to connect your AV receiver to your home network and access built-in streaming services, Internet radio, or DLNA-enabled devices (if your receiver has them, of course). You can also configure network settings like Wi-Fi or Ethernet and update your streaming service login credentials.
System settings and firmware updates
This component will allow you to access and configure global settings, such as display settings, power management, or remote control settings. In addition, you can check for and install firmware updates to keep your receiver up to date with the latest features and improvements. It is a very useful option if you have purchased the unit for many years to come.
Advanced GUI features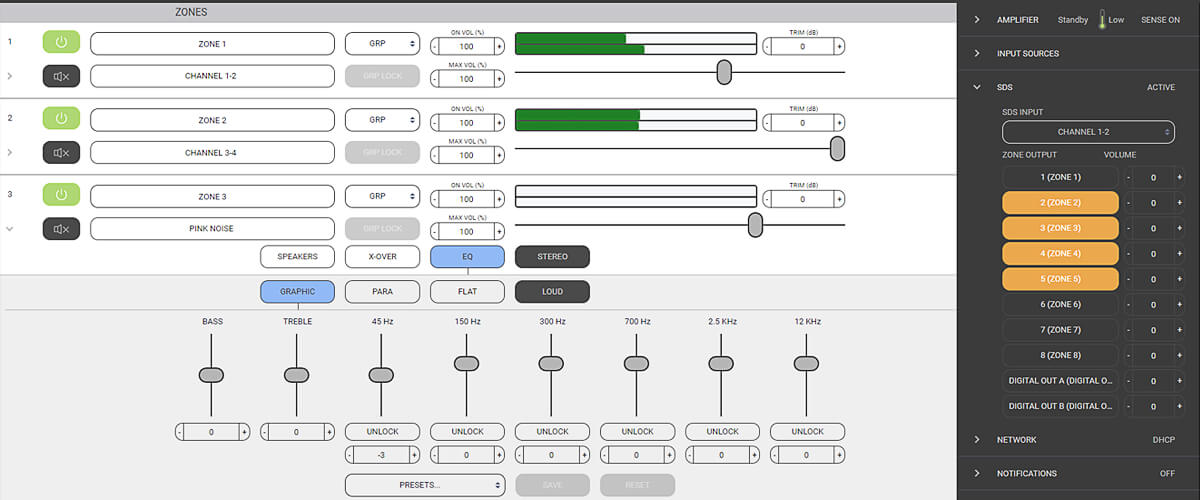 App integration for mobile devices
Modern receiver models often have app integration, allowing you to control your devices via mobile apps. These apps can provide additional features and remote control capabilities, making it easy to control your home theater system from anywhere in your home. If you're a music lover like me, some apps even offer advanced features such as streaming music directly from your smartphone or tablet to your receiver, setting up sound profiles, and saving personal settings for quick access. In addition, mobile apps can simplify the setup process by guiding you step-by-step through speaker configuration, network setup, and other important tasks.
Voice control and AI assistance
Voice control and artificial intelligence assistance are becoming increasingly popular among AV receivers. Integrating voice control with popular platforms such as Amazon Alexa, Google Assistant, and Apple Siri allows us to perform hands-free tasks such as adjusting volume, changing input sources, or controlling playback. These advanced features promote a more intuitive and user-friendly experience, allowing us to focus on enjoying our home theater without bothering with manual adjustments.
Amazing, isn't it? The cartoon Wall-E comes to mind, so as technology advances, don't forget to run in the morning.
FAQ
Can I customize the appearance of the GUI, such as themes or layout?
Some AV receivers offer limited customization options for the GUI, such as changing themes, colors, or layout. Check your specific model's documentation for available customization options. These customizations can help you create a more personalized experience, matching the interface with their aesthetic preferences or even improving visibility for individuals with visual impairments. However, remember that not all models provide extensive GUI customization, so it's essential to research and choose a device that offers the desired level of personalization.
What system settings can I adjust in the GUI to personalize my AV receiver experience?
System settings in the GUI typically include display settings, power management, remote control settings, and other global options. You can personalize your experience by adjusting these settings to your preferences. For instance, you can modify the display settings to adjust the screen brightness, contrast, or font size, making viewing the interface more comfortable. Power management settings can help you reduce energy consumption by enabling standby modes or setting timers for automatic power-off. Remote control settings can be customized for different control options, such as infrared, RF, or even integrating with third-party universal remotes. By exploring and adjusting these settings, you can tailor your AV receiver experience to meet your specific needs and requirements.
What are some tips for optimizing my experience with the AV receiver GUI?
To optimize your experience with the AV receiver GUI, familiarize yourself with the layout and navigation, create shortcuts to your most-used settings, and regularly update the firmware to take advantage of the latest features and improvements.
Which brand of receivers has the most convenient graphical interface design?
The convenience of a graphical interface design can be subjective, as different users may have different preferences. Brands like Denon, Marantz, Yamaha, and Onkyo are known for their user-friendly GUIs. To find the most convenient interface, it's better to test different models and brands to see which one meets your needs and preferences.